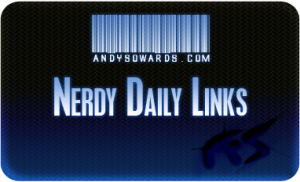 Happy #followfriday! I have decided that not only will this post contain another HUGE amount of links for web development/designers and all nerds alike, BUT It will also have my fav people to follow on twitter for a little #followlove. So ENJOY! Thanks everyone for all the love and support, I appreciate you all! Now Get your Daily Nerdy Web Development/Design Links!!
My Fav #followfriday Picks (in no particular order)
Now on to the Web Development/Designer Resources, Inspirations and Entertainment Links!!
Twitter power users tips for getting tons of followers

Awesome new twitter users checklist

Nice Life Hacking Conversions – Very nice people skills to know

Awesome hand drawn faces, very nice

Great read – always a good skill to have lol

Great read for working with people

LOL best 404 error ever

how in the hell?

Nice list of free image resources

Great tutorial for XPath in JS

IE 8 FAIL – IE8 rendering its own freaking website.

Art of the tutorial – awesome!!

SWEET GADGETS for people like you and me!!

Great list of FREE Web tools that are really useful

Mac Tidbit – finder shows comments in PDF

Awesome twitter visualizations

Awesome Ambigram logos!

PNG Transparency fix for ie

snoop into the jpeg deeper!

Great designers to follow!

Freaking awesome multi-touch table!!

Awesome social media icons!

Great tutorials for PHP Wannabes

Cool free ajax guestbook script – acts as a comment script on any page!

Sick of facebook? Check these out

Logo Designer Mistakes!

Good read about 404 pages and google!

Awesome carousel display tips – Bridge CS4

Thats a lot to protect our cyberspaces

Great read for getting more followers

Awesome logo designers from DeviantArt

Awesomely inspirational movie posters! Photoshopped!

Great look at USING CSS3

Nice jQuery for Mac Desktop tutorial

Awesome Twitter Homepages

If you have not seen this flash video of the animation fighting the animator, then you are missing out. this is classic. Part 2

If you have not seen this flash video of the animation fighting the animator, then you are missing out. this is classic.

TONS of Adsense tools and resources

very nice fading menu jquery tutorial

Awesome animated navigation with css and jquery tutorial!

Great read for adding variables to your CSS

Great cs4 videos for using the new features

more info on FREE Skype access for mac users

Freaking sweet blue websites

Great read to accept failure

Quick and easy twitter status update php script

Easter Patterns!!

Awesome plugins for jQuery to style design elements

Great interview with an awesome designer!

Nice CSS Technique for nested div positioning

Awesome jQuery plugins for working with images

AWESOME Lego Advertisements. very creative

Most expensivei domain names list

Great places to get awesome free joomla themes!

Great read about business structure and the future

Awesome floating signage

Good list of things clients should know

AWESOME Adobe Icon Sets!!

good .htaccess hacks for wp

Great ways Linux can help you!!

Craziest. Geekiest. Awesomest Mac setup i've ever seen.

More iPhone OS 3.0 pics!

Hooray for mac users!!

Details for Premium twitter accounts released!

Freaking awesome.

Write messages that give you results you want!

Great jQuery coding STREAMLINING tips

Awesome list of jQuery tutorials and Examples! Like you didn't have enough to do 😉

Awesome website layouts!

AWESOME Digital paintings. look so real!!

Amazing people to follow on twitter