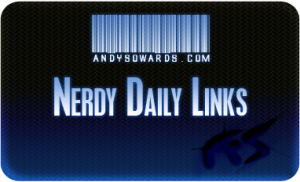 Its Thursday! So close to the end of the week yet again! Where does the time go? Well Today it will probably go into checking out all the awesome links below! ENJOY! Thanks everyone for all the love and support, I appreciate you all! Now Get your Daily Nerdy Web Development/Design Links!!
Web Development/Designer Resources, Inspirations and Entertainment!!
Quick and easy way to style up your images with CSS borders

good info for moving from a TypePad(or any blog platform) to wordpress

Cool backtype Icon set – Done so you don't have to!

Facebook gonna outgrow google??

Awesome business cards! You can even win some of your own!

Awesome FREE Logos with fonts

Awesome print-ready beer label tutorial – illustrator

Amazing bookstores. inspirational

Calvin featured in Video – Turning followers into friends. Well deserved!

Great read – To use ajax, and not to use ajax

Awesome illustration! – piano

Great tutorial for reading a csv file in codeigniter

Awesome Art Portraits!!

Quick and easy spaceship illustration!

Great look into the design steps designers take

Great read for IE compatibility

Good read if you want to use jQuery for iPhone development!!

Amazong dislikes Alex's Thumbnail Service

Busy? Boost your productivity with these social media tips!

Characteristics of power users!!

Quick and easy way to stop AUTO DMS

Great reasons to use MySQL – other than it rocks.

Theres a difference? LOL funny read

This is something everyone should know – Automating the Copyright Year on your site

More Inspirational Dark Website designs!!

We are still in control!!!

Great podcasts, great magazine! – I was mentioned in the 03/18/09 Podcast! Hooray!! Check it out!

JS for C# programmers – good read

Awesome beer packaging

No one likes bad clients

AWESOME words to put in your copy 🙂

Great new site for uploading images and tagging them for inspiration

Great read for setting up your design contracts

Great guide for CSS Conditional comments

Quick tutorial on widgetizing a wordpress theme!

Is digg unfair?

Awesome Open Source saving the world site

Awesome websites for inspirational purposes!!

Tons of must have twitter tools

MUST HAVE Features in the iPhone 3.0

Improve your XP Performance!

Great designers from the UK!

Nice and simple jQuery debugger!

4 hour work week a lie?

Very useful PHP libraries that you should know about

Great sites for inspiration in your web design!