So I found this awesome tool – and I have actually been looking for something similar to this for quite a while. It has often been hard to find information on "What hosting is right for you" when it comes to pageviews, which is what most people with a website use to rate their overall traffic (and think that correlates pretty well to how powerful the server they need to get is). In the beginning when you buy your first hosting package, its usually a shot in the dark, but when you have a site for a while and know what kind of traffic to expect – it is still hard to find out which hosting package (company, service, etc.) will be your next logical step when your current plan is outgrown. Well not anymore – this tool really makes that a lot easier (and you don't have to scour the web hosting forums late at night to find these answers, if you don't want to)
This tool is by a company called HostUCan.
Who is HostUCan?

HostUCan is a next generation web hosting search and review platform. It provides a powerful context-based search engine in order to help people find the best hosting option based on their web hosting needs. HostUCan is also a place for webmasters to share their hosting experience and to seek information from other experts.
How to Check Hosting Relevancy Before Buying
Ok so here is how this thing works.
HostUCan's Host Relevancy Check is designed to help people find out if a web hosting solution is compatible with their website. During analysis, the tool will aggregate customer reviews, product uptime data, and editor reviews to generate a score indicating how appropriate the hosting plan is for the parameters inputted.
To get started
Step 1) Go to the relevancy check tool -> http://www.hostucan.net/hosting-relevant
Step 2) Enter in a Web Hosting Company to check (like we did in the below image, we are using "GreenGeeks" as an example here) and press Enter or click on the Search button

Step 3) Here you can select the host's "Relevancy Check" option – as seen in the below image – click on that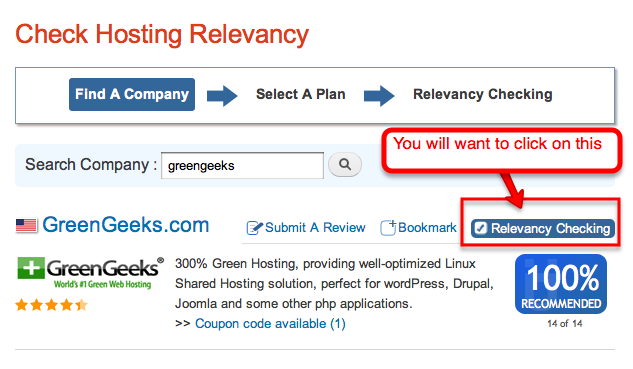 Step 4) From there, you can enter in your details, and get your result! (as seen below) Simply enter in your site platform (if applicable) and then your daily page views (In this example we entered in Drupal and 0 – 301 daily page views)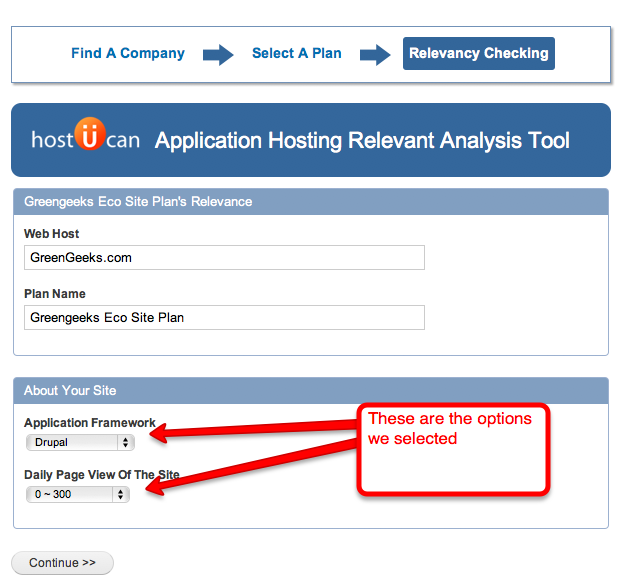 Step 5) Review Results!!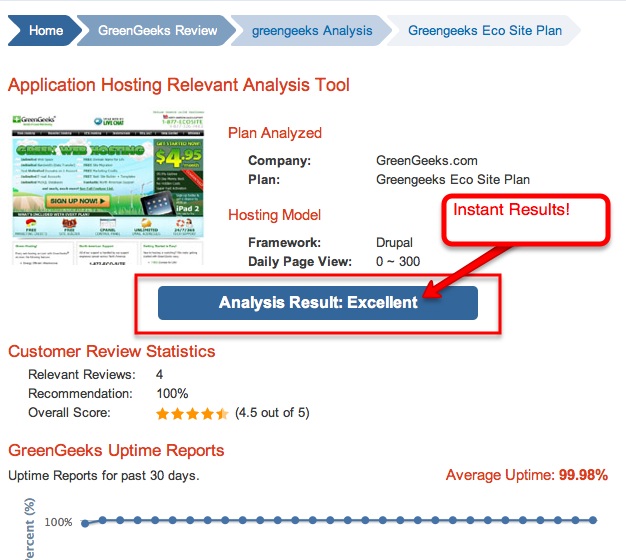 As you can see, we get an instant result! This let's you know very quickly, if that drupal hosting would be a good fit for what you have (or expect) from your site's platform and traffic, it also provides some other stats, such as any relevant GreenGeeks Review posts from customers – and even some coupons if they have them! Pretty neat eh?
I wish this was around when I was looking for hosting a few years ago – would have saved me some headaches.
Step 6) Let's see what happens if we change the page views – to a higher amount. let's say 600 – 1000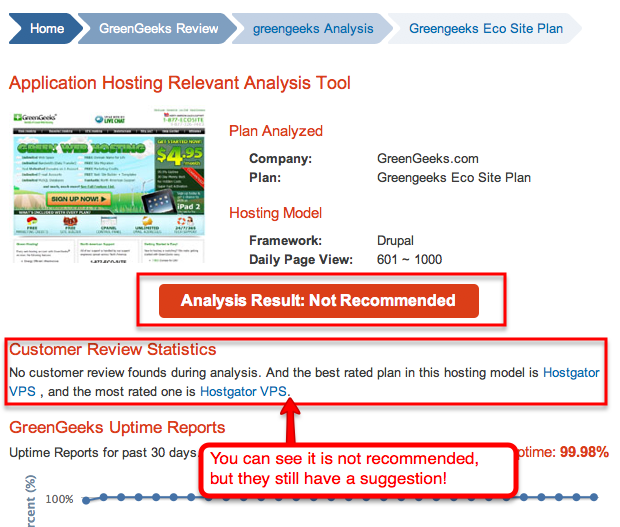 As you can see you get a different outcome – we have outgrown that plan with those numbers! Notice that it says that the plan is not recommended, that is awesome, but what is even awesomer – is that it suggests something else that would probably work based on customer reviews!
I hope you checkout the tool if your in need of some new hosting – and hopefully it will save you some (alot) of time!
You like this? Don't forget to follow us on twitter @andysowards and like us on facebook @andysowardsfan! We are also on that new fangled G+ doohikey.