The mobile phone industry has advanced in technology and its features throughout the years. You can now buy any kind of smartphone and you will be able to utilize them for many uses (it is like the swiss army knife of gadgets). With the features like good camera facilities, memory storage, speed, processing, applications, and software varieties, the Smartphones can reduce the need of cameras, tablets, laptops, and even some gaming consoles as well.
Nowadays convenience and access to information is very important. If you knew that your mobile phone device would help you in locating, shopping, and getting discounts on stuff, you would never have believe it 10 years ago. The Future is here! Today we are talking about some of the best bar code readers and QR readers for the convenience of looking up information on items quickly for products you may be purchasing. You can take in all the information from a QR code/bar code for a product (basically the QR Codes redirect you to a website with information on said product) and can then buy that item if you like it. 10 years ago, it was not that easy for you to do such tasks, you had to do your research before hand, then going to the store and picking out what you wanted there, you definitely couldn't quickly look up information on a product online via a QR Code (or learning about anything else) while staring at the product in the store.
However, with many apps and software for the many smartphones available today, you can just read the bar codes and QR codes at the back of products easily. You can also generate custom QR code as well for things you want to use, buy, and sell, etc. For this purpose, if you want to get good apps, some of my suggestions are as follows. The apps are free, and some cost a small fee, but you can easily afford them if your looking for a nice QR Code reader. Download them from your mobile phone's app store, and get on with easy and smart shopping!
Google Goggles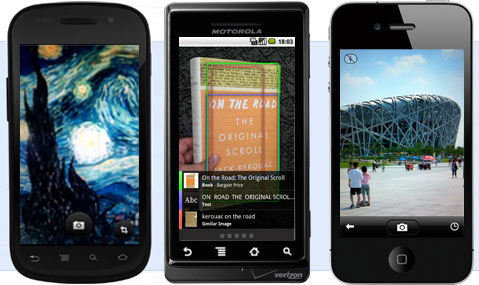 Of course good ole Google has their hat in the ring when it comes to QR Code Scanning Apps! This awesome free app allows you to Search by taking a picture! Simply point your mobile phone camera at a painting, a famous landmark, a barcode or QR code, a product, a storefront, or a popular image. If Goggles finds it in its database, it will provide you with useful information.
Goggles can read text in English, French, Italian, German, Spanish, Portuguese, Russian, and Turkish, and translate it into other languages. A Super useful app!
Simple QR Reader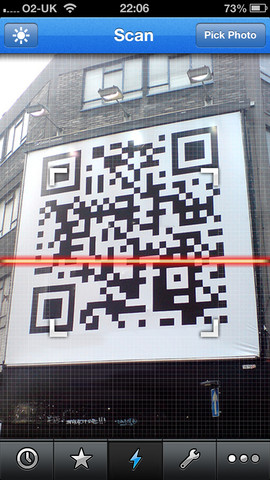 This app can be downloaded for iPhones, so that you can easily use it to read the QR cods. It is now upgraded for the iOS 6 version of the iPhones as well. You can read bar codes from its help too.
ScanLife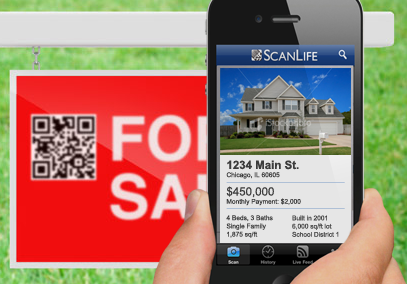 This app is also for the iPhones but I have seen its Android versions as well. Similar are its properties as well. You can read the UPC's, the bar codes and the QR codes with it. The camera acts as the scanner and you will be able to read information hidden in the codes. This app works on online shopping and sharing as well. You can share on Facebook with it what you have just scanned and purchased.
Scan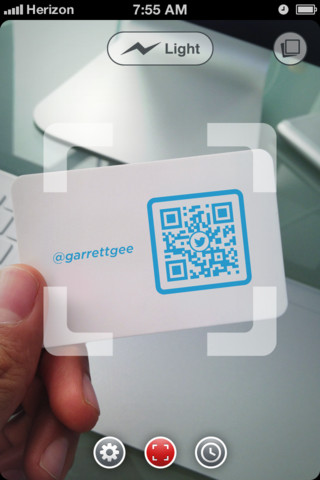 You can get this app free from iTunes, for bar codes and UPC's. The new feature of QR scanning has been added to it recently. I have not seen this app for Androids, but it is surely available for iPones, iPods, iPads, and the laptops from Apple as well. Scan is great because when you launch the app, it's already in scanning mode, and you can quickly scan a code within seconds. There is nothing to it, it just does its job, which is something not all apps can accomplish so elegantly.
QuickMark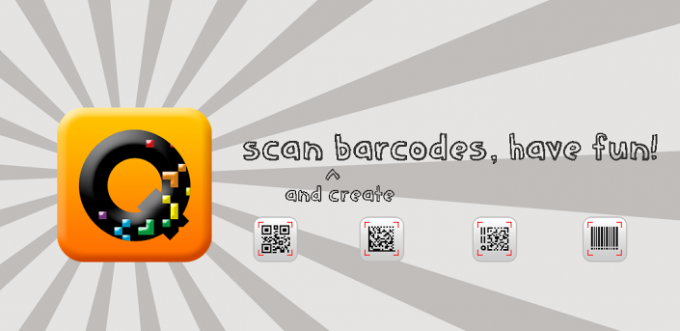 The app is ready to download version. You do not need to see a heavier download and installation process. You click on the link and it is ready to use. The application is workable on iPhones with any version of iOS, iPods, and iPads. The developers for this app are now producing such apps for Android phones as well, like Samsung, HTC, and Kindle etc.
Barcode Generator / Reader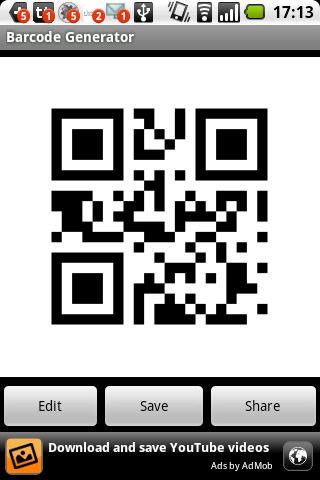 This one is a simple app for reading QR codes (and creating them!). With this app you can generate your own QR codes that support all kinds of data (Such as location, event, contact, email, phone, sms, text, wifi & of course url). This one seems to be Android only so if your using a droid phone definitely check it out.
QR Code Reader and Scanner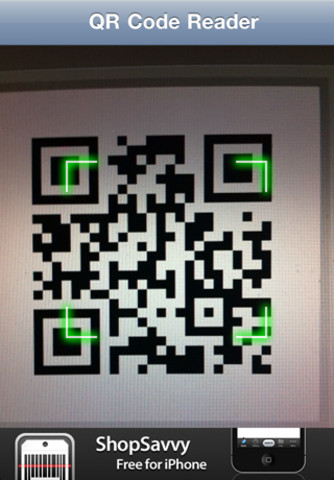 This is a popular QR code reader that has a simple UI which is nice. It is a standalone 2D or QR Code scanner for the iPhone that you can also use to scan any two-dimensional barcode with your iPhone.
Shortcut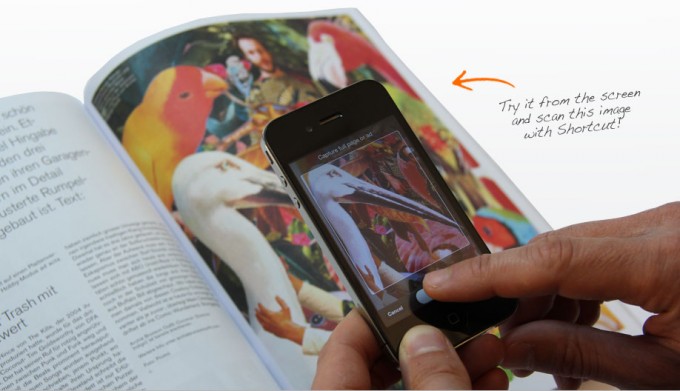 Looking for a clean QR scanner? Shortcut might just be the one. It does the job and offers some cool extra's (QR for iPhone only) like import your print archive into Evernote. It doesn't just scan qr codes though, if you are browsing a print magazine for example you can take a picture of the page and it will use image recognition technology to find similar information for you! Amazing! So if you would use extra features like that, go for it!
NeoReader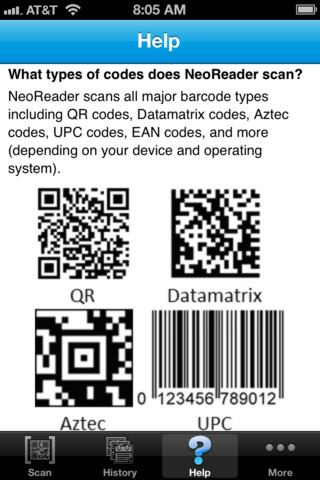 One of the other widely available apps for QR Code reading is NeoReader. It allows you to scan a lot of different formats such as QR, Datamatrix, Aztec, EAN, and UPC – so it's the only barcode reader you'll need. With NeoReader you can scan to: access the web, send an email or SMS, make a phone call, access vCard or meCard information, or access a Wifi network.
i-nigma QR Code, Data Matrix and 1D barcode reader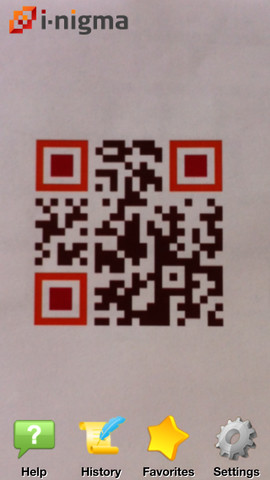 There are a ton of features to this Free QR Code Scanner so check out the full list, which includes the ability to Share scanned codes through Facebook, Twitter and other social networks, as well as scan colorful and creative QR Code designs such as QR and DataMatrix codes off printed material.
We hope that this list of QR Code Readers will help you to find the one that you love, so you can get on with saving time when looking up product information in stores (or anywhere) with a QR Code!