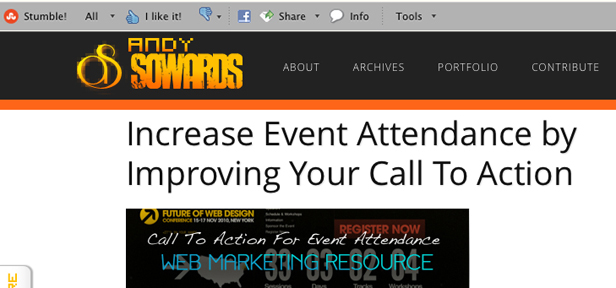 Update: 2023 – Sadly the service has been shutdown as of 2018!
Why Did StumbleUpon Shut Down? History of StumbleUpon
StumbleUpon was a web discovery service that allowed users to find new and interesting content on the web. It was founded in 2002 and was acquired by eBay in 2008. StumbleUpon shut down on June 30, 2018.
There were a few reasons why StumbleUpon shut down.
First, the company was struggling to keep up with the competition from other social media platforms, such as Facebook and Twitter.
Second, StumbleUpon was not generating enough revenue to support its operations. Finally, the company's founder, Garrett Camp, decided to move on to other projects.
Despite its closure, StumbleUpon had a significant impact on the way people discover new content on the web. It was one of the first social media platforms to use a recommendation engine to personalize content for users. StumbleUpon also played a role in the rise of user-generated content, as it allowed users to share and discover content that they created themselves.
StumbleUpon's closure was a disappointment to many users, but the service's legacy lives on in other social media platforms and recommendation engines.
What Is StumbleUpon?
With more than 20 million members, or "Stumblers" as they're called, StumbleUpon can be a fun and addictive way to discover new and interesting content from across the Web.
But it is also a serious business tool and one of social media's top traffic generators, ranking second only to Facebook in Statcounter's list of referral sites, for the past year, outranking Twitter, reddit, Pinterest, LinkedIn, and YouTube, although the latter claimed second spot for the month of April 2012.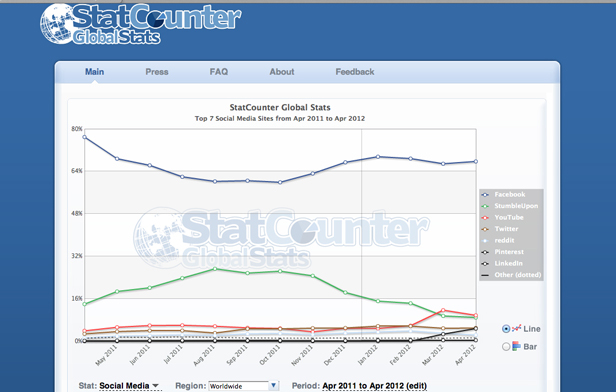 Getting started with StumbleUpon
Creating a free StumbleUpon account couldn't be easier and consists primarily of selecting a username, password, and choosing at least five interests from a menu of broad categories.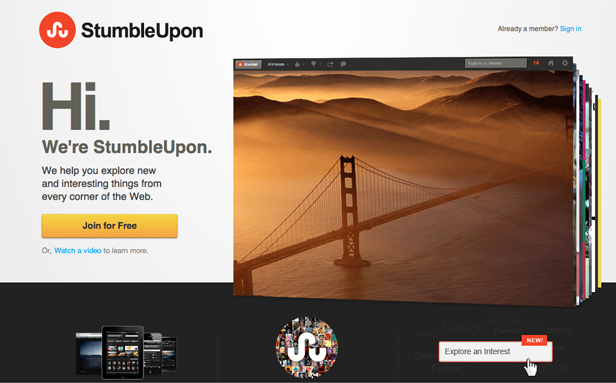 Once downloaded and installed, the StumbleUpon toolbar appears at the top of your browser window with "thumbs up" and "thumbs down" icons for likes and dislikes as well as a "Stumble" button. As you browse and select items you like or dislike, you're helping StumbleUpon refine the type of content that interests you. Those pages are also added to the database of pages that will be displayed to other Stumblers with similar interests.
When you're ready to stumble off and explore your interests, simply press the "Stumble" button for StumbleUpon to begin displaying relevant pages based on your interests.
Putting StumbleUpon to work for you
Since StumbleUpon's value is content driven, it stands to reason the most important aspect of increasing traffic to a particular site is for that site to have great content.
It's just as easy to for users to hit the dislike button as the like button, and they'll likely do that for poorly written articles and blog posts. And while sales pages or product information pages may hold some interest, unless it's a phenomenal product or sizzling sales pitch, those pages likely won't be much of a draw.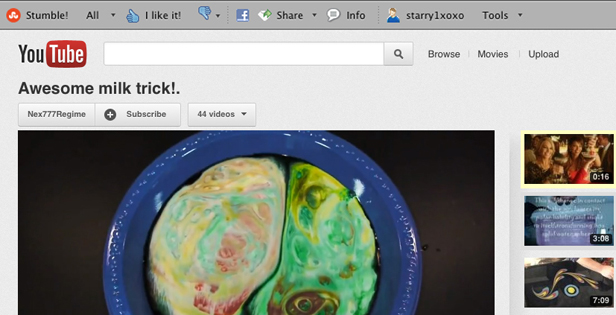 In general, content that does well on other social networks will do well on StumbleUpon, too, including:
Videos from Vimeo, YouTube and other networks that are informative or entertaining.
Well written tutorials that convey useful information on a particular topic.
Lists. Like the rest of the Web, lists are popular for Stumblers as well.
Infographics. Again, what is popular elsewhere is popular on StumbleUpon, too.
Add a StumbleUpon badge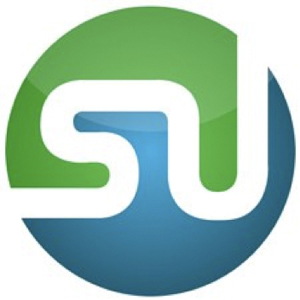 Adding a StumbleUpon badge to your content is the easiest way to increase its chances to be shared. Coding for badges is available on the StumbleUpon badges page, which also includes tips for integration with WordPress, Blogger, Feedburner, TypePad, and more.
Su.pr is super for sharing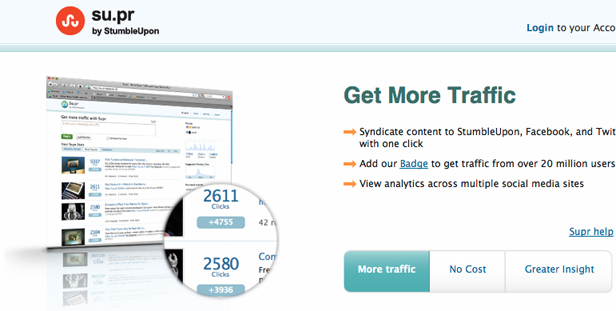 StumbleUpon makes it easy to shorten URLs and syndicate content to Facebook and Twitter with its su.pr system, either publishing it immediately or scheduling it for later. Stumblers following those links are sent to your website where they can click to give your content a thumbs up. And, their toolbar gives the option to share your content on their own Facebook, LinkedIn and Twitter networks as well.
Building a base of followers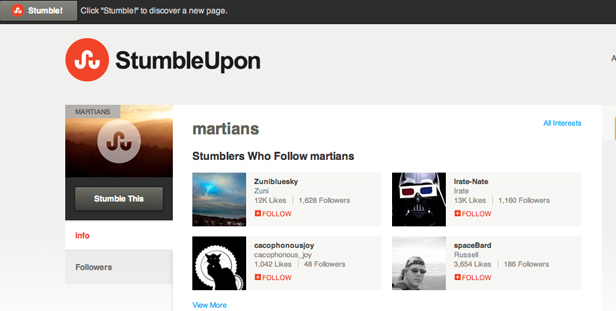 Another way of generating traffic on StumbleUpon is to build a base of followers and share content directly. To build that base, you have to find users with similar interests and follow them, with the hope they follow you in return. But if your own content is marginally interesting, they usually will.
Finding followers with similar interests is easy by visiting stumbleupon.com/discover/keyword/ and replacing "keyword" with a particular topic. The ensuing page shows users who share that interest as well as how many followers they have. Clicking on a particular Stumbler's icon brings up their profile with a variety of information, including how many interests you and they share in common.
Complete your profile
You can facilitate followers by making sure you have a complete bio. You'll find that information in "your settings" under the "Profile" button on StumbleUpon's home page. Other settings under the profile button allow you to upload your photo, connect to Facebook, LinkedIn, Twitter and Google accounts, edit your interests and more.
Ready, set, share
While stumbling your own content isn't recommended, it can't be shared with others until it is. While you could wait until another user just happens to stumble across it, you can also ask friends to stumble it for you. Or, as long as you have a second email address, you can set up a second StumbleUpon account just to stumble your primary account's content.
Once a page is stumbled, you can click on the StumbleUpon toolbar's info button while on the page and then the Share Now button to send it and up to a 140-character message to your followers. And to make mutual followers more receptive to stumbling your content, it never hurts to send short personalized thanks when they share content with you.
StumbleUpon Paid Discovery
If after exploring and becoming familiar with StumbleUpon's capabilities, you find you're not getting the results you expected or any results at all or if you want to skip community building and speed up the process, the company's Paid Discovery feature might be worth looking into.
Paid Discovery directs people interested in your topic directly to your website, with three plans available ranging from $.05 to $.25 a visitor.