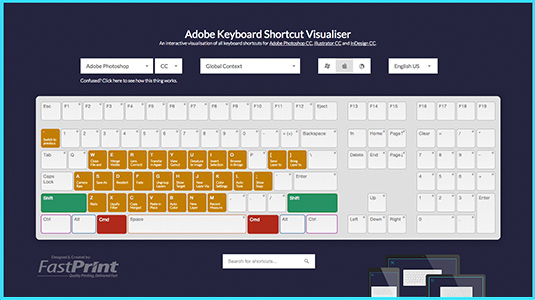 Photoshop, Illustrator and InDesign are extremely popular, and with good reason too: they're not only extremely powerful applications, but also extremely flexible.
Personally, I use all three applications in my line of work: I use Photoshop predominantly for website design; Illustrator, well, for illustrating (or simply if I need to produce a vector image); and InDesign primarily for print-based projects.
From that, you might assume that I'm a jack-of-all-trades, and while that may be somewhat true to an extent, I primarily design for the web.
Like a lot of web designers, there a number of tasks that I tend to end up doing day-in-day-out. I'm talking about things like compressing images, creating logos, utilising guides (in Photoshop), amongst many other things.
I realised not-so-long-ago that the way I worked was ridiculously inefficient; I didn't have a process for anything, I'd simply open up Photoshop (or Illustrator, or whatever) and begin working in a somewhat random manner.
After a while (and with a little help from my efficiency-conscious boss), I realised that I was wasting a lot of time with this process, so I started to create processes for everything.
During this process-creating process (yep, that's a process for creating processes), which began a week-or-two ago, I began looking more into keyboard shortcuts.
Before then, my utilisation of keyboard shortcuts was poor, but after stumbling across this incredible tool (a visual shortcut mapper for Photoshop, Illustrator, etc.), my eyes were opened, and I realised the sheer power that keyboard shortcuts hold for any graphic designer.
So, I thought I'd take this opportunity to introduce you to the tool, and show you how you can use it to find useful shortcuts for yourself.
Adobe Shortcut Visualizer: What does it do, and what is it?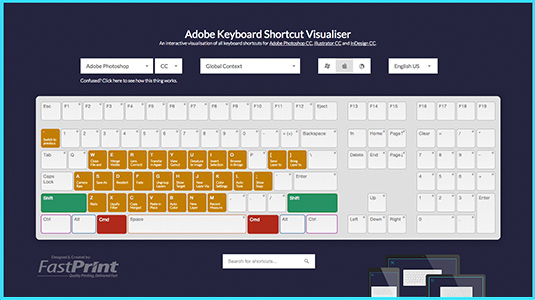 The Adobe Shortcut Visualizer is, in essence, a simple tool.
It maps the hundreds (perhaps even thousands) of keyboard shortcuts factory-built into Adobe applications (currently just Photoshop, InDesign, and Illustrator) on an interactive on-screen keyboard.
Without this tool, the only way to find keyboard shortcuts is to spend countless hours reading a mind-numbingly boring document created by Adobe (trust me, I've done it).
The tool also allows you to search for shortcuts, see how shortcuts differ across operating systems, and much more.
Now, let's look into how you use it:
Stage One: Application Selection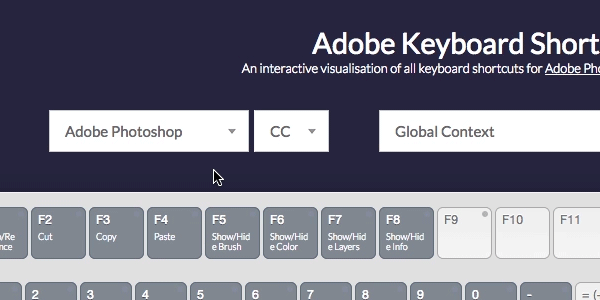 When you load up the tool, the first thing you're going to want to do is to select the application that you're using.
The options: Photoshop, Illustrator, InDesign.
You make your selection via the drop-down just above the on-screen keyboard itself.
It should be noted that you're only able to select Adobe CC versions of the apps at the present time, although shortcuts for Adobe CS6 and CS5 are similar (if not the same).
Stage Two: OS Selection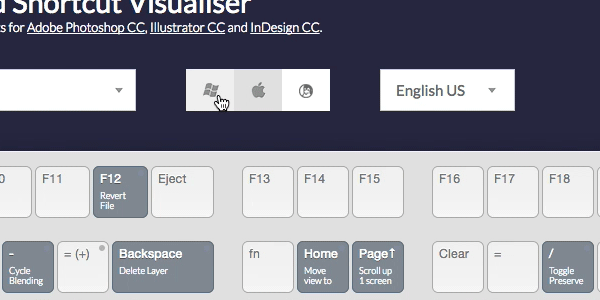 After this, you'll need to select the operating system that you're currently using.
By doing this, you'll ensure that all of the keyboard shortcuts are mapped correctly on the virtual keyboard.
You might recall that on Windows, the CTRL key is used as the primary modifier key, whereas on a Mac, the CMD key is used instead.
By making your selection from the toggle buttons at the top of the window, you'll ensure that the shortcuts are mapped correctly to either the CMD or CTRL key, depending on your selection.
Stage Three: Modifiers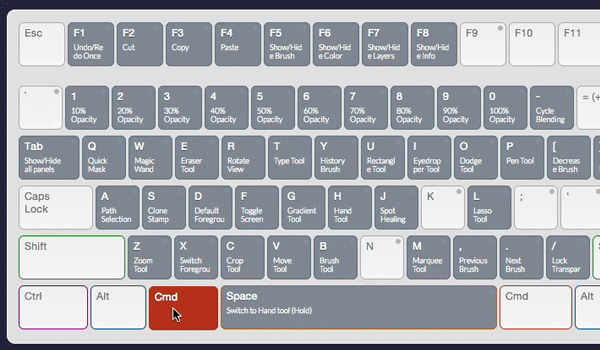 When you load up the app, you'll see a number of keyboard shortcuts mapped automatically, but to view more, you'll need to use CTRL, CMD, Shift, and Alt (aka. Modifiers).
You can select these keys simply by clicking them (with your mouse cursor), and doing so will change the shortcuts mapped to each individual key on the virtual keyboard.
It's important to note that you can select these modifier keys in any combination you desire. For example, you can select CMD + CTRL + Shift, or just CMD if you prefer.
Play around; you'll soon see how it works.
Step Four: Magnify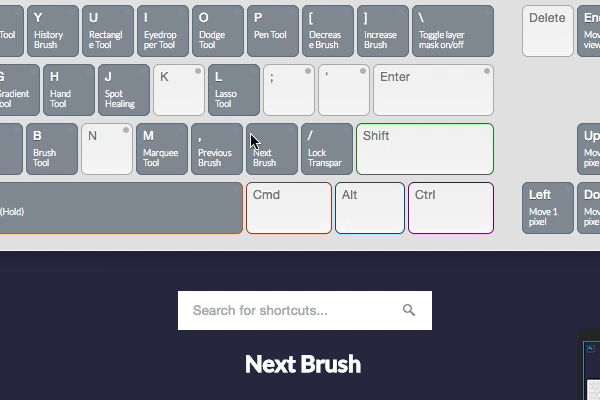 Some of the shortcuts might not fit on the small keys, so the text will end up being cut-off.
This isn't great if you're trying to read what the shortcut actually is, but fear not, as there is a simple solution.
Grab your mouse and roll your cursor over any key on the keyboard; you'll notice that as you do so, the text on the key will be replicated below the keyboard (in much larger type, too).
Step Five: Search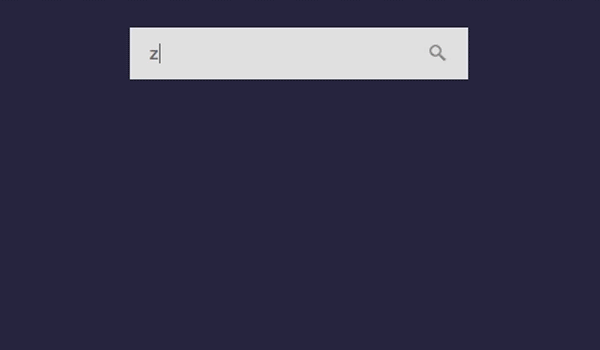 Clearly, there are a lot of keyboard shortcuts mapped onto the tool (over a thousand, actually).
This means that if you're looking for a particular shortcut, you're going to have a pretty hard time finding it.
The good news is that rather than trying to spot the shortcut in a massive crowd, you can simply use the search function instead.
To use this, start typing in the search bar (located below the keyboard – scroll if you're unable to see it): as you do, you'll see some suggestions for shortcuts in list format.
Step Six: Language (Optional)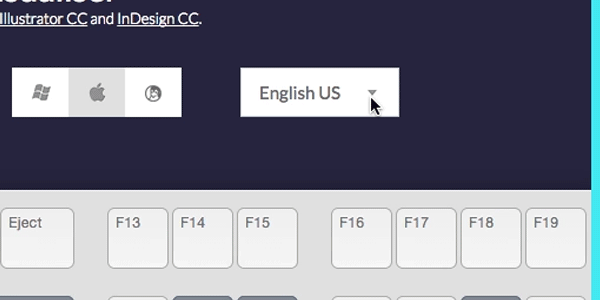 The layout of your keyboard may vary depending on where you purchased your computer; but fear not, as it's possible to select your language/region using another drop-down menu.
By default, the language selection should be set to English US, so it'll be setup perfectly for most users.
If you're in the UK or another country, though, you may want to quickly make a more appropriate selection, just to ensure that everything is laid out and mapped accordingly.
Plus: Photoshop, Illustrator & InDesign Wallpapers (Download Link)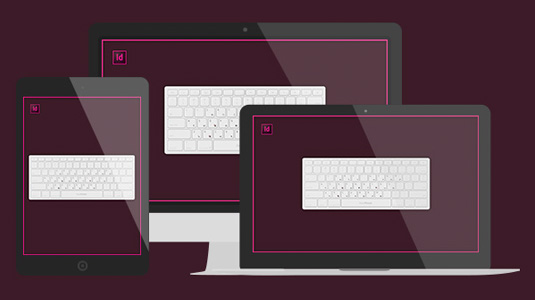 Let's face it; the interactive shortcut mapper is fantastic, unless your Internet drops out.
To be safe, it might be a good idea to download one of FastPrints' stunning beautiful and minimalistic desktop wallpapers, which showcase the most popular shortcuts for each application.
Here's the download link.
There are unique versions for PC and Mac (which accounts for the CMD/CTRL issue), and they're available for a total of ten different screen resolutions.