Joomla is an open source content management system (CMS) that can be used to build out almost any kind of website. The only limits on how to use it are the limits of your imagination. Joomla evolved out of the Mambo CMS, and over time, much like WordPress, it has built up its own large audience of fiercely passionate and intensely loyal users.
The CMS offers both developers and users an abundance of information on what it can do, as well as provides them with copious resources on how to customize, test and tweak it to suit the needs of their project.
Getting Started

Joomla 3 Video Tutorials – Getting Started
There are plenty of resources both official and unofficial developed by the Joomla community. However, before you venture out too far and get lost in the overwhelming amount of information on Joomla posted on technical blogs, a good place to start is the office resource website. This is friendly, easy-to-understand, and offers the new users some invaluable tips on how to navigate around the Joomla environment.
Four resources worth noting are Joomla Home, Joomla Documentation, Joomla Community Magazine, Joomla Team Blogs, and Joomla Forums.
Let's take a quick look at each one:
Joomla Home
This is where you can find out more about Joomla and also where you can download the CMS files.
Joomla Documentation
This offers a lot of useful information that you can bookmark for further reference. It offers developers and users a plethora of tips, tricks, and techniques that will help power up a stunning website.
Joomla Community Magazine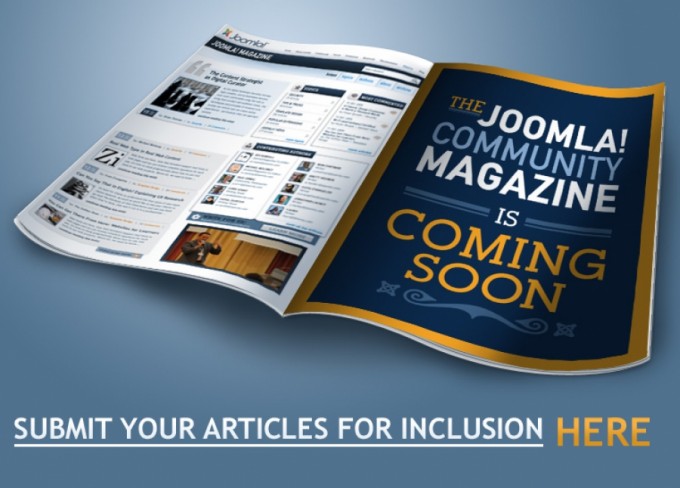 This is another resource for developers and users. It basically offers information on the most current innovations. While Joomla documentation is a collection of proven technical information, Joomla magazine explores what else is possible. It provides current news and information.
Joomla Team Blogs

There are active groups within Joomla's community, and each has its own blog to share its ideas and discoveries with the community.
Joomla Forums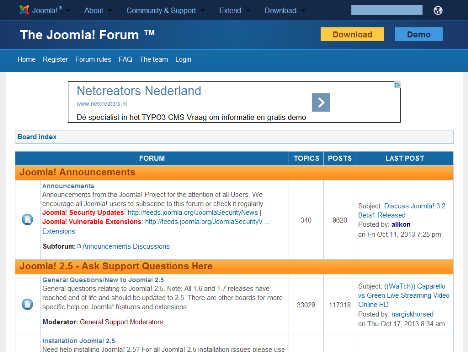 This is a guide for the perplexed. It's a place where seasoned Joomla veterans can share war stories with each other as well as dispense invaluable advice with new users. Like most other CMS forums, it's a place where community members answer a variety of questions from new users. It's a good place to go when you're stuck, when you're trying find resources, or when you're trying to decipher some technical information.
Nuts And Bolts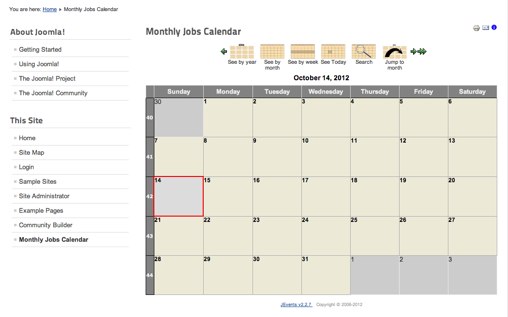 10 Joomla extension modules for easier and better websites
Those looking to work with Joomla can also find more information about it through tutorials, templates, and Joomla web hosts. It is here that new users can find out more about out-of-the-box functionality like extensions, plug-ins, and add-ons, as well as some inspirational examples of what can be done with Joomla.
Tutorials
The best way to learn a CMS is by going through the tutorials on it. These serve to show new users where to find various features and how to turn on the lights. The tutorials are organized, brief, and clear. They make it easy to figure things out.
Templates

With thousands of templates available, it doesn't make much sense to code your own website. Templates make it easy for anyone to get up and running fast. Besides free templates, there are premium theme membership clubs to get customized, robust themes.
What's the Best CMS?


WordPress, Joomla and Drupal are NOT the Best CMS
Although the question sounds legitimate enough, it's rather like asking whether the weather is better in California or Florida. There is no one right answer. It depends on the person using a content management system and the nature of their projects. All the most popular content management systems have a large, active community for good reasons.
Tuts +s offers the following comparison between Joomla, Drupal, and WordPress:
"Joomla is a very advanced CMS in terms of functionality. That said, getting started with Joomla is fairly easy, thanks to Joomla's installer….Joomla is very similar to Drupal in that it's a complete CMS, and might be a bit much for a simple portfolio site….The Joomla site hosts more than 3,200 extensions, so you know the developer community behind the popular CMS is alive and kicking. Like WordPress, you can add just about any needed functionality with an extension."
Arvixe goes on to describe Joomla as "an award-winning content management system (CMS), which enables you to build websites and powerful online applications."
So, yes, Joomla stacks up favorably against the best CMS platforms.
Sometimes, however, the best way to decide whether or not a CMS is for you is to look at some examples. The Joomla Community Magazine offers a top ten list of websites that are built on the Joomla platform.
Should You Try Joomla?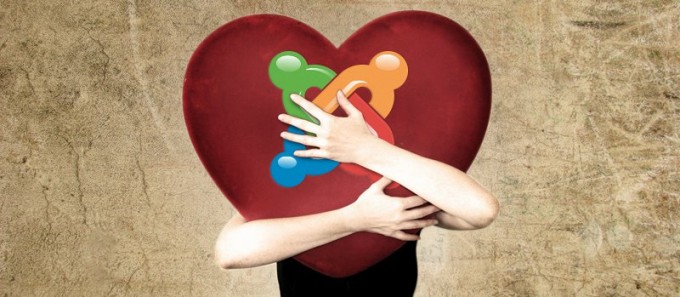 5 Reasons Why Joomla is the Best CMS the World Has Ever Known! (Lol – see, not everyone is a fan, but you be the judge)
There are numerous reasons why you could be delighted with Joomla, and the only way to find out if this CMS will support your business goals or that of your clients is to try it out. Millions of people use Joomla for their websites because it provides them with their aesthetics, functionality, and ease-of-use that suits their needs. Although, everyone is different, use what best fits you – if its joomla, great! If its something else, you do what you do best.