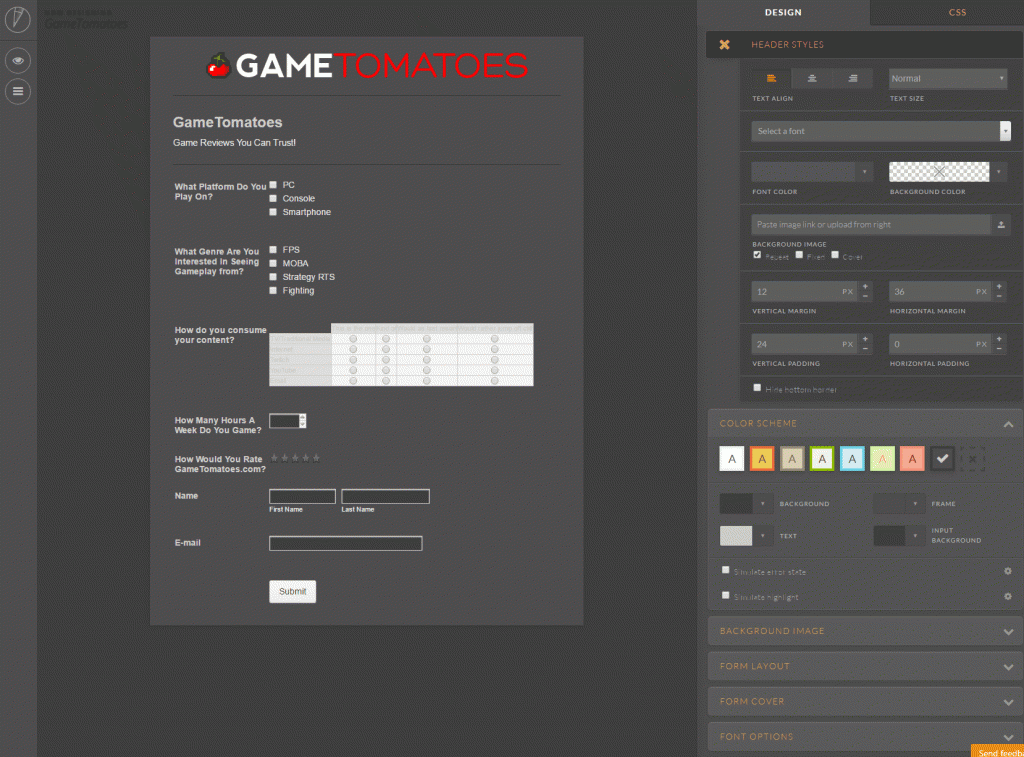 It's been a little over two years since we last reviewed JotForm, and boy have they been up to a lot since we last checked in! Late last year we were pleased to hear the rumors that JotForm had completely overhauled their form builder app, and we are even more pleased to be able to break the scoop to you – you the loyal readers of AndySowards.com! We were some of the first to get access to the v4 build of this web based app and we can't wait to share with you all the new goodies that await you! First let's have a little recap.
What Is JotForm, Again?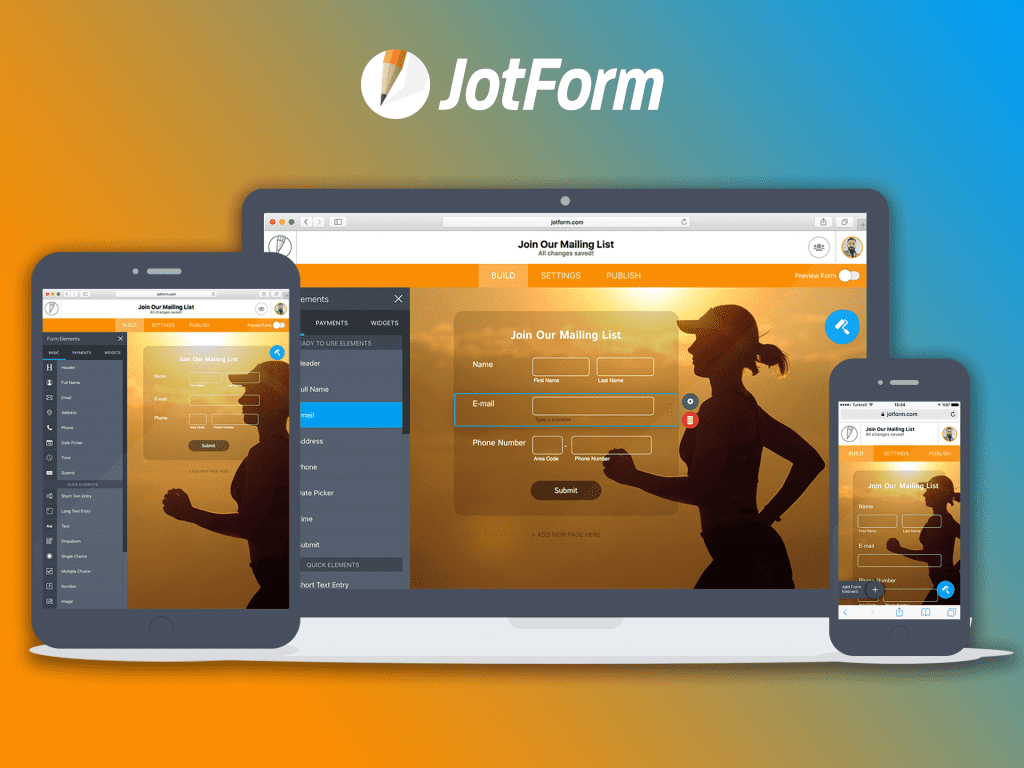 You have probably encountered JotForm at some point on the web since they have been around since 2006, back then they were one of the first web based WYSIWYG form builders. JotForm allows anyone to drag and drop your way to a custom online form without writing a line of code. Choose from thousands of customizable templates and themes, or create your own online form from scratch. JotForm's design capabilities allow you to create beautiful forms by choosing color schemes and fonts, and uploading images and logos. JotForm offers over 100 integrations with business tools including Salesforce, Dropbox, PayPal, Stripe, Excel, and more. Now they are releasing JotForm 4.0, which is a completely new version of JotForm: the Easiest Form Builder.
Who's It For?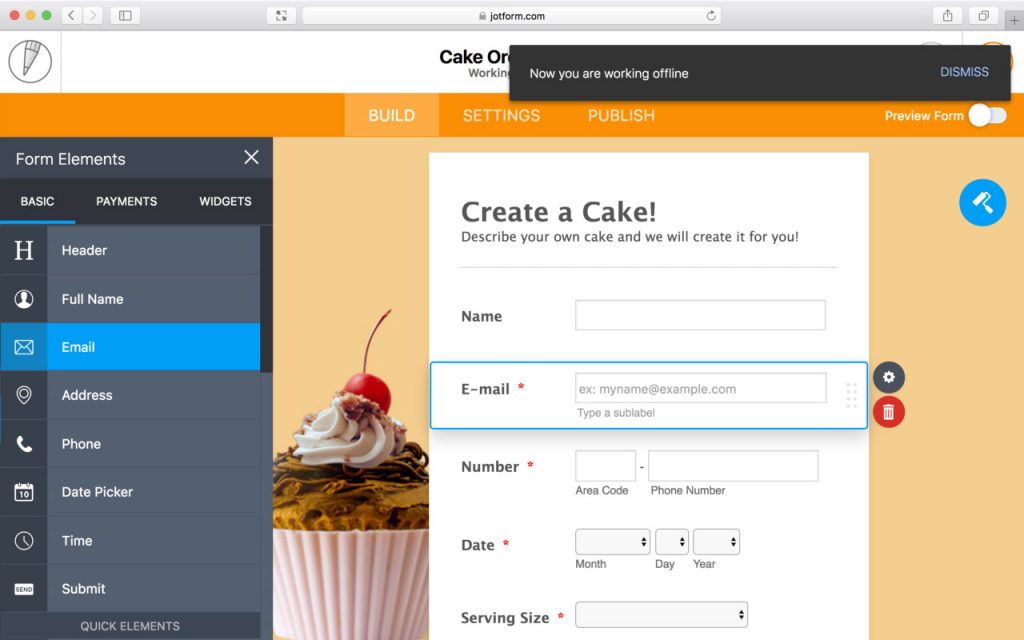 With more online tools than ever, it can be hard to find out which is right for you. Here is a short sampling of who can use JotForm right away in their day to day workflow:
Marketers – Sending out customer feedback surveys created with JotForm, using conditional logic marketers can skip questions or prompt new questions based on previous responses. On submission these surveys can be neatly stored in the JotForm user's dashboard, and notified via email, or integrated into apps like Excel or Google sheets, responses can automatically be entered in a spreadsheet.
Product managers – Collect feedback from different teams via a JotForm to create visual reports with JotForm from the data to view it in graph/chart form.
HR professionals – Team Leaders can create custom application forms for open roles with specific questions for the role, and make the forms more interactive by adding a video and asking questions pertaining to it. They can also use JotForm to make onboarding forms that collect additional information from new hires such as what type of laptop/equiptment they want or need etc.
Small businesses – like a bakery can use JotForm to collect custom orders. Using custom forms customers can select which flavors they want, how many of each kind, any special images or messages, what time they need their order by, etc. They can even add on extras, and pay for their order right there in JotForm (which is integrated with many payment processors including PayPal, Stripe, Square, AuthorizeNet etc.).
Agencies – Use JotForm for client intake forms and to get contracts. Signing on the dotted line with JotForm is easy thanks to integrated e-signing services like Docusign and Adobe.
Anyone Else – that is in need of collecting data, or names and emails, for a small or large group or for any survey/form needs – JotForm makes it easy with free accounts that could serve any purpose without having to create a website.
What's New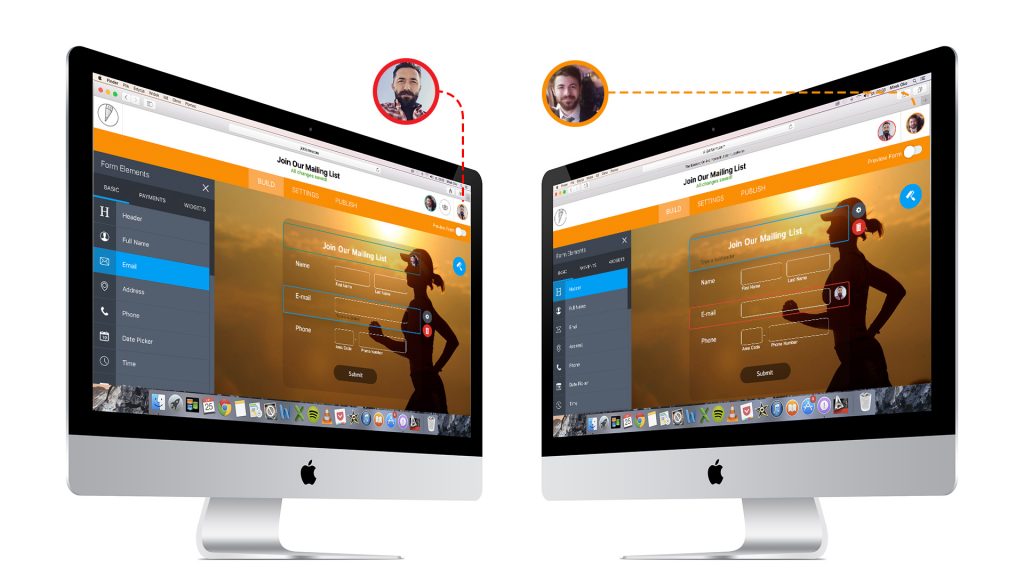 JotForm 4.0 has a completely redesigned interface that has survived hundreds of usability tests, making it more intuitive and easier to use than ever before. You are looking at the first and only online form builder that allows you to create forms on any device (including tablets and mobile phones) so you aren't limited to only your desktop computer or laptop like most software.
The new and improved JotForm 4.0 introduces new features including mobile building capability, enhanced collaboration, and offline functionality. Create forms anywhere, anytime. If you lose your internet connection, JotForm 4.0 lets you continue editing your forms, and when you're reconnected, your updates are uploaded automatically.
JotForm 4.0 can do everything JotForm can do plus more.

Want a sneak peek at what we've been working on?
Hands On – First Impressions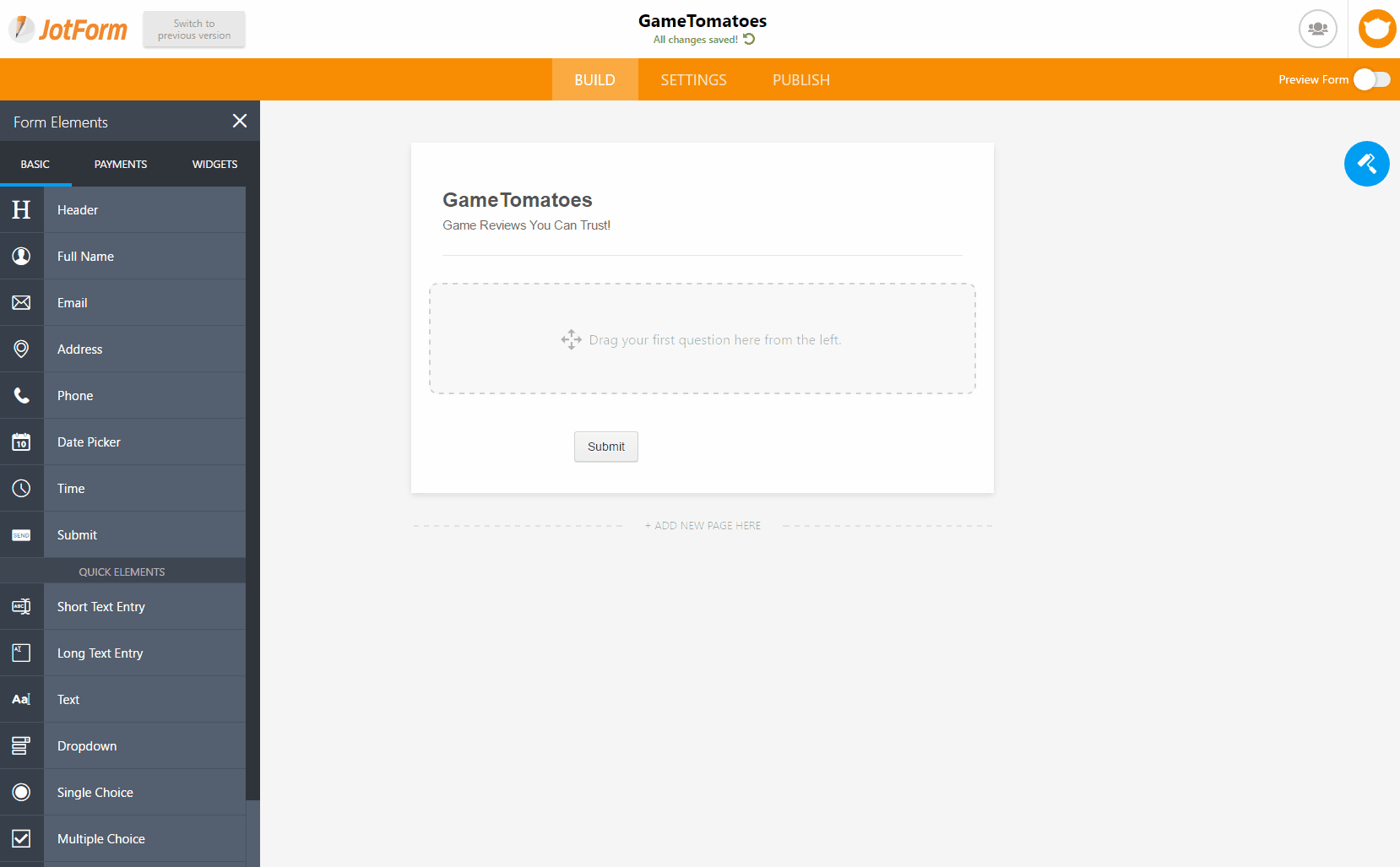 Right off the bat, you find the clean and simplified interface of v4.0 refreshing. Not only does it look much better than the previous version, but it's a breeze to navigate and use – very snappy. You don't even really have to login or signup to get started building your first form, which I love from a usability perspective.
As far as the usability of building the form, just check out the above animated gif, and the subsequent ones that follow in this post, and you'll get a feel for how easy it is to pick from the options on the left, drag and drop them into the canvas, and order them, edit them, or delete them to your hearts desire.
Very Satisfying.
I was able to build a usable form within just a few minutes – at the end of the process you get a link that you can share with your audience, and get customer feedback right away – how cool is that?
Very easy to use, just like before, but better.
Design Enhancements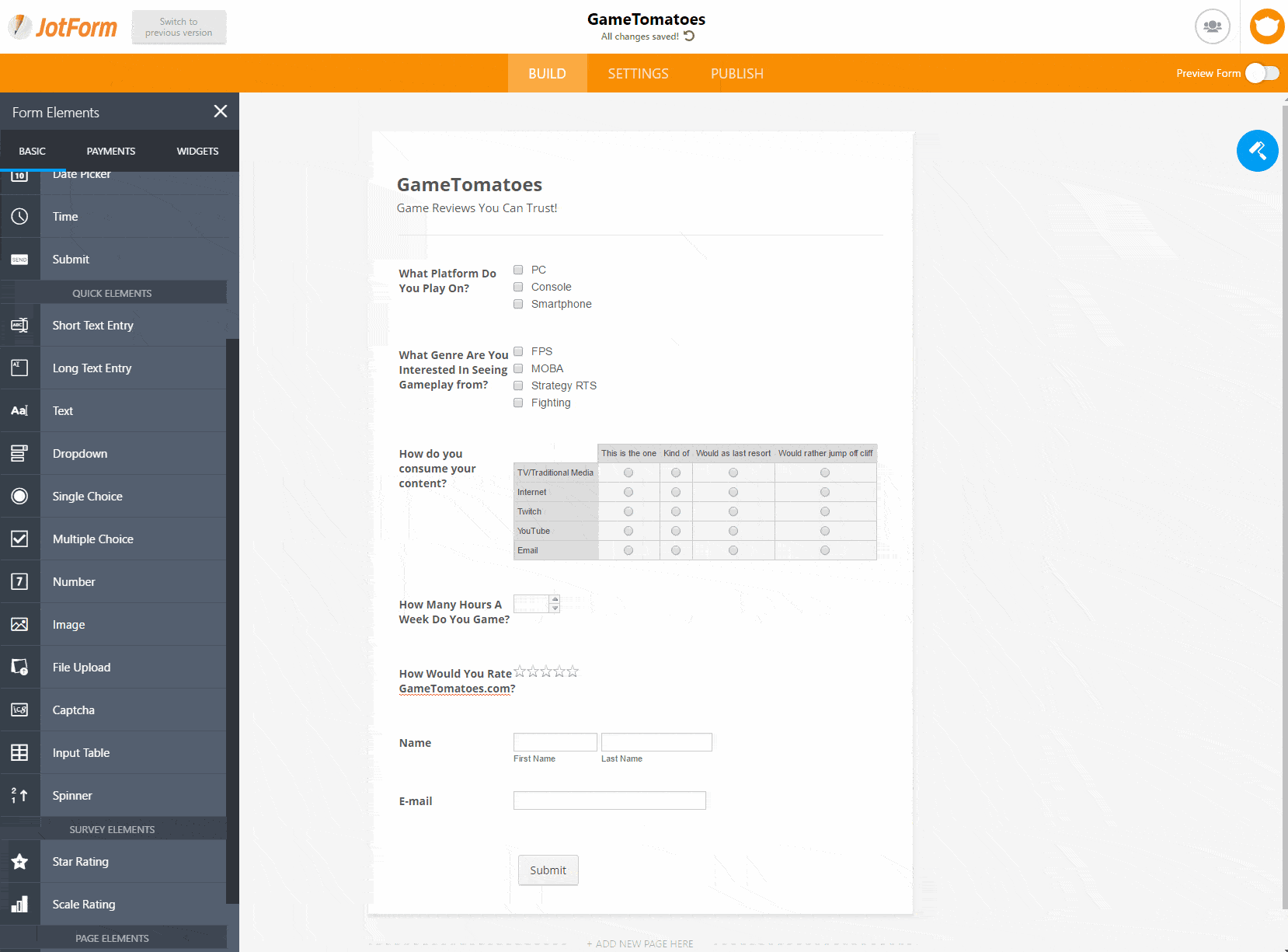 One of the biggest design enhancements on v4 of JotForm is that it is now flexible to use on all devices – not just for the people filling out the form, but for you, the user that is building the forms via the web browser. Whether you are on your desktop at the office, or on your laptop, tablet, or phone on the go – you have access to your forms and can edit them using the online tools no matter where you are! For example: you can begin building a form on your desktop and you can continue editing it on the go from your mobile phone while walking to the subway, and continue editing on the train even during periods of no wi-fi connection (such as in a tunnel, or out on a country road). All changes will sync when back online.
The other feature I was happy to see was the new collaboration enhancements, now you can share your form with co-workers and collaborate with them on the form building process, you can be working together on the same forms, simultaneously.
These features benefit business with remote workers, since some employees may be in parts of the country with slower internet, or spotty service as travel from place to place or wi-fi may be spotty in various coffee shops or other locations.
If you have used previous versions of JotForm then you are familiar enough with the system that you won't have to learn anything new at all. Even if you haven't used this system it's intuitive enough to be picked up right away – the only thing you may want to do is just cycle through all of the tabs in the system to get a feel for what options there are, and familiarize yourself with the payment services you can integrate with if you plan on using any of those. Other than that it's plug and play! The best kind of web tool.
Conclusion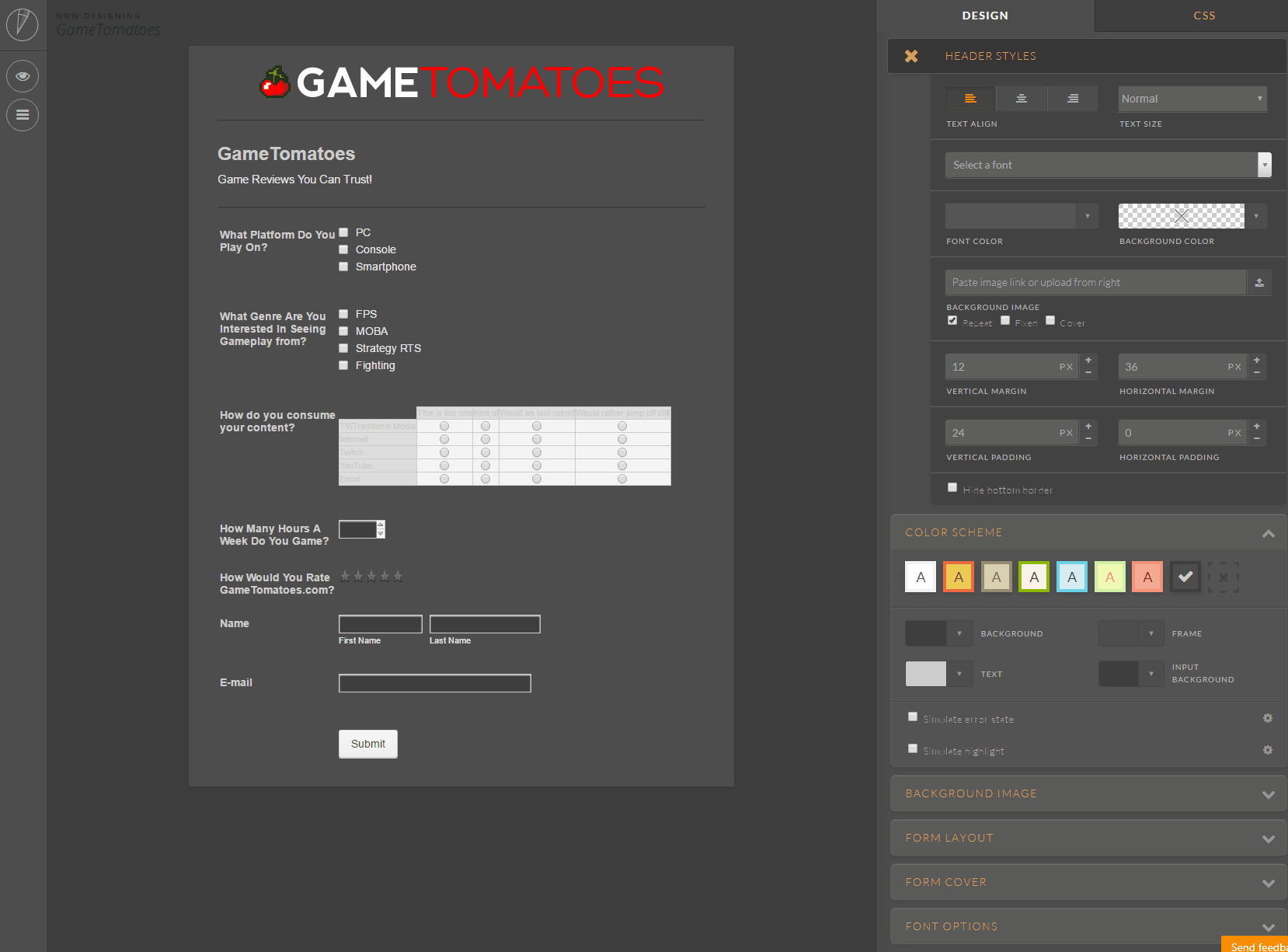 One of the number one complaints about web based tools is it's not easy or versatile enough – with JotForm they have made sure that all the usability boxes are checked. I really had a great time going through the different options and settings in JotForm, never once did I feel frustrated, or feel like a feature was just missing. I've tried a lot of these form building services and I feel like JotForm gives you the best deal – it's free to try and the free tier gives you access to basically everything, you are essentially only limited by bandwidth but what it gives you is sufficient for most non business purposes. Other comparable services give you less on the free tier, making it almost unusable – and they give you less on the paid tiers while charging more than what JotForms is charging. It just makes sense to go with JotForms, especially if this is your first venture into form building online. That's why we are giving JotForms a solid 8.3 out of 10 – because we are happy with the service and feel like it's the best stand alone option out there in terms of taking control of your forms and getting data from your customers on the web. Don't take our word for it though, as always we encourage you to make your own decisions, go on over to JotForm and give the free account a try today!
Have you tried JotForm? Let us know your experience below! Share any helpful tips or opinions in the comments below! Thanks for Reading!
JotForm 4.0 Review
Features -

8/10

Usability -

9/10

Design -

8/10
Summary
JotForm's new version is plenty versatile, and really cleans up any of the loose ends from the previous version. While it's great, nothing is perfect. It is true that you can customize and control pretty much any aspect of your form building experience – but to truly control everything and make it look exactly how you want you do need to dive into the CSS a little bit, which is fine but in future versions we'd love to see more granular control over the design of each and every field. Until then this version keeps us plenty happy and let's us build forms quickly and easily – can't complain there! 8.3 out of 10!