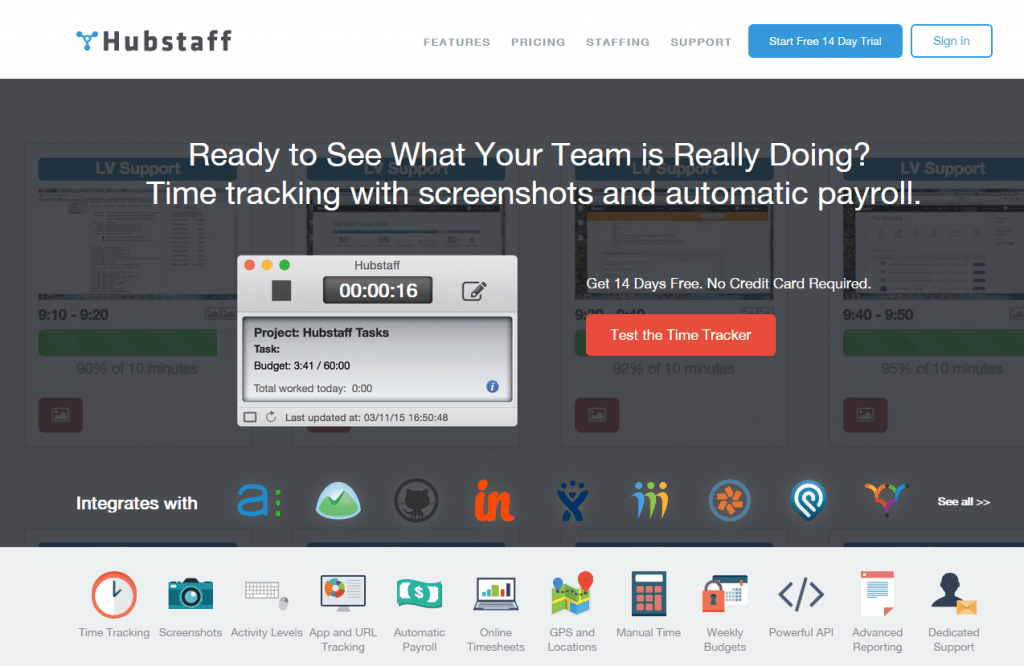 We are back with another review! This time we have spent some time with an application that any freelancer or entrepreneur will find immediate use for, called HubStaff. We have reviewed similar software in the past which gives us some experience in this field to pass the value on to you guys! We do the work and save you the time. Since we are entrepreneurs as well it goes without saying that we are constantly on the prowl for things that will streamline our business and make the process of running it not only smoother but more efficient – saving us time and lost revenue. So what does it do?
What Is HubStaff?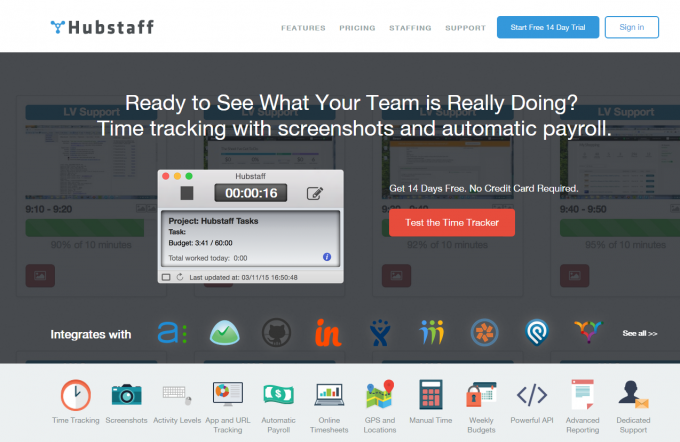 Hubstaff is a time tracking platform that provides screenshots, activity tracking and proof of work for projects and tasks. They have over 30 integrations with many project management solutions such as Asana, Basecamp, Github, Wrike, Quickbooks, and More. Users can see assigned tasks right on their desktop and as they track time to the task, you'll be able to see screenshots, activity levels, applications being used, and URLs being visited for the work being done.
This provides a high level overview of the work being done for managers, but also it helps companies make better decisions and get business intelligence (a rare feature of any software).
Agencies are also using this for invoicing clients and proof of work. Now when agencies are working for clients, they can just have their team track time to that client, and then billing / admin is much easier. Not only do they know the number of hours that they worked for each client and can send them a bill for that exact amount of hours without doing any additional work but they can also send the client screenshots to show the work being done in real time or they can invite the client in to view all the reports in real time.
Once you know how much time was worked for the various clients, you can also know the exact amount of time that each employee worked. Then you can pay them automatically inside HubStaff via the payroll system (paypal, payoneer, or transpay). This further reduces admin efforts, saving you time and money.
The whole process with HubStaff is automatic. The Problem with old timesheet software is that it's very manual and employees typically enter in times that inaccurate. Anytime something isn't automatic is opens the door for human error. The HubStaff system tracks time down to the second and there is no reliance on the employee to try to keep track of their hours anymore.
They also have a blog with a lot of interesting content on it as well – blog.hubstaff.com/grow and blog.hubstaff.com/university. If you are like me and follow the Buffer team and other hot startups, you'll notice that they are very transparent – well, so is HubStaff, they are totally transparent regarding revenue numbers – so if you are trying to grow your own business or SaaS product, then you'll want to check it out!
First Impressions
I was pleased to see so many supported platforms for HubStaff – that was always a hard sell for anything that I recommended being windows only or mac only – HubStaff supports Mac, Windows, Linux AND iOS on the download page. As expected from here it is just a few minutes to download and setup, before you know it you are able to easily dive right in with the intuitive user interface. The diverse device support also makes it easy to get employees on board – no matter what operating system they are under they should be able to login and get to work without getting frustrated. You won't get frustrated either with the great support offerings – they even have a getting started guide and plenty of other documents and videos to help guide you through!
Time Tracking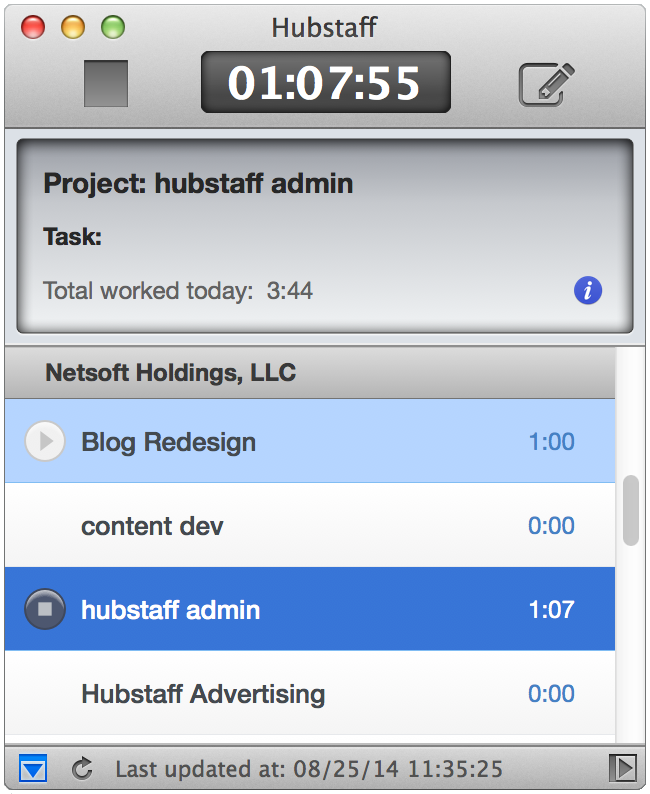 Clearly the biggest selling point of the software is Time Tracking – so how does it do? This is one of the best features of HubStaff, with their special algorithm and focus on automation they allow you to effortlessly track your time without messing it up. Using tracking software that keeps track of your time for you by checking keyboard and mouse activity is the future, and makes it easier on employees as well as employers. Speaking of automation, you can even set time budgets and automated payments, more on that later.
The timer is very versatile, it includes a full view and a simple view – when minimized it continues to track your time, and you can easily switch tasks and not have to worry about jotting down times or keeping track of any of that yourself, you can even add notes to your time logs that show up instantly in the web interface for you or your project manager to view.
Dashboard
This is a very powerful screen in the application – probably one of my favorites, especially if you have it decked out with a full team of virtual employees. At a glance you can see YOUR stats, as well as your TEAMS stats, you get to see stuff like total hours worked that day, total hours worked that week, efficiency levels, etc. You can really get a feel of how well (or how badly) your team is doing, almost like they were all in the same office, even if you aren't. HubStaff is perfect for managing virtual teams small and large, as you can see, the tracking and reports are very robust. You can manage more than one team as well with the Organizations feature – in case you run more than one company or more than one team within a company – the tools are there.
You can dig down into the dashboard info and find out specific information about your time, or your employees time – you can even see whether they are currently online or not. There are lots of different ways to filter this data as well, you can filter Activity for instance by person, or by project, where you can see activity levels and screenshots of the work done (if you don't have this feature turned off).
Activity And Reports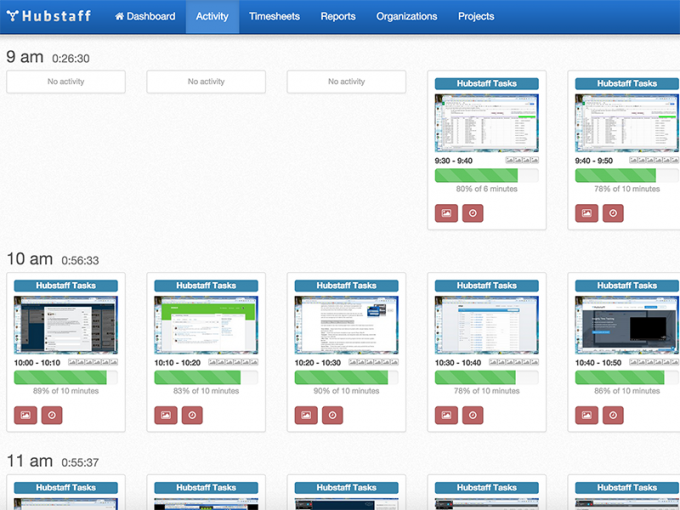 As we mentioned the Activity and Reporting features of HubStaff are very robust. In a time where surveillance is a touchy subject – HubStaff does a brilliant job of being transparent and allowing their users the tools to make responsible tracking possible. Employers can track their employees and make sure things are getting done without forcing employees into anything that they aren't in agreement with. The owner can set HubStaff to require screenshotting activity in increments of 1x, 2x, or 3x per a 10 minute period, or they can choose to turn it off altogether. If the owner chooses to leave activity screenshots on, they CAN give the user access to delete screenshots, or modify the activity in order to give some freedom back to the user but retain accountability.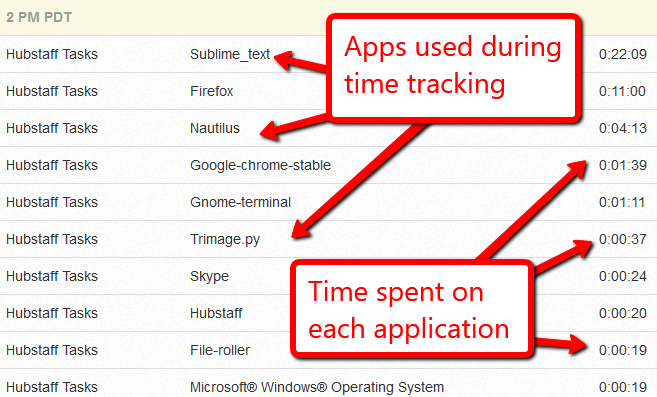 The reporting features of HubStaff are truly remarkable as you can filter on LOTS of different criteria such as date ranges, companies, teams, and individual members – or all of the above in different configurations – through all of these options you truly get a handle of how your organization is operating. In addition to time factors HubStaff tracks applications as well, showing you the top applications that are being used in your organization by team members to notice trends and make informed decisions about how your employees work
Timesheets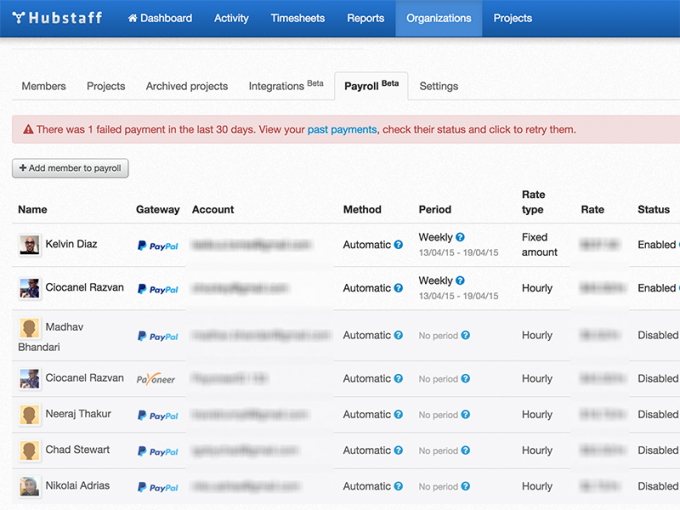 Making HubStaff a full on business management solution is the inclusion of Timesheets and automatic payment options. Your employees can import automatically their time into their timesheet as well as add manual time where needed. The payment portion is optional of course but if you want to manage everything directly in HubStaff it is more than easy to do so. You can use your favorite payment processor such as Paypal and it even keeps track of how much you've paid, and how much you need to pay your employees – keeping your accounting airtight. You have full control over the pay rate of employees and you can even set time budgets for them each week so they cannot go over the allotted time budget (they just won't be able to login and add more time when they reach their limit).
Conclusion
If you're building a team (remote or not) and want to make sure that you are tracking your team's progress properly and efficiently, then I highly recommend HubStaff. They make it very easy to use, and even easier to switch to them – if you want they have even prepared a guide on switching to them and getting the most out of the software, I recommend you check it out if you are considering switching. With the robust user settings, filters for reporting, API Integrations, and team management functionality it is hard to find a more perfect staff management application.
Don't take my word for it, if you want to give them a try they offer a free 14 day trial, but their pricing is very affordable when compared to similar software offerings that i've reviewed in the past – so at this value, give it a try, and let me know if it changes your business!
Thanks for reading! Hope you found this review useful, what is your experience? Have you tried HubStaff? Let us know in the comments below!