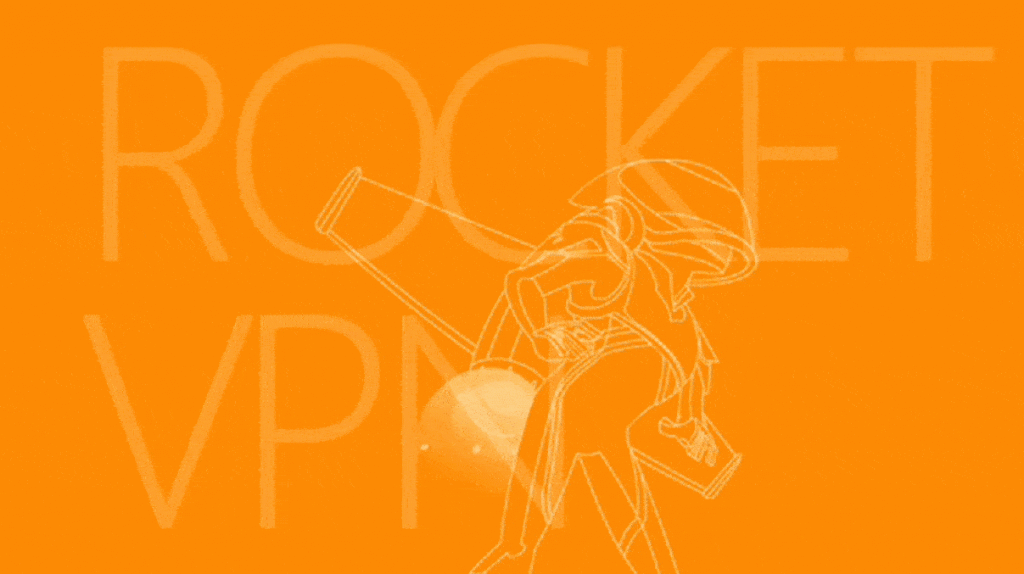 A hot topic on the minds of people all around the world (and especially in America) is internet privacy. It's not too often that we get to cover such a hot button issue here in the form of a product review, but we had the chance to test out Rocket VPN and I couldn't wait to put together this piece for you guys because I think it's important – and I really enjoyed my time with Rocket VPN on my Nexus 5 (Android) Smartphone.
We've talked about VPNs here, and on infiniGeek in the past. A VPN encrypts your data before it leaves your device, it then sends said encrypted data through your local network and internet service provider (ISP) until it reaches the VPN provider's servers where it is extracted.
Essentially you are sending a nicely encrypted "Message in a bottle" through the series of tubes known as the Internet, they will only be able to be read by the recipient at the end of this secure journey. This process is commonly referred to as "tunneling.". Now there are many reasons that someone would want a VPN – security, privacy, to browse the internet anonymously without being "watched". I'll cover these reasons and many more as we go on.
Rocket VPN – browse the internet anonymously
As we mentioned we try to bring you guys the best of the best in terms of product reviews, because we put a lot of effort into it, we don't want to waste our time or yours. This week we were able to give Rocket VPN a test run on our android smartphone. It's also available for iOS.
We hope you enjoy our review – we really enjoyed giving it a try. It truly is one of the quickest and easiest VPNs to hit the ground running with on your smartphone – but don't take our word for it, please give it a try for yourself as you go through my quick review of the app!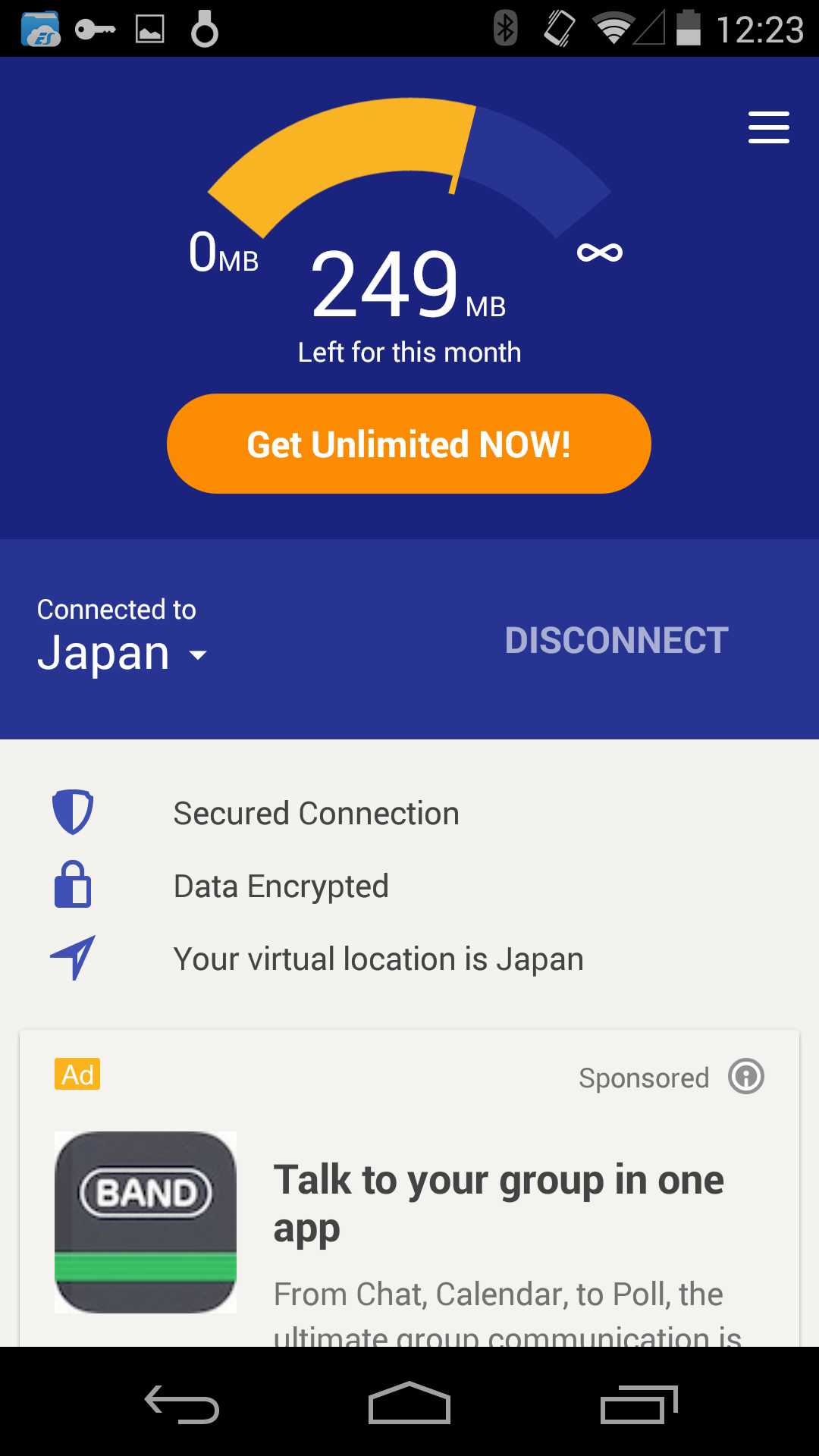 Features
What can this VPN App do you might ask?
Well here is a quick list of what you can do:
Access video and website content not available in your country
If your country has a lot of restrictions on content, and you want to bypass those – this app will totally do that for you, here for example we are getting Japanese titles in the Netflix app, which we would otherwise not even be able to see. You can jump around to different countries to get access to everything – you teleporting shapeshifter you. You can use any of your apps through the VPN btw, youtube, hulu, it all works.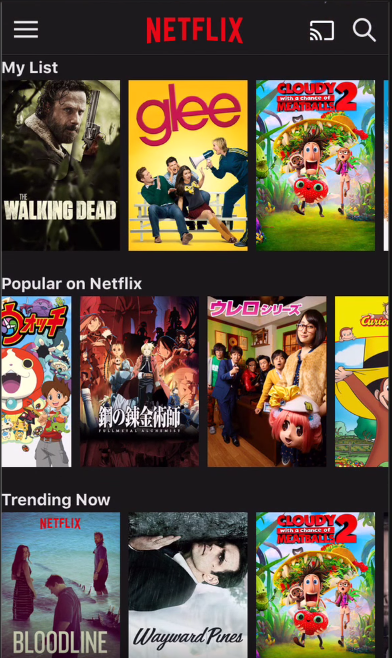 Encrypt your browsing data and increase security and privacy
If you browse the internet at coffee shops or anywhere that has open free WiFi you are putting your privacy and data at risk. With Rocket VPN you are protected because your data is encrypted before it leaves your device – so no one can snoop or spy on your browsing history, not even the ISP. Since you can change your location and your browsing data is encrypted you can truly browse the Web anonymously and not worry about anyone invading your privacy or online rights.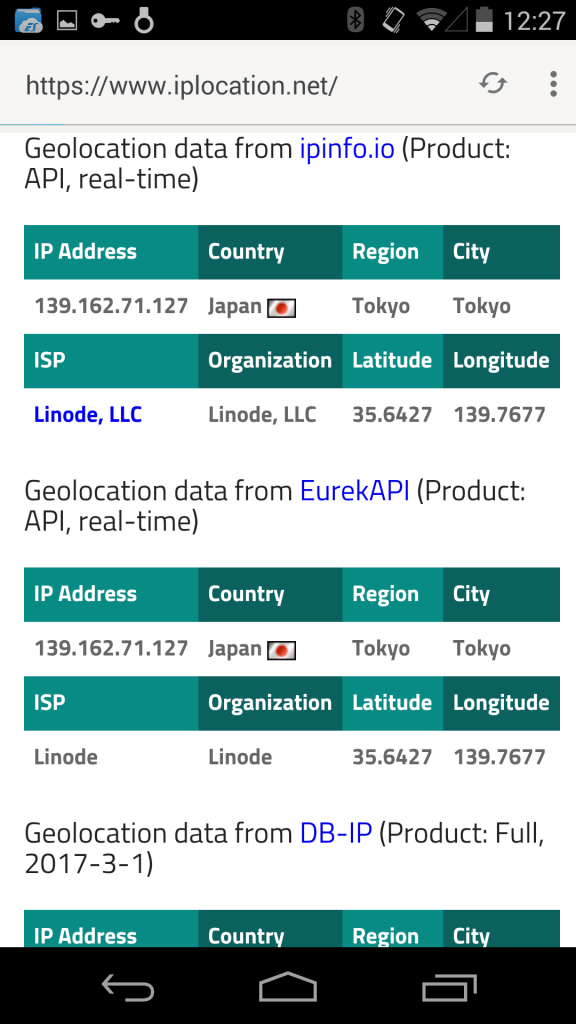 Getting Started With Rocket VPN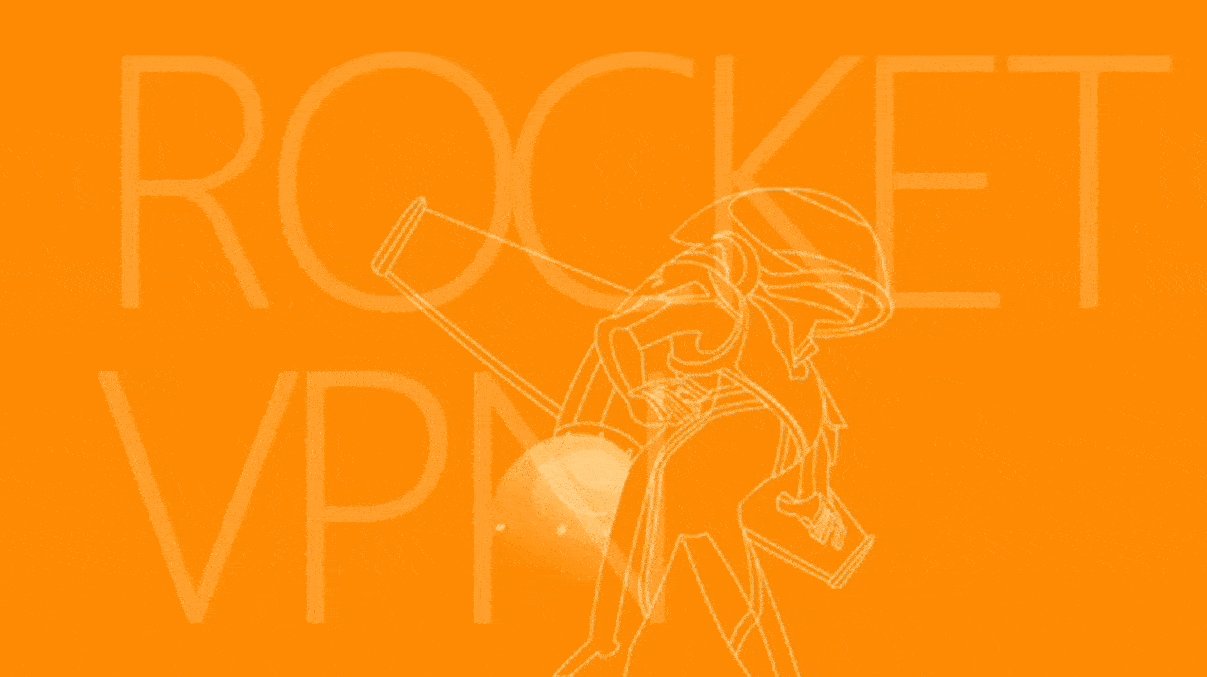 Right from the get go I was impressed with Rocket VPN, I really get the feels when I see a good design and these guys really nailed it. They really applied the same effort to their website. Bright colors, minimal layouts, it's got it all. Ok enough about the design.
I was able to dive right into this app the moment it was downloaded – greeted with a clean and easy to use interface, and 250MBs of free secure and encrypted browser surfing goodness. You get 250MBs of privacy every month! It does have ads in the free version, but for me – this is no big deal. I would prefer to see ads and get something nice for free – but if you aren't like that you can of course upgrade to the unlimited plan for a fairly reasonable price (around $3.99 per month) but that's up to you, we are just giving you the lowdown of this app and our thoughts on it in this review.
To get connected & protected (for free) you just have to select the destination you want to be seen as being your location. I love Japanese stuff, so I naturally selected Japan.
Then you are connected!
Once you are connected you can actually get some cool stats in your notifications bar that not only keeps you in the know about what the app is doing but gives you a secure feeling when browsing around and accessing the internet.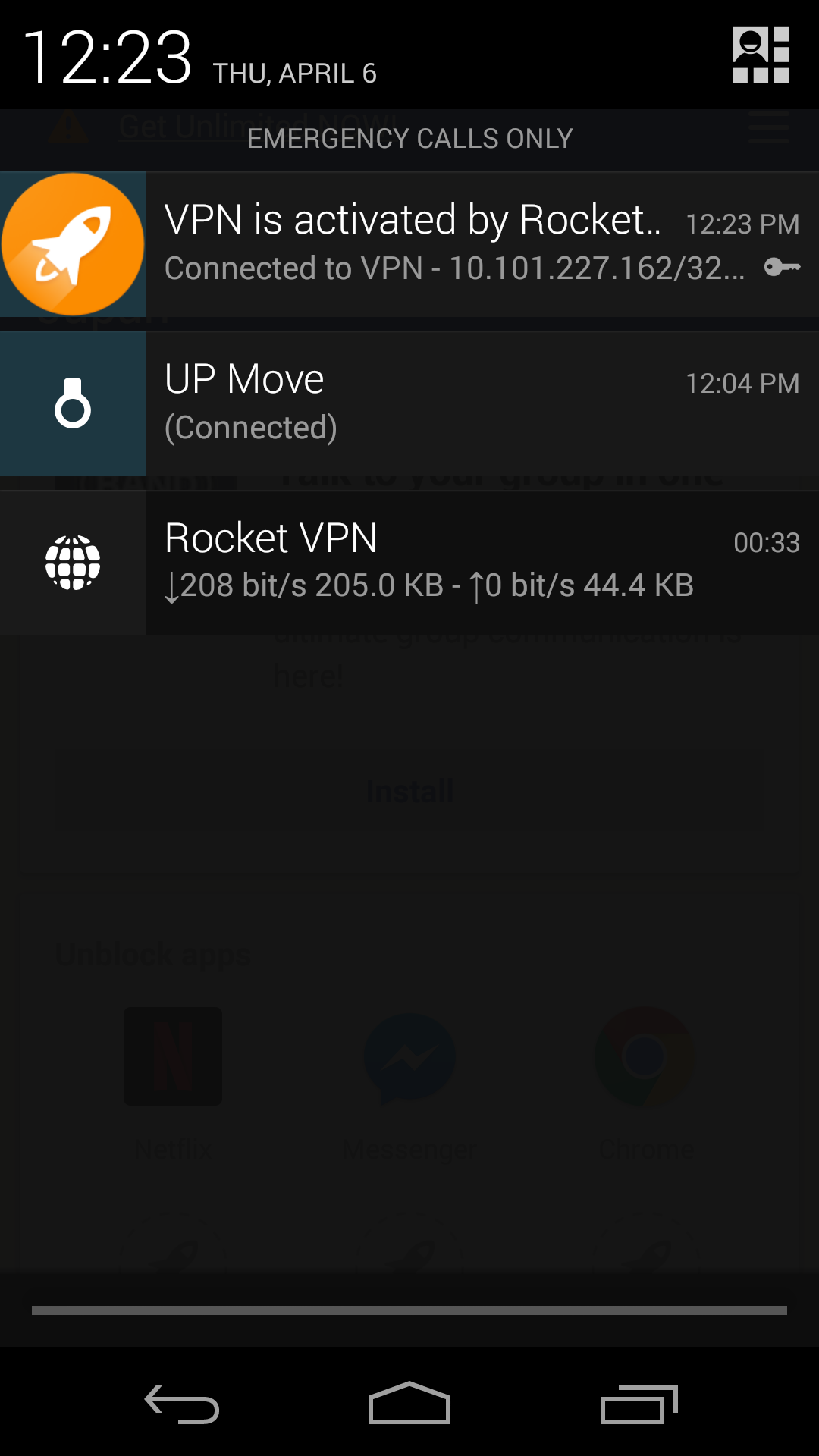 Conclusion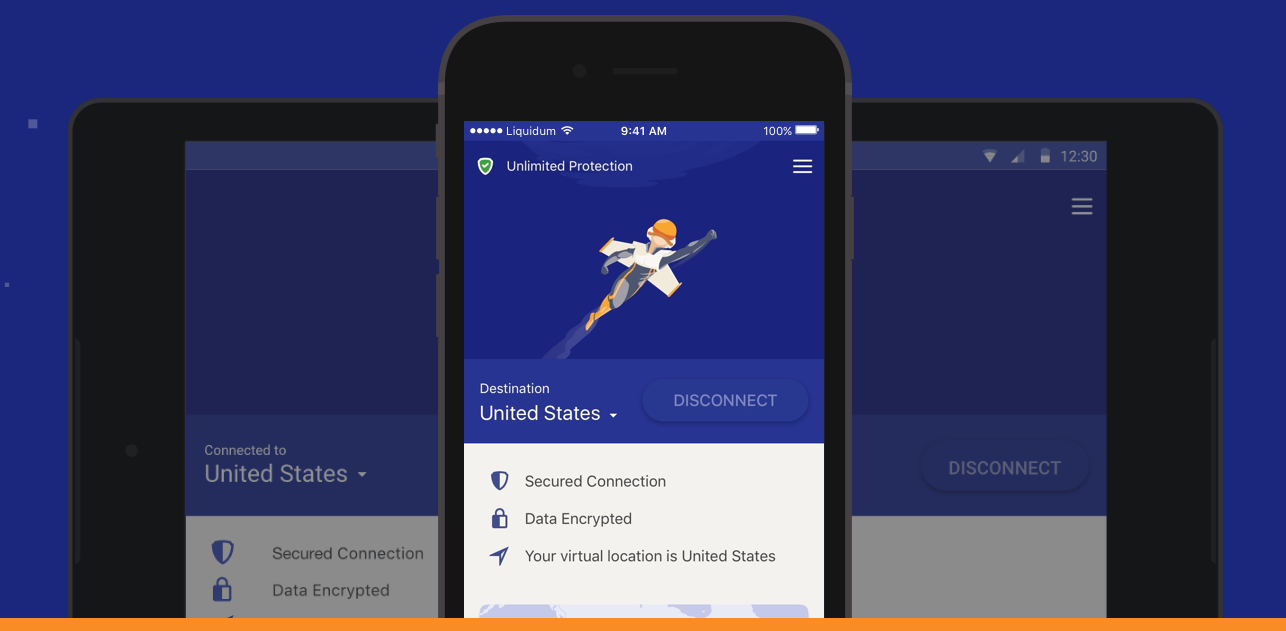 I really enjoyed my time with Rocket VPN and will probably use it as my go to VPN since it seems reliable and trustworthy. The price is nice as well, you can't beat a free VPN even if you only get 250MBs per month, that is enough for most people to browse on the go. When you need more I think the price is reasonable, and if you want to really try it they give you 7 days of unlimited for free so you can really make an informed decision, so don't take my word for it go give it a try yourself and see if it delivers what you expect from a top tier VPN service.
One more thing, the guys that made the app, Liquidum – received The Top Developer badge on Google Play, granted to developers committed to launching innovative and high quality apps. So you know these guys aren't playing around and they aren't trying to trick people out of their hard earned money, it's a polished and professional app and you can tell.
Let us know in the comments below if you've tried Rocket VPN or what VPN service you would recommend? Thanks for reading!
Rocket VPN App Review
Features

Design

Functionality

Price
Summary
There are a lot of great VPN services out there but if you have been put off by the sloppy looks and feels of them and have been looking for a simple VPN with a clean user interface and cheap subscription price then this is the one for you.