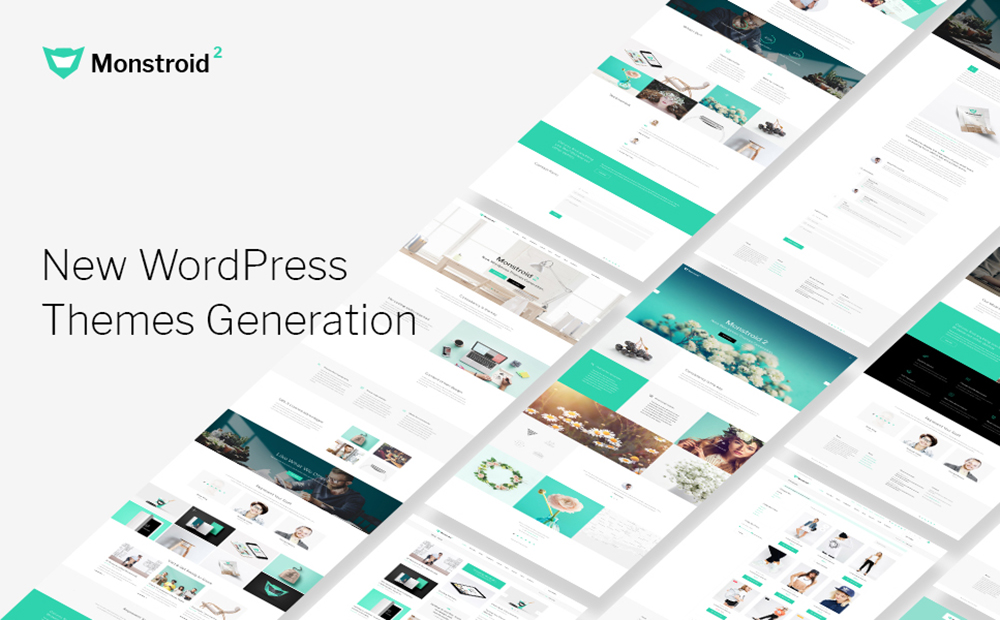 Why do some businesses go viral when some disappear into the river of Internet stuff? Well, that's a million-dollar question. However, with high-quality flagship templates for your business, your website can stand out from the competition with a web-first approach. Admit it, the thought of having thousands or even millions of potential customers and followers is amazing. With this roundup of top 10 flagship templates, you can get your business in front of the right audience. As a result, this can take your business to new heights. This, of course, can be extremely hard, but if you choose the right way to go your business could be an overnight success.
Why Choose Website Templates for Your Website?
Well, there's no magic recipe, however, a sleek WordPress flagship template that captures people's attention could be the answer. Besides, the best thing about website templates is that you don't need a massive budget to get started with your brand new website. Moreover, even with a zero technical experience, you can create a modern WordPress website in no time. It's simply unbelievable, but using a single website template, anyone can get things done. And there're facts to back it. However, the biggest trick is to find the best product that fits your brand. Don't fret, enjoy a great collection of the best WordPress themes for business and make your pick.
Where to Find Great Flagman Templates?
Not sure where to start? Don't waste your time and check the digital marketplace for the best website templates built on various CMS platforms like PrestaShop, Magento, Joomla, etc. Take time to sort through the gallery to find the best solution possible. Pick the one that is most suitable with the style and structure of your content to save tons of time and effort. Not to mention, that all of them include some noteworthy features like responsive design, SEO-optimization, a set of custom plugins & widgets, and more. But the best thing about these website templates is a friendly lifetime 24/7 customer support. Let's say, you're a newbie with a little experience, don't fret, TM Service Center will help you get rid of all the worries. Keep that in mind.
What are the Benefits for Your Business?
Well, to begin with, website templates are within your budget. Especially if you're planning to build a website for startup or freelance purposes, a website template can be the best solution possible. To be more specific, with website templates your website is up and running within few days, no matter how much you need to customize it in order to better meet your needs. On top of that, remember your website is SEO-friendly, responsive, and cross-browser compatible right from the start. So, you can easily deliver the best user experience and gain the attention you need. When still in doubt, take a look at these flagman website templates ready to create a clean, simple, and easy to navigate website for your business in no time.
Monstroid2 – Multipurpose Business WordPress Theme
Monstroid2 is a simple one-stop-shop for any business you may have. Jam-packed with the custom functionality, it includes multiple layouts & designs to match every web project. Enjoy 9 design options and choose the look that fits your business requirements best. Monstroid2 is responsive so it responds to any modern device and screen size. What's more? Learn how much custom widgets & plugins come included, too. Besides, it's WooCommerce ready, so your online store can go live in as little as five minutes. Try this flagship to build a website with tons of bells and whistles.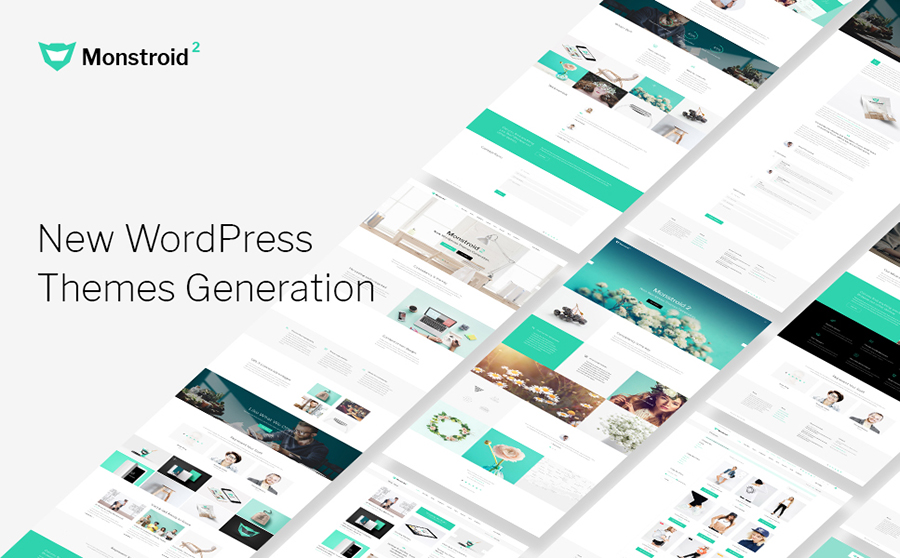 JohnnyGo – Multipurpose Maintenance Business WordPress Theme
JohnnyGo is an all-in-one flagship for all kinds of the home services business. If you need to build a home services website, JohnnyGo can get the job done. It can help boost your business with its incredible functionality and efficient UI. You can drive your business, arrange appointments, showcase your services, run an exciting blog, or set up an online store even with zero technical experience. Built with drag-and-drop Elementor live page builder, JohnnyGo allows customize it with minimal fuss. Besides, using JetElements plugin together with Elementor page builder, you can get the best results and create all kinds of content. Don't miss it.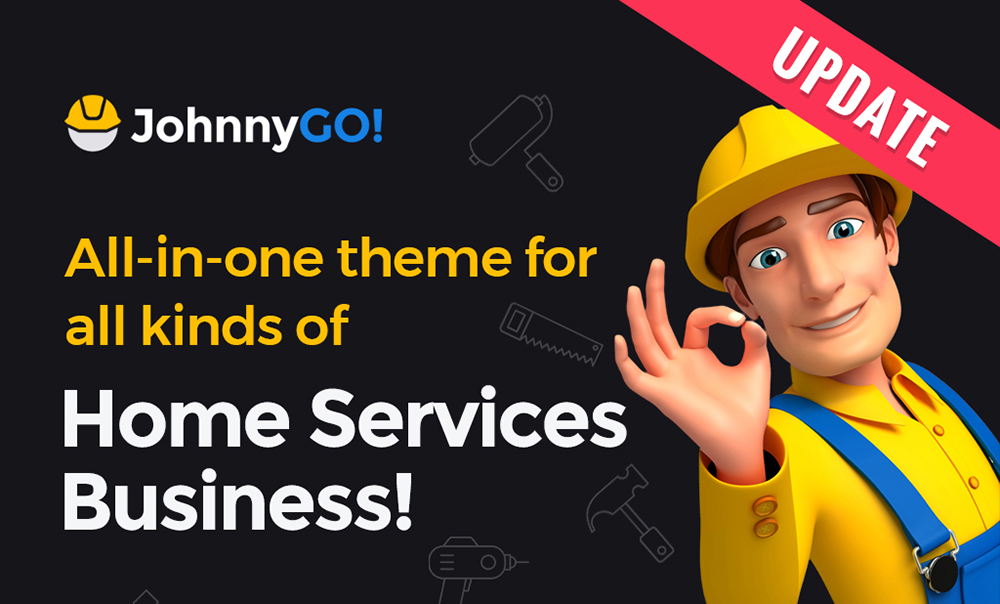 Skyline – Multipurpose Business Moto CMS 3 Template
Take a look at this modern Moto CMS 3 template perfect for launching a website for any purpose. With drag-and-drop Editor with 100+ ready-made content blocks, your customization possibilities are almost endless. It includes 5 homepage layouts to help you create a website with an outstanding design. On top of that, Skyline is Parallax, SEO-friendly, responsive, and cross-browser compatible. Did we mention that it includes 20+ ready-to-use pages, a friendly 24/7 support, MailChimp integration, and Google Analytics? Enjoy its live demo to learn more.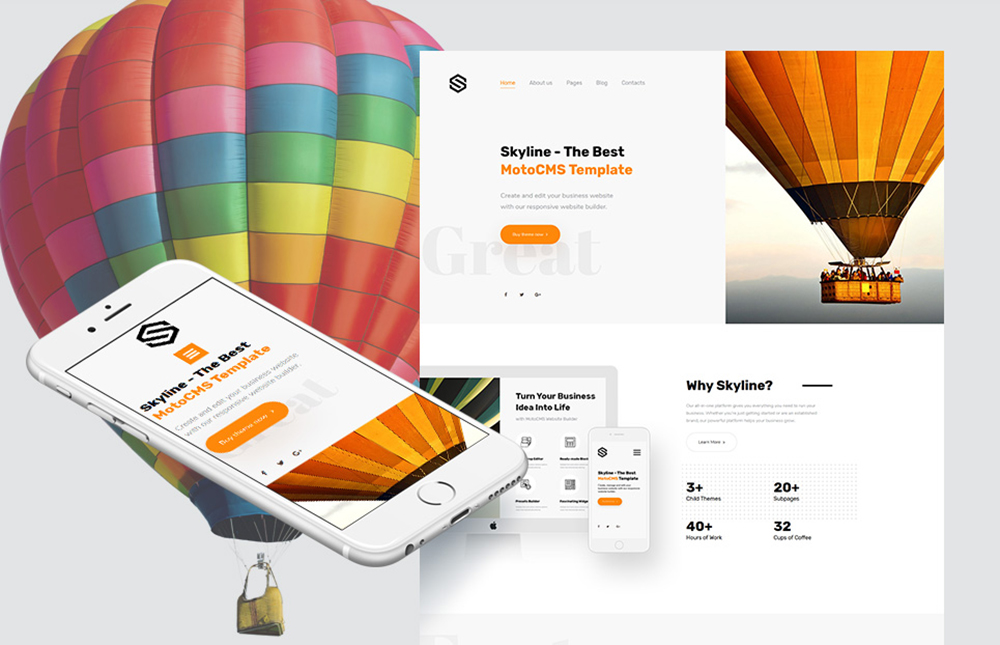 Woostroid – Multipurpose Business WooCommerce Theme
Crafted specially for online stores, Woostroid can be a perfect choice for your business website. As a part of flagships roundup, Woostroid can help you launch a glitzy online store in no time. It comes with tons of advanced features to help you make your e-store faster, better and more user-friendly. Moreover, it includes two e-Commerce plugins like WooCommerce and Ecwid. Millions of customers will enjoy your sharp, 4K-quality images on a variety of modern devices and screen sizes. Set up a successful online store to simply blow your competitors out of the water.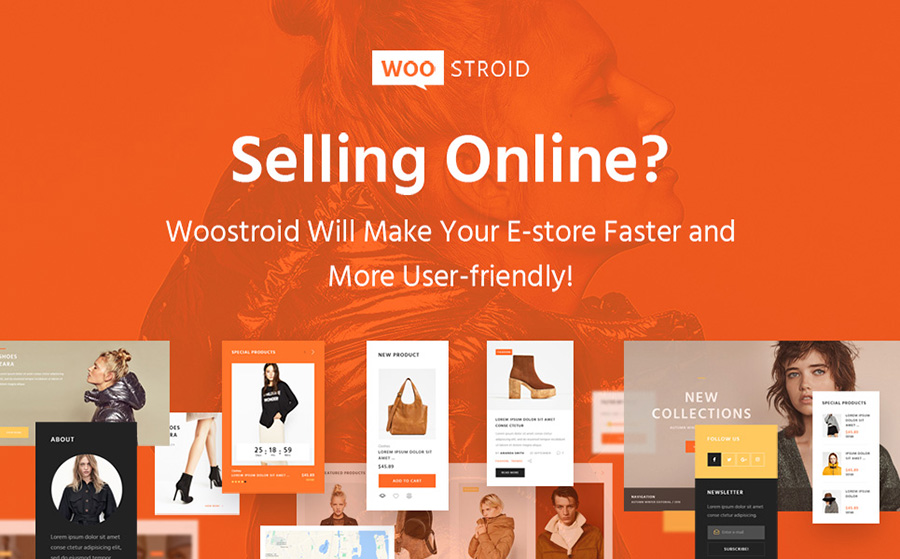 Brave Theme – Responsive Multipurpose HTML Website Template
This bright and modern HTML website template can jumpstart your unique web project in no time. With over 150 UI blocks, you can create a truly compelling design for your website. What's more? Well, hundreds of ready-made blocks and elements, header & footer styles, Novi Visual Page Builder, MaiChimp forms, and shop pages. Even with a skill gap, you can customize this modern flagship and create your perfect website on its basis. Everyone's idea of success is different. However, Brave Theme can help get you started. Give it a try.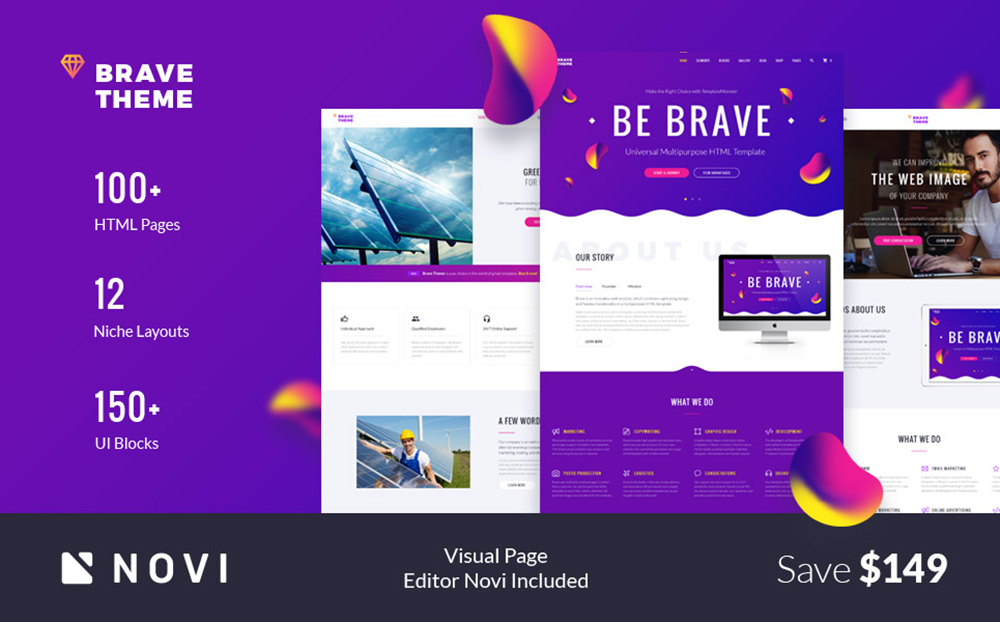 Magetique – Premium Responsive Multipurpose Magento 2 Theme
Magetique is another modern flagship ready to help you manage your online store, increase sales and build a devoted audience. You can find 5 premium topic layouts to choose from. Make sure your website is mobile-friendly and looks great on a variety of devices. Magetique is simple, easy, and efficient even for a newbie. Instead of waiting for a magical someday to arrive, get Magetique today and start selling faster. Besides, you can save up to $1718 on premium Magento extensions, which come included in the theme's pack for free. And that's only the tip of the iceberg. Go for it to learn more.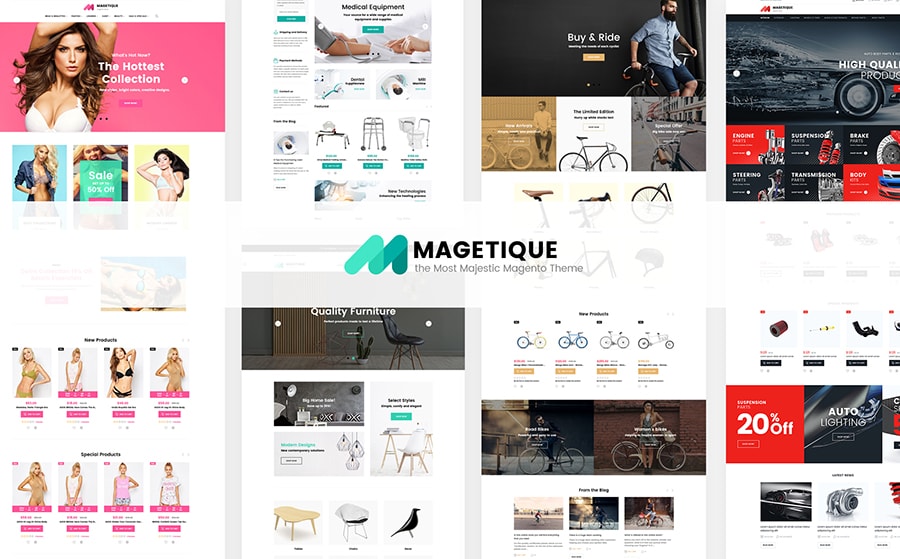 Eveprest – Responsive Premium Multipurpose PrestaShop Theme
Eveprest is one of the best eCommerce flagships built with the help of TM Mega Layout Builder. Besides, you get a collection of premium modules worth $1357 to expand the functionality of your website. Experiment, try different styles, choose from a number of color schemes, do everything in your power to add a unique look to the design of your store with one click. With TM Product Manager, you can manage your store with many products and save you a ton of time and effort. Moreover, it offers Lookbook functionality, Add to Collection, advanced Product Filter, and more. Get the online store you wish in no time. Did we mention that it includes TM 360-View?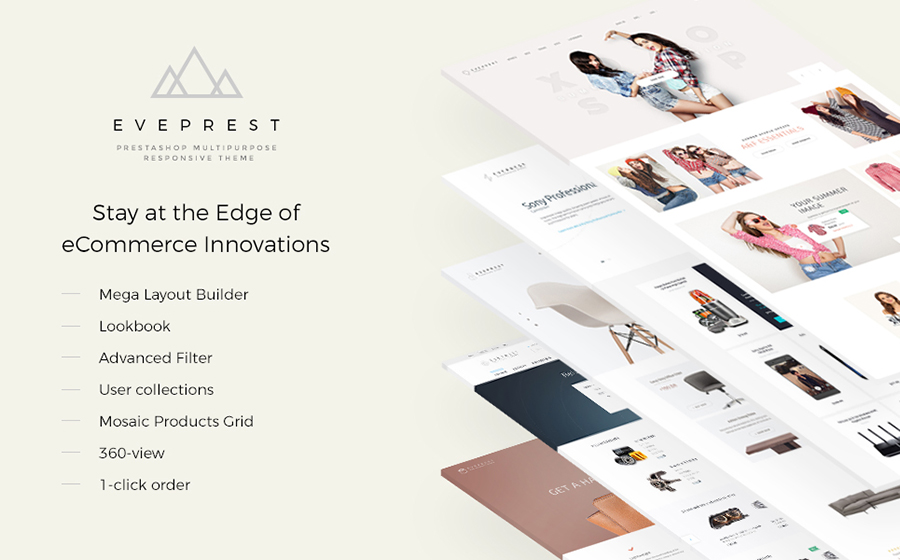 Jedi – Multifunctional Joomla Template for Your Business
With Jedi, you can create a powerful website with multitude pre-designed pages with minimal fuss. Well, Jedi comes with the greatest functionality to enhance the performance of your website and deliver the first-rate user experience. The point is, this theme is incredibly easy to start and customize. Pick an option that can help build a professional website even with a skill gap. Remember, this Parallax theme is responsive, cross-browser compatible, SEO-friendly, and social media integrated. On top of that, it offers to build a fully-featured Kunena forum so your visitors could discuss some important issues.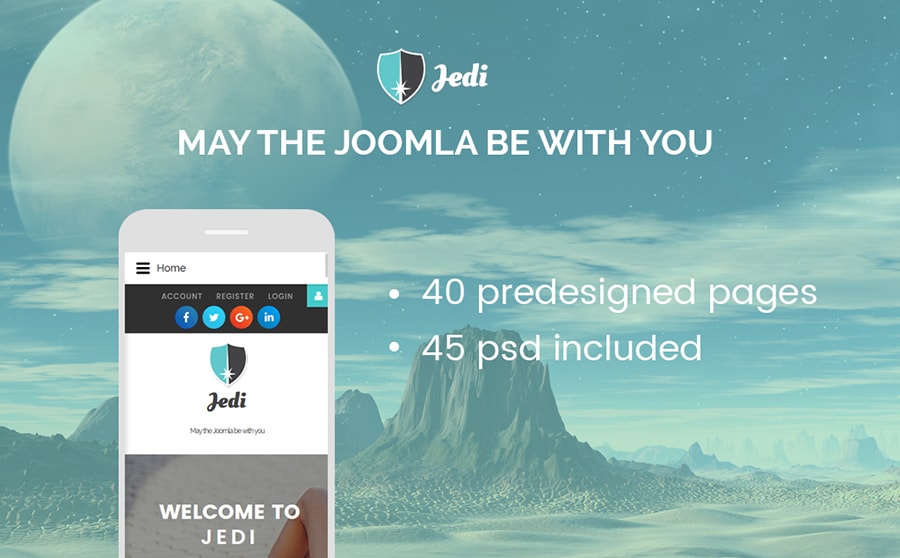 Modicate – Multipurpose Landing Pages HTML Website Template
Modicate is a truly multipurpose theme for various projects. With Modicate, you get over 50 ready-made HTML5 pages, multiple header & footer layouts, and a huge set of UI elements and blocks. Built with the Bootstrap framework, your website can respond to any last-generation device with any screen size. Moreover, this Parallax theme comes with a variety of working forms, multiple Gallery types, 6 blog layouts, and e-Commerce page template. Catch the excitement and give it a try now. No need to wait before the fun begins.
imPresta – Multipurpose PrestaShop Theme
Crafted to impress, imPresta can help get the online store you wish without the headache of any coding. Are your goods still not available online? imPresta can help get you started. In fact, it combines an advanced architecture, outstanding functionality, and pixel-perfect design to help you with your professional online store. You can save up to $811 on a collection of premium modules to help you manage your e-store effectively. With TM Product Manager, you can administer your products with 16 helpful options of the module. And that's only the icing on the cake. Step right up.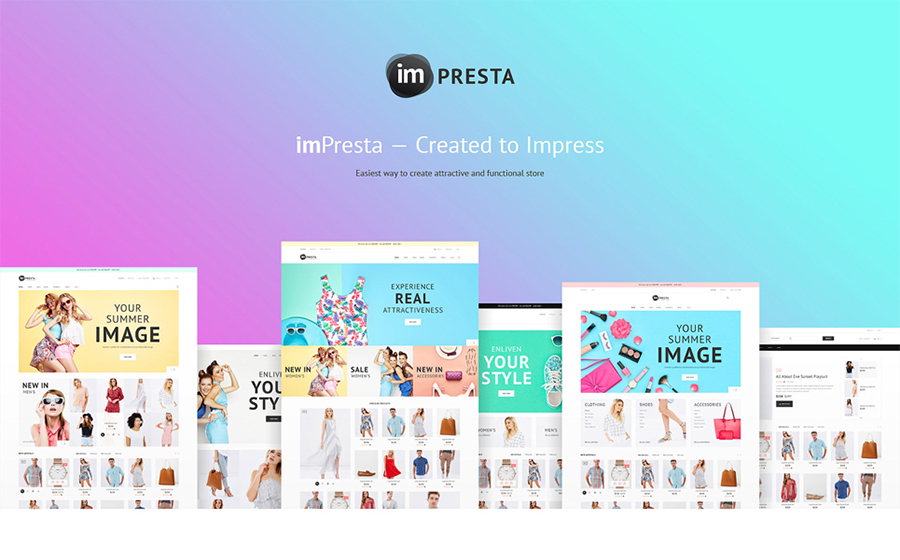 Conclusion
Well, as you see there are really a big amount of beautiful website templates ready to help your business launch to new heights. However, there's no silver bullet. So, it all depends on your unique business requirements and your business goals. Anyway, take time to make an informed decision and create a successful online presence today. On top of that, we'd like to thank you for stopping by and suggest to check this free eBook below and learn some tips on how to build a successful website in no time. So, lets the fun begin!