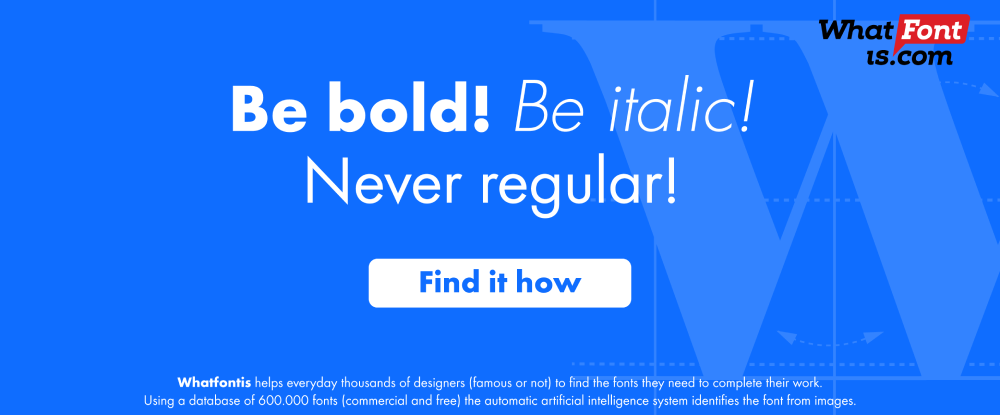 Every designer has a toolbox of favorite industry tips and tricks they put to use in every project. The countless improved new web design and development tools and resources enter the marketplace every day. That make it difficult for those same designers to stay up-to-date with the latest web design trends and clients' expectations.
Managing and individual's creative workflow or that of an entire creative agency is difficult. It can, for that matter, become too much for anyone to handle manually. Creative management software and design tools can be put into play to streamline a task to make it more manageable.
Advanced interactions, animations, and visual effects are new exciting web design techniques. They have also entered the picture along with no-code tools for designers. That enable designers to complete their projects faster and easier than ever before.
It can be difficult and time-consuming to choose from the many hundreds of web design tools out there. Which is why we put this guide together.
1. Trafft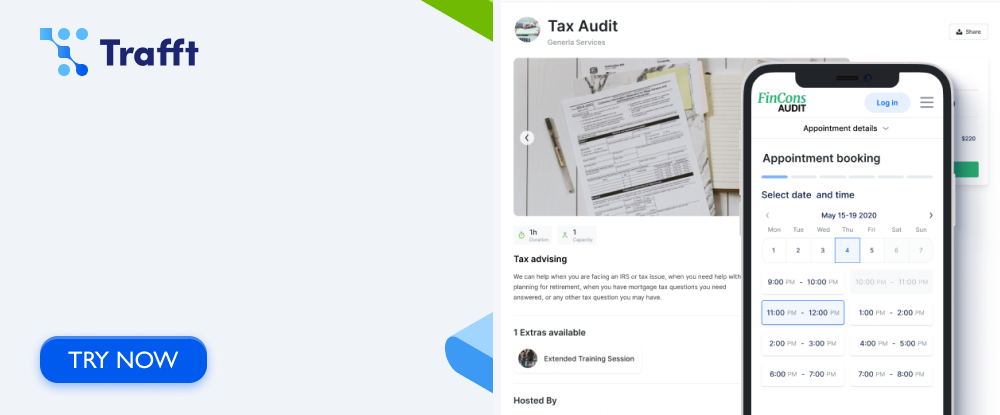 Although Trafft is still relatively new, the automated booking solutions it provides are already being used around the world to help businesses streamline their appointment booking operations. Trafft is quick to install and straightforward to use.
Trafft offers a free plan and 3 paid plans so you can choose the one that can be adjusted to fit your business's needs the easiest way. Trafft offers a 14-day free trial on the paid plans, and you can change plans at any time.
What Trafft's software system can do for you:
It can manage an unlimited number of appointments at multiple locations from a single location.
It integrates seamlessly with key supporting apps such as Google Calendar, Google Meet, MailChimp, Zoom Meetings, and others.
It makes customizing your booking page to fit your brand an easy task.
Each of the 4 plans comes with SMS and Email notifications, group booking capabilities, employee scheduling, and online payment capabilities.
Trafft software is GDPR compliant and provides highly secure end-to-end encryption.
Click on the banner to see what Trafft can do for you.
2. Be – The Biggest WordPress and portfolio WordPress theme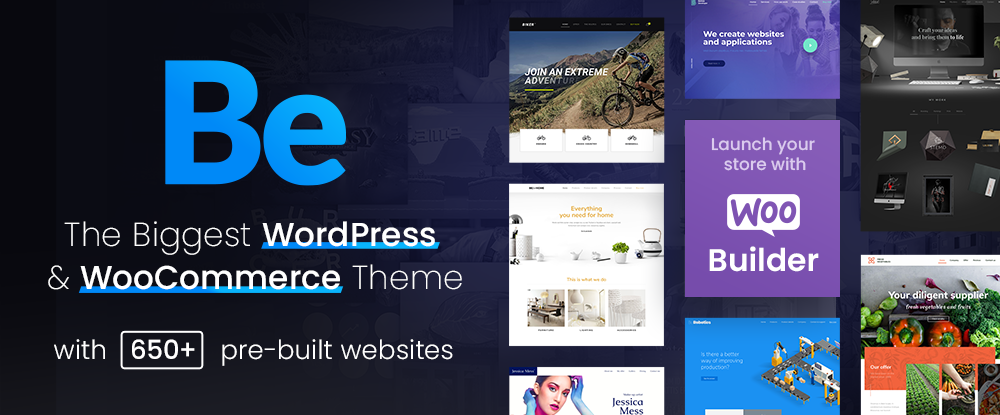 Thanks to frequent updates and introductions to new and improved tools and services, BeTheme will not become dated any time soon, if ever.
Four key features, BeBuilder, WooCommerce Builder, Theme Options 3, and 650+ customizable Pre-built Websites give Be's users unlimited flexibility to build what they want, quickly and easily.
The new BeBuilder is fast and flexible with an array of page-building features and functions that allow you to create limitless layout possibilities without losing earlier versions or changes.
The WooCommerce Builder gives you the capability to build the eCommerce shop you envision with its pre-designed demos and templates.
Theme Options 3's 600+ settings enable you to globally set portfolio, shop, and blog page styles and modify layouts.
Be's 650+Pre-built Websites get projects off to a fast start, after which you can put BeBuilder and other of Be's core features to work.
Click on the banner to learn more about BeTheme.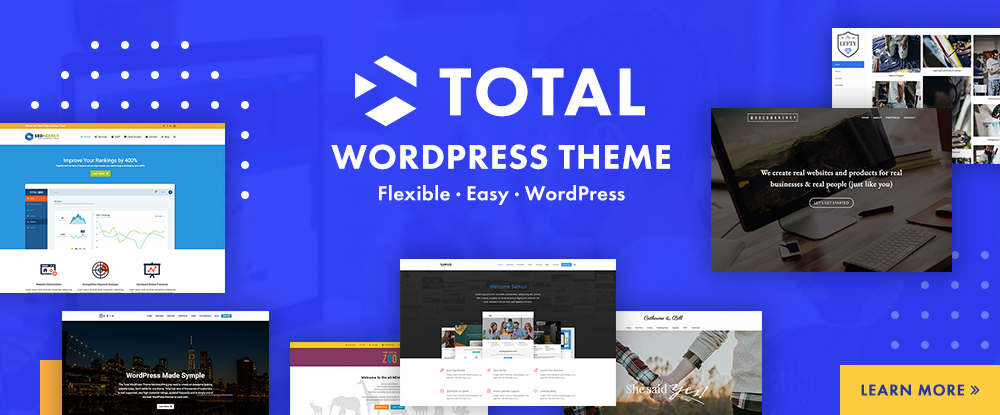 Total lets you build your page layouts just the way you want to without encountering the bothersome restrictions or limitations some tools or themes can inflict on you.
Total is easy to work with for designers and developers alike in that it –
provides easy access to quality selections of section templates, pre-styled post entry cards, and quick-import sample demos.
makes creating and customizing web designs easy thanks to its drag & drop front end page builder with its live customizer settings.
gives developers complete control of their assignments thanks to Vanilla JavaScript and its built-in hooks & filters, snippets, and custom addons.
Total is compatible with WooCommerce, bbPress, WPML, Toolset, TablePress, and other plugins.
Click on the banner to learn more about the many ways Total can help you build better faster.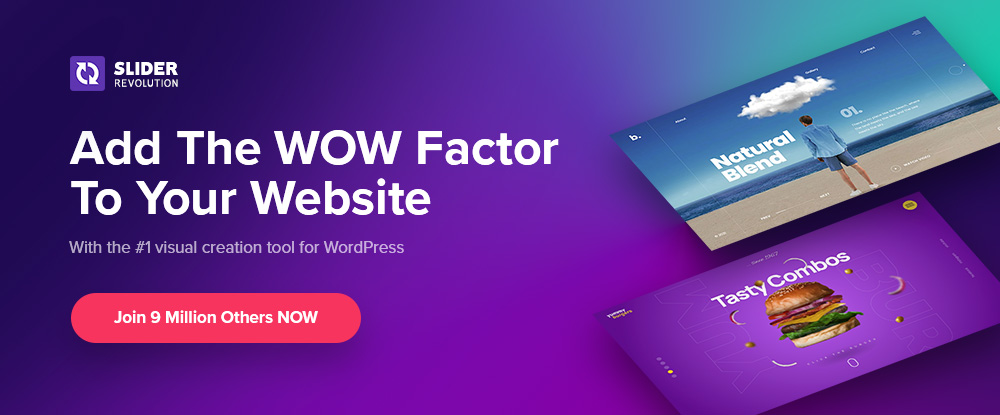 If you lack the tools to bridge the gap between what your clients want and expect and what you are able to deliver, Slider Revolution could be exactly the tool you've been looking for.
Slider Revolution was designed to satisfy clients' demands for trendy, modern, and over-the-top web designs you can create with –
awesome website slider templates and powerful addons
eye-catching Web Graphics Library slide animations
dynamic content imported from social media outlets.
5. wpDataTables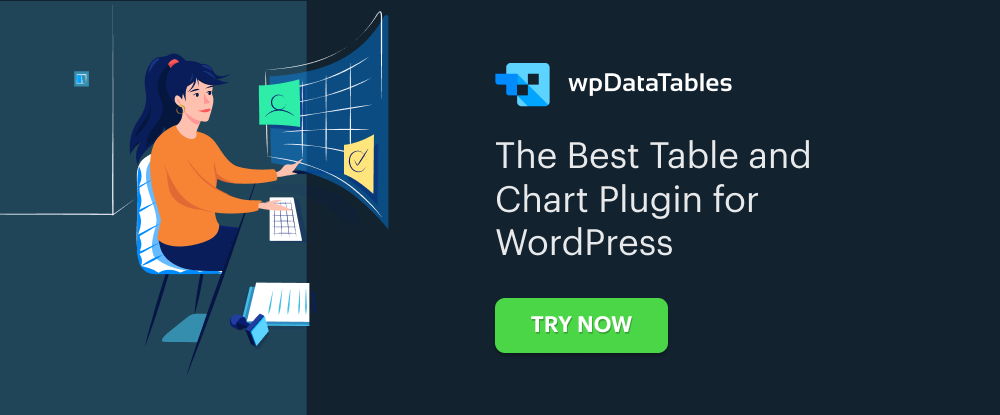 Many table or chart-building applications are limited in the amount of data they can process or the types of tables or charts they can produce. wpDataTables does not have these limitations.
This premium WordPress plugin allows you to –
create interactive, responsive, informative, and easily maintainable tables and charts
process huge amounts of data from a variety of different sources and formats in seconds or minutes
sort, filter, highlight, and color code key data.
6. Amelia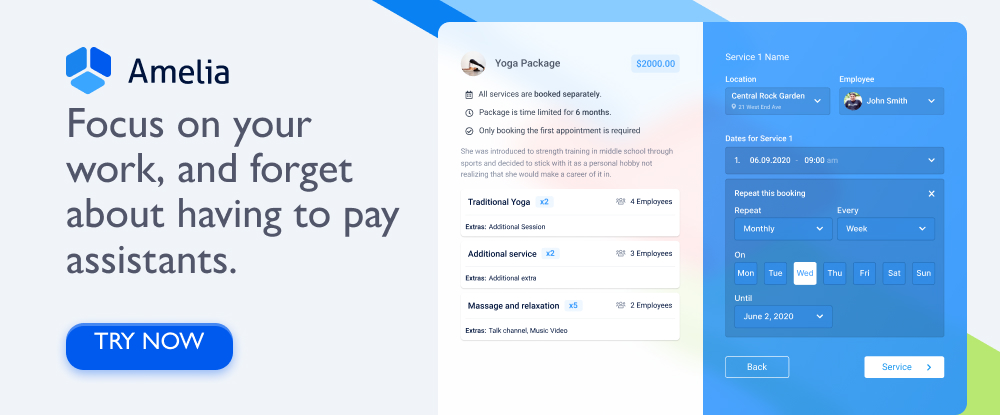 Amelia is an easy-to-use and highly customizable automated solution, businesses can rely on to replace manual, error-prone appointment booking processes.
An Amelia-powered booking system is ideal for beauty, healthcare, fitness, travel, educational, and similar enterprises.
Clients can make or manage their appointments online 24/7.
Individual and group bookings and events and employee schedules can be tracked and managed at multiple locations from a single platform.
Amelia integrates seamlessly with Google Calendar, WooCommerce, and Zoom.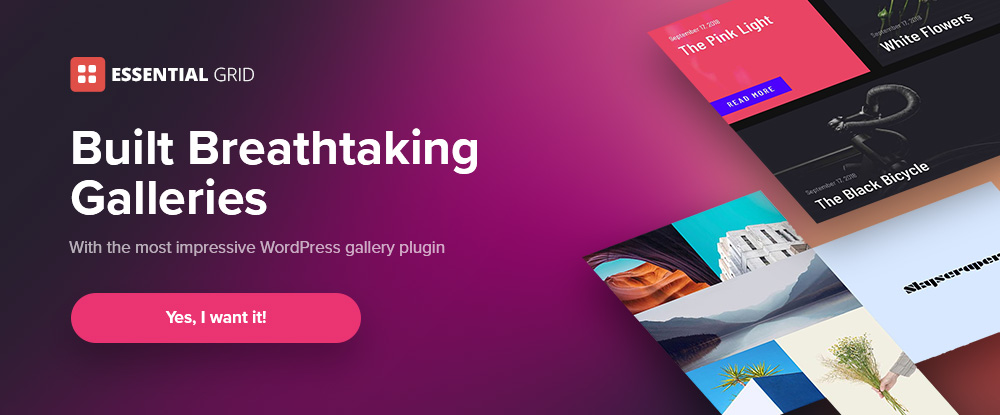 The developers of this premium WordPress gallery plugin created selections of artistic, easily-customizable plug-and-play templates that make creating a breathtaking portfolio gallery an easy and rewarding task.
Essential Grid created galleries load super-fast and display perfectly on any device.
You can choose from a variety of layouts and mix and match adjustable grids to get the look and feel you want.
8. LayerSlider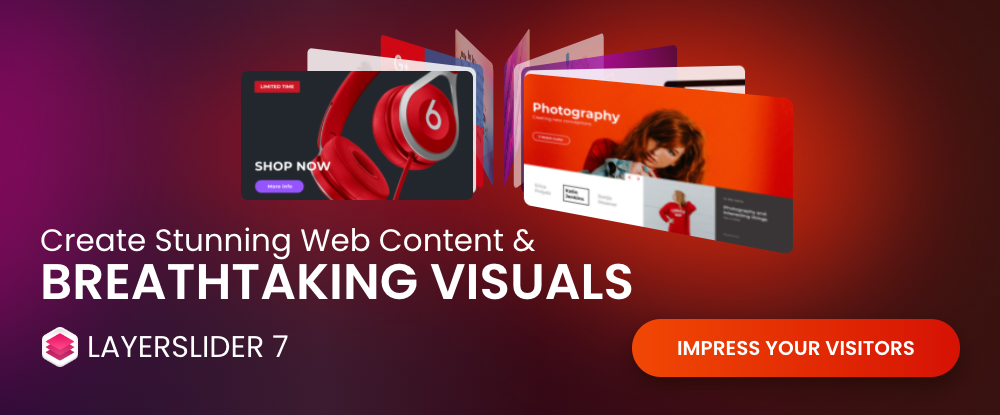 With a little help from LayerSlider, 2022 could be a banner year for you. This powerful WordPress plugin is loaded with attention-grabbing web design tools, animations, and interactive features in addition to –
selections of stunning quick-import sample demos, templates, and transitions featuring 2D and 3D special effects
an advanced but very easy-to-use visual editor
thousands of icons, objects, web fonts, and tons of other useful assets
9. Uncode – Creative & WooCommerce WordPress Theme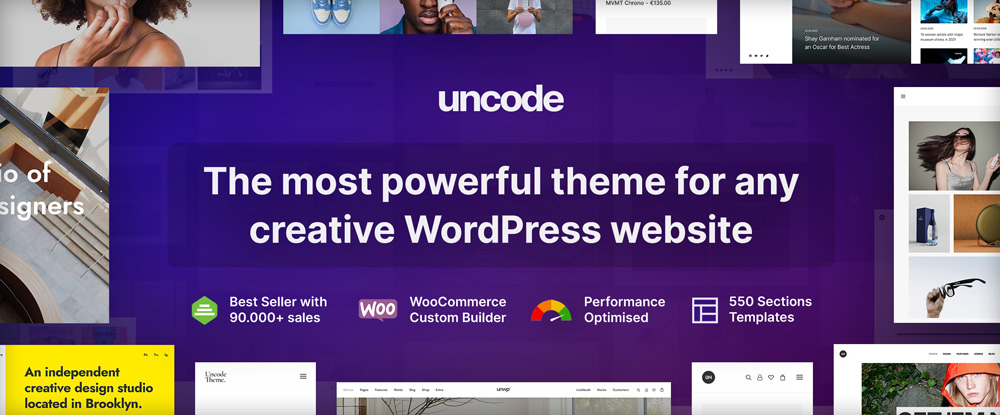 Uncode's best-selling pixel-perfect WordPress theme with 95.000+ sales is ideal for individuals and agencies tasked with building creative websites. The many website-building features this performance-optimized theme brings to the table include –
a jazzed-up Frontend Page Builder
a WooCommerce builder that features a Single Product builder together with a host of supporting customer-centric design elements and options
a Wireframes Plugin and 550+ section templates that provide maximum design flexibility
a gallery of inspirational user-created websites.
10. WHATFONTIS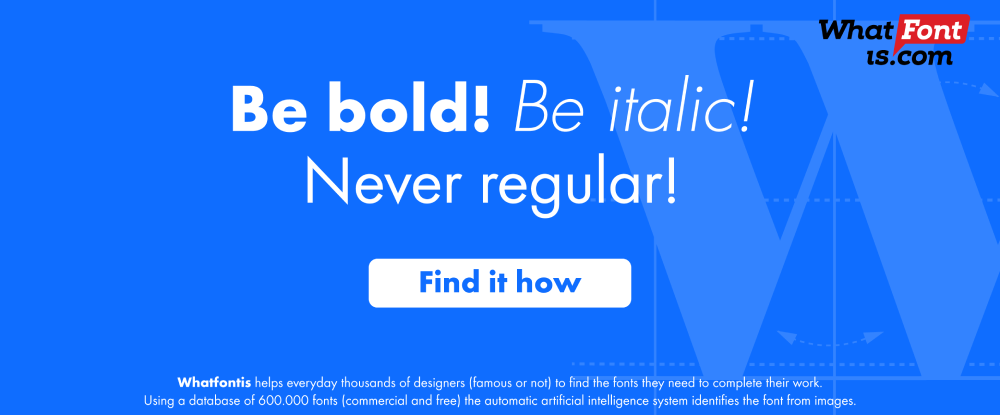 WHATFONTIS deserves a place in your toolbox if you could use a font identifier that can find a font for you in seconds, rather than minutes or hours.
Powerful AI search algorithms and the 850K+ font database are the key contributors
positive identification of an uploaded image is achieved >90% of the time
Cursive fonts can be recognized if the letters are separated; WHATFONTIS can do this for you.
11. Get illustrations Stock Illustrations Bundle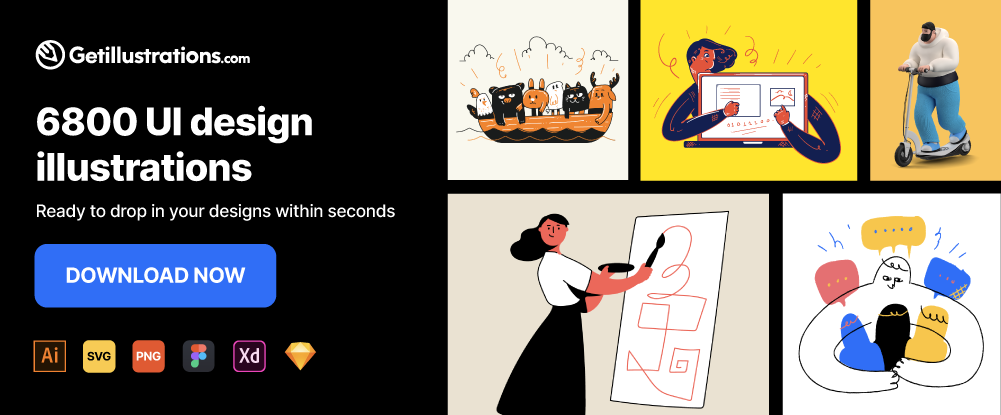 Getillustrations' library of premium illustrations could change your approach to designing, the one danger being that you might find yourself having too much fun.
That is what working with clever illustrations can do to you.
The library of 10,000+ illustrations is the biggest of its kind.
Formats include Vector AI, PNG, Sketch, SVG, Figma, and Adobe XD
Every paid-for illustration comes with a commercial license.
12. Litho – Multipurpose Elementor WordPress Theme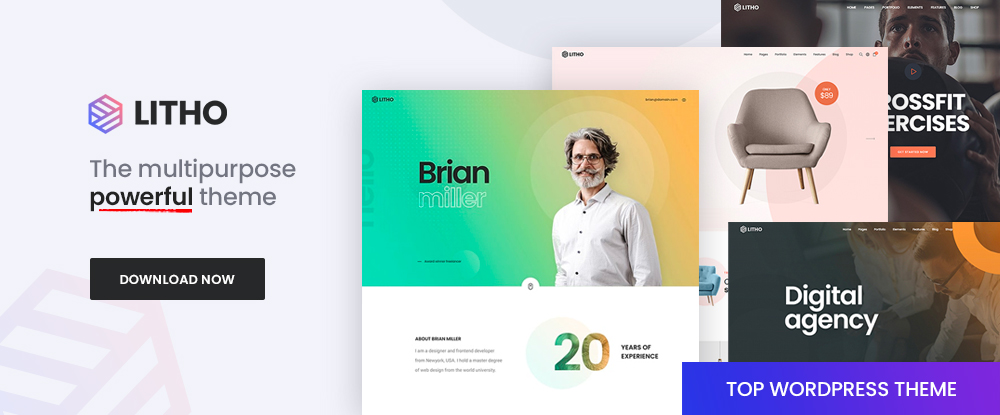 Litho is a multipurpose Elementor WordPress theme that is ideal for building small business niche, portfolio, blog, and eCommerce websites.
Litho's key features in combination with the WordPress Customizer and Elementor custom widgets give users all the flexibility needed to build whatever they have in mind
Users have easy access to Litho's impressive selections of home pages, design templates, and creative elements.
Litho provides detailed online documentation and users can expect to receive excellent support.
13. Mobirise Website Builder Software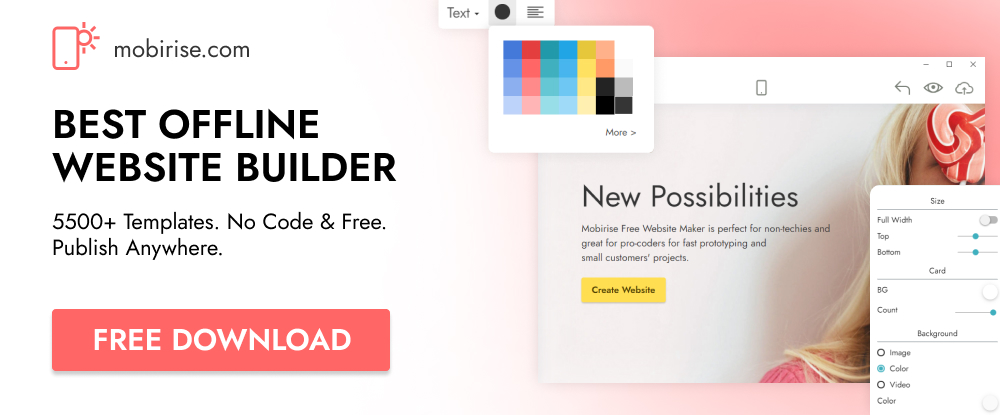 Mobirise is by far the best offline website builder on the market. It's fast, easy to use, and free to download and use.
You will not be tied to a specific platform.
You own your site, and you can host it anywhere you choose.
If you want to code, Mobirise gives you instant access to HTML.
5,500+ blocks and templates are included.
The Mobirise website builder is free for both personal and commercial use.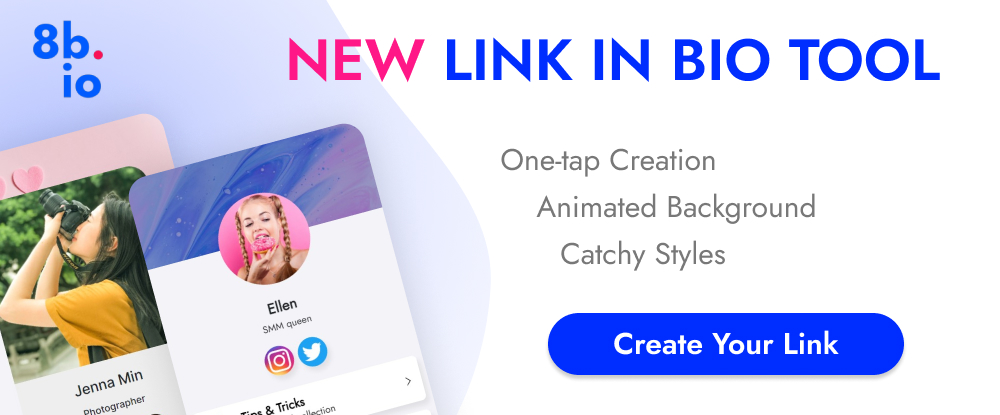 Social media platforms like Instagram and TikTok allow you to include a link that allows followers to visit your site's homepage or a landing page. 8bio lets create an attractive and engaging link that visitors will almost feel obliged to click on.
Your 8bio link can –
display a biographical profile of yourself or your business
feature an attention-getting animated image
use your existing domain or a "yourname".8b.io domain.
You can even monetize your 8bio link.
15. XStore – Best WordPress WooCommerce Theme for eCommerce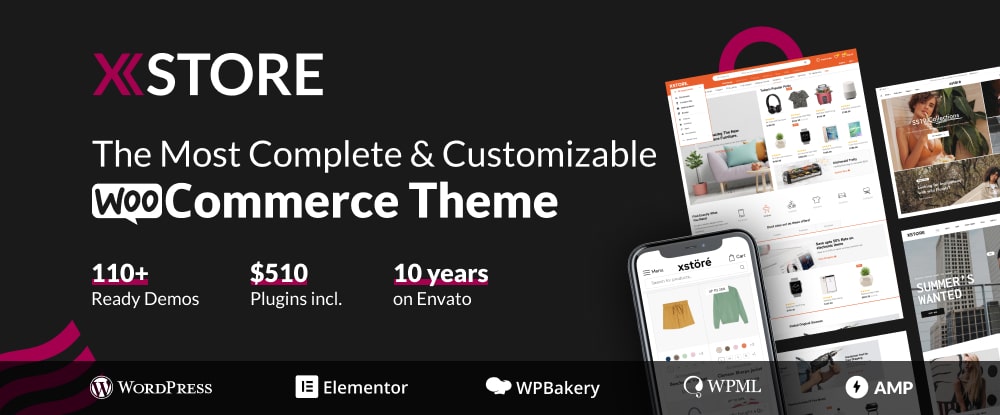 XStore is a popular WooCommerce theme that is fast, easy to work with, loaded with useful features, and can be yours at a bargain price.
XStore's 110+ customizable shops, 550+ pre-made sections, and built-in Single Product page builder make creating a custom shop as easy as can be
XStore integrates seamlessly with the Elementor and WPBakery page builders
$510 worth of carefully selected premium plugins come with the package
*****
You web design toolbox likely contains some of your favorite industry tips, tools, and tricks you use in almost every project. But "favorite" doesn't always mean up-to-date. To stay ahead of the curve you need to make changes to your toolbox from time to time.
Changing design tools or resources or just keeping up with the newest design trends can take time. The purpose of this article is to make doing so as easy for you as possible. We're sure that among the top tools and resources for designers listed here you find one or more that will quickly and deservedly become new "favorites.