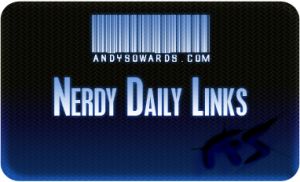 Happy Tuesday! The week is off and I hope its going well for you! Today is the day of Nerdy Links, I have a HUGE POST Setup below for you full of User Interface tricks, tips as well as some Twitter stuff, and TONS of FREE Textures!! So Give them a look and pass them on! Enjoy!!! Thanks everyone for all the love and support, I appreciate you all! Now Get your Daily Nerdy Web Development/Design Links!!
Web Development/Design Inspiration, Resources, References, and All around Nerdy Delight
Awesome SQL server scripts – useful resource

Great read – claim your twitter profile on technorati

Arrr Maytey! They are in our facebook!

AWESOME and quick jQuery authoring tips

Cool mootools datagrid

Encarta: 0 | Wikipedia: 1

Flippin sweet photoshop video tutorials!

Good read if you have a facebook fan page

Awesome April Fools day pranks!

List of marketers on twitter

Great interview with CEO of Template Monster

Great read for freelancers

Nice pattern brushes and textures!

Read to reduce stress

Awesome hand drawn web design examples!

SWEET TEXTURES!

Awesome sites that update daily!

Nice web design for PSD 2 HTML services

Glossary of Nerd Jargon

whats your take on this?

LOL hate bad parking.

GREAT round up of illustrator tutorials! I like!

AWESOME UI's and how to create them!

AIR can save you time! Nice apps!

AMAZING footers in web design!! Nice examples

Nice article – Blog, but don't give it away.

NICE Examples of shadow photography

Blue-ray subscribers pay

Awesome gadgets!!!!

Freaking hilarious and awesome Shirts for TYPE NERDS

You still use paper? ICK!

Great read- getting the best of both

Myspace and Microsoft Team Up? Wow is this gonna suck.

Some good CSS tricks

Walmart kicks ass

Quick and easy photoshop CS3 erase background tutorial

Good read about twitter etiquette

Good read – Mommy bloggers pwn

Awesome twitter games!

Awesome tutorial for creating your social lifestream

Awesome mp3 User interface tutorial – photoshop

More followers with less tweeting time? Possible? LoL

Awesome look at traveling anywhere and working remotely

Stunning Digital Painting tutorials

Skype on Iphone? Wahhh?

SWEET Dark website theme from scratch

AWESOME footer tutorial

Need more inspirational links?

Awesome flash tutorials/themes/resources

CLEVER bus advertisements

Funny IE Errors

Awesome ways to improve your life!

AWESOME Photo effects – Photoshop tutorials

An awesome look at Oakley headquarters

Awesome gaming website designs

AWESOME mac apps for developers

More awesome interface design tutorials!

Are you Hacker enough?

Unique Approach to highlighting characters

Interesting inventions that are old! But we think they are modern. NICE

Awesome resources for Typography!

GREAT read for better web app User Interface!

Awesome Moleskin Obsessed Tweeters – Good read

Keep tabs on your brands online image!

Social Sites for people like me and you!

Awesome twitter clients – nice to see the stats

Awesome hidden links with jQuery

Great read of why Logos are so valuable

AWESOME iPhone Skin!!!

Freaking amazing time lapse videos – inspirational!!

@mayhemstudios and @chrisbrogan Finally meet! NICE! infront of the amazing Oakley Building

Awesome Tips for finding blog readers

Awesome plugins that you should all use

Interesting read on Good Ideas and business

Make sure no one steals your work

Great FF Plugins to manage tabs!

Great reasons for designers to tweet

Awesome! Back it up!

Awesome Online Financial tools for freelancers!!

Do you email newsletters? Then you need to see this

great tips for those who are diving into the freelance world
If you like this, You'll love These.