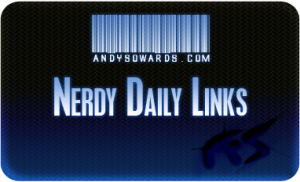 Typography Collection
Want a great collection of many creatively displayed fonts? This is a must see, Some are amazing and others are hard to believe. Will definitely give you something to design about.
FTP On The Go!
On The Go? Need to FTP? From Anywhere? Go ahead. Its AnyClient.
Portfolio/Blog Collections – Could Be Yours!
Calling all Designer and Geek Portfolios… to a permanent Portfolio listing for all Tweetlets, which will be referenced and marketed from time to time. Good Advertisement for your work 🙂

Good collection of some really nice and reputable/reliable blogs known for great content, a must have list for any web developer/designer that want's to up their game 😉
Yesterday Dow Got Owned, But You Knew That!
The Dow suffered its worst one-day point loss ever on Monday after the House of Representatives failed to pass a $700 billion financial bailout plan aimed at rescuing Wall Street from the most serious credit crisis since the Great Depression.
All-Screen-Notebooks
Would you buy an All-Screen Notebook? All touching All the time? Thats kind of a hard call.
Web 2.0 Tools – Stripe Generator
Want a Cool, Easy to Generate Background Stripe? Check This out, I LOVE this thing, Very Professional 🙂
Inspiration/Ideas
Great idea's for Spicing up your photo's! Good Inspiration in here.

Got a Social Media Consultant? Do they suck? Read this.

Very Inspiring and Attractive website, Nice Clean Design. Overall good inspiration for any project.

Beautiful artwork
InfusionSoft eCommerce/Shopping cart Resources
If you have ever/or currently deal with InfusionSoft and are a programmer, You probably need help finding documentation on the API. well here it is!
Twitter Tools
Twitter is a free social messaging utility for staying connected in real-time

What does your twitter profile score? Give it a try!

Want to get more followers? Want to find more people to follow who have similar interests? Simply add your Twitter link as a reply to this post, with your Twitter Bio. Great Resource.

TwitStamp allows you to use your current Twitter status anywhere – in the form of an image. This means you can post your status on blogs, forums, websites… wherever you want! Pretty sweet!

As Creepy as this sounds, You can hear your tweets through a talking teddy bear. But Why?

Sometimes when you are using twitter you run across a profile where you say Hey, thats pretty creative, But all to often you see the same old boring
Free Resources
Cool Free Twitter Graphic collection, if you don't feel like doing it yourself 🙂

Great collection of desktop background images of Nature. Inspiring.

A collection of a few royalty-free High Quality Vector Pattern Graphics to use at your disposal! Enjoy!
Web 2.0 Tutes
Want to make your site more interactive? Or feature news from another site seamlessly? Check this out.

Is wordpress ready to be a full on CMS for most sites? I don't think so. Not yet anyway, What do you think?
Great WP Plugins
Ever Get Frustrated with wordpress pages or posts not being able to execute your PHP code as if it were in the source code of the file itself? Well look no further, Heres a Plugin to fix that.