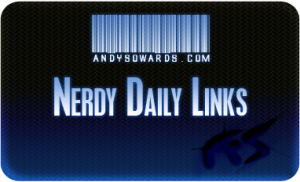 Back to the middle of the week! This is a good place to be, so get your inspiration and resources in before Friday! Hope you enjoy! Now Get your Daily Nerdy Web Development/Design Links!!
Web Development/Designer Resources, Inspirations and Entertainment!!
netbooks Win – Microsoft Fails

Take your iPhone Overseas!

Great tutorial to know – .htaccess is the best!

Mac Clones knew they were going down

Quick and easy tutorial for customizing your wordpress widgets with CSS

Maya 2009 Unlimited review! 3D GRAPHICS MAN!!

GREAT Tips for De-cluttering and maximizing your interface effectiveness!

Amazing Twitter Backgrounds!!

Nicely Illustrated Characters on these sites!!

Nice Clean jQuery Table Example!

Awesome Wine Bottle Labels! Very nice! Tasty!

Inspirational Interview with Founder of iStockPhoto – Sold the site for Millions!

Great place to find good Minimalistic sites!

Great Print work Special Effects Tutorial!

Awesome tutorials for Awesome Typography!

Beware of GTalk Phishing Scam

LOL funny read – Don't try to be funny when describing your App or Apple will get you

very sleek jQuery Tabbed box!

Nice tips from a startup expert!!

DANG! I'd burn AT&T to the ground

very good interview with Tony Chester on Starting your own web company

Creating WordPress themes from scratch Part 2 – Nice Tutorial!

This will definitely keep your attention forever 🙂

AWESOME Remakes of Video Games in Wallpaper Form!! NICEEE

THE BEST wordpress tutorials around – NICE

Slow death of IE6 indeed. sheesh.

Funny starbucks prank LOL

Sweet Gig Posters! Very inspirational!

Awesome Websites to start your day!! Other than this one of course 😉

Awesome tutorial on Centering vertical with CSS

LOL Depressed Web Server

A place for designers/coders to share knowledge and resources!

Twitter gives you Backlinks!

so much trouble when Gmail goes down

and so the hashtag #Gfail was born

AWESOME CSS3 Techniques achieved with jQuery for Major Browsers

GREAT AJAX Solutions!

Wow! Some awesome blogs made the list, like smashing mag being worth 7.7 million!! WTF? Perez Hilton's blog is worth $32 million? What a gip!!

Awesome color palette tools for designers!

Another great compilation of inspirational workplaces!

Great look into why Apple.com is so Good

Awesome Vectors! Seamlessly destroyed!

Awesome glossy buttons!