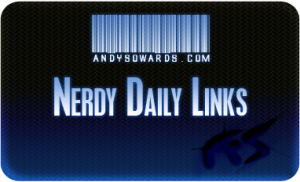 Its Thursday! We are so close to the TGIF we have all been waiting for! But today will go by fast, because I have compiled a great list of links for you today! A WHOLE Lot of posts that round up THE BEST OF other posts! Hope you enjoy! Now Get your Daily Nerdy Web Development/Design Links!!
Web Development/Designer Resources, Inspirations and Entertainment!!
Great sites to promote your portfolio or web design blog!

Very good roundup of practical jQuery Uses – Creative!!

Great read about viral marketing techniques that can increase your traffic!

useful CSS Tab tutorial – Expandable

CS4 Photoshop update released – Details here

Keep the good content rolling!

Nice Retro look achieved in this tutorial

BEST OF PHOTOSHOP WEB DESIGN TUTORIALS! Good roundsup today

Awesome CSS Tools and Tutorials that make beautiful TYPOGRAPHY!

BEST OF jQUERY TUTORIALS!

Educate those clients – Makes work easier

Awesome 3D Typography design tutorial

ESSENTIAL Resources for Business Card Designs

Do you UNDER-USE These HTML Tags?

Nice and simple. – jQuery Drop down

Slick flickr gallery tutorial!

Track the links on twitter in real time!

Inspirational Workstation roundup!!

Manage WP Pages with these plugins!

Safari like chrome?

Good read about the popularity of programming languages

Reasons for kindle – yay and nay

PHOTOSHOP FAILS! LOL

Starting a web business – GOOD READ – Part 2

Starting a web business – GOOD READ – Part 1

Navigation Menu Techniques – BEST OF CSS MENUS

This is what I have been saying about kindle all along! LOL

Safari 4 is here! Check it out

Need a job? Find one with Social MEDIA!

Great collection of sites running off AJAX

Twitter SMS for Canada will COST

Flashy photo galleries! Nice!

AWESOME Image Manipulation techniques and tutes!

GREAT READ as always – Are we getting an attitude as designers?

Great Mac and PC Brushes – Big Swirls!

Grow your Freelance business!

Sweet sites to download FREE PSD FILES!

Awesome Postcard Designs!!

Great look at picking colors for designs!

STUNNING Catalog and Booklet Designs!

Awesome Business Card Roundup! Creative!

Great Logo Inspiration from Spin!

Interesting stats for Perez Hiltons blog

DANG thats a lot of public Data

More great Twitter BG's!

GREAT Business Tips for the Young Entrepreneurs!

TIME SAVERS! for web writers

Good way to pull in flickr into your WP blog with RSS – Plugin!

THIS is a NICE Tutorial for jQuery Animation effect!

Run ANY Browser from the web? Amazing.

LOL Company backs up employee calling bloggers idiots

Leverage your content, good tips!

Awesome Free Top Quality WP Themes!

Lost your logo? Heres what you do.

Don't let twitter PWN you

AWESOME Icon Resources!!

Good tips for dealing with conflict online

Great sources for Online Document Collab!

$99 iPhone! Not really.

Organize a Tweet-up that doesn't Suck. Great tips!

Good screencast for jQuery Novices!

People don't like your blog? Heres why.

This is just awesome 🙂 Flashy goodness

Awesome tips to streamline your css!

Freaking FANTASTIC Wallpapers!

Awesome inspiration article!

Need colors? Use these tools!

Great stock photography sites!

AWESOMELY NERDY Apple Cakes!

Great motto – BILL FOR EVERYTHING

Awesome 960 Grid tutorial!