Oops!Backup Review
This Contest is Over!
Special Thanks to everyone who participated!
The winners were randomly chosen.

And The Winners are:

Manish Nayak

Pratik

vhick

anthy

Michael

James J.

Jungchanhsieh

Tim Golike

TeXaCo

pacfever

Congratulations to everyone! Hope you enjoy the software!!

If you didn't win this one don't be sad, There is always another contest around the corner at AndySowards.com!

Subscribe so you don't miss the next chance to win!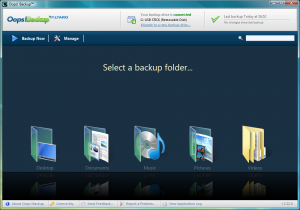 Ok – So I had a chance to test out the new Oops!Backup software. I have tried Time Machine for my mac, and Love it. This software has been described as 'the windows version of Time Machine' or 'Time Machine for Windows' and I was a bit skeptical at first, but obviously very excited that something that amazing was FINALLY available for windows.
Maybe I should give you a little bit of background about me, and Backups.
Never happens. I am the 'I'll do it later' kind of guy when it comes to backups, well ya know what? Later never comes.
Backing up things is so boring. Time Consuming. etc.
For most people, especially us Designers, our files are very freaking important. Like most people I've lost data. Hard Drives crash, stuff happens. But when it happens you usually don't say 'Oops!' This product should probably be called "OMFG Where is my stuff!?". But anyway, whether it be that last design you did for your client, or the pictures of your kids, losing data sucks.
Well I am happy to report, that having used Oops! on my windows PC for about 2 weeks, I freaking love it. I actually have been less stressed worrying about my data, which rocks! No more worrying about backing up data, I just know that its already backed up! and when I change stuff, its a done deal! Saved!
Another great use of Oops!Backup is if you have a small team of developers in your business and need to keep your projects backed up easily without worrying about losing anything – lifesaver.
Conclusion
I would recommend Oops!Backup to anyone on windows, that is looking for an alternative to Time Machine because its the best thing i've tried. Never having to worry about backups again is a good feeling.
Installation is a freaking dream as well. All you have to do is install it, then select what you want to backup – and where you want to back up your files – I have mine backing up to an external hard drive and it works like a dream. It backs up regularly and I never have to touch it again. If anything goes wrong, just Restore back to a date in the past. Done. The day is Saved!
Hope this review was helpful to some of you windows users dyeing for an easy file backup solution!
You can Download a Free 30-Day Trial of the software – Which runs on Windows XP/Vista/7
Now for the fun part 🙂 GIVEAWAY!!!
Oops!Backup License Giveaway!
Oops!Backup is normally $37.00, but we've managed to score 10 copies to hand out to AndySowards.com readers.
The Prize
We are giving away:
1 Oops!Backup License to 10 Lucky Readers!
How do I Enter!?
Simply leave a comment and we'll enter you into the prize draw. You have until 11:59PM EST Sunday 7th March. Full terms and conditions are below:
Open to legal US residents of the 50 United States and the District of Columbia and Canada (excluding Quebec) who are 18 and older.
To enter, leave a comment below.
The comment must be left by Sunday, March 7th at 11:59 PM Eastern Time.
You may enter only once.
Winners will be selected in a random drawing. Informed via Email, and Winners will be posted here the next day.
Prize: Oops!Backup license, retail value of $37.00USD.
Good luck to everyone! Remember to subscribe to be in the know when AndySowards.com Holds another great contest! (which happens pretty regularly ;))
Thanks everyone for reading, and Good luck!!!