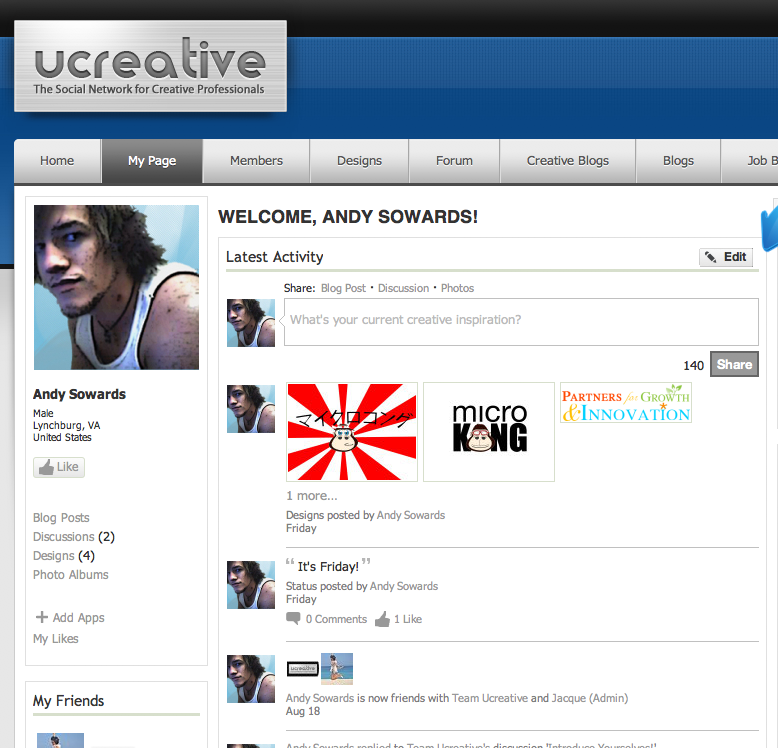 I know what your thinking, there need to be more quality design focused social networks that don't require an invitation and let you share your ideas and ask questions with like minded individuals like yourself.
Well our friends at UCreative were reading your mind.

What is UCreative?
This is UPrinting's inspiration behind the re-launch of UCreative network. Here is how they describe it:

At UCreative, we believe in the power of community. We also believe that you, designers and artists, deserve to have your own support group, your own personal space online and an easy way to grasp new knowledge. So we thought, why not put all those things together in one network?

The network has been designed in the hope to bring more artists and designers together. Whatever area of expertise you're in, we'll make sure that you find the right group of people with whom you can share your ideas, ask for help or give advice, or simply share your thoughts and showcase your craft.
First Impressions
So I signed up for an account and played around with it, and was very satisfied with what was there. I was able to quickly signup, login and set everything up within a few minutes. When you login you are greeted with a Dashboard that instantly showcases some of the inspirational work of your peers that they have recently shared.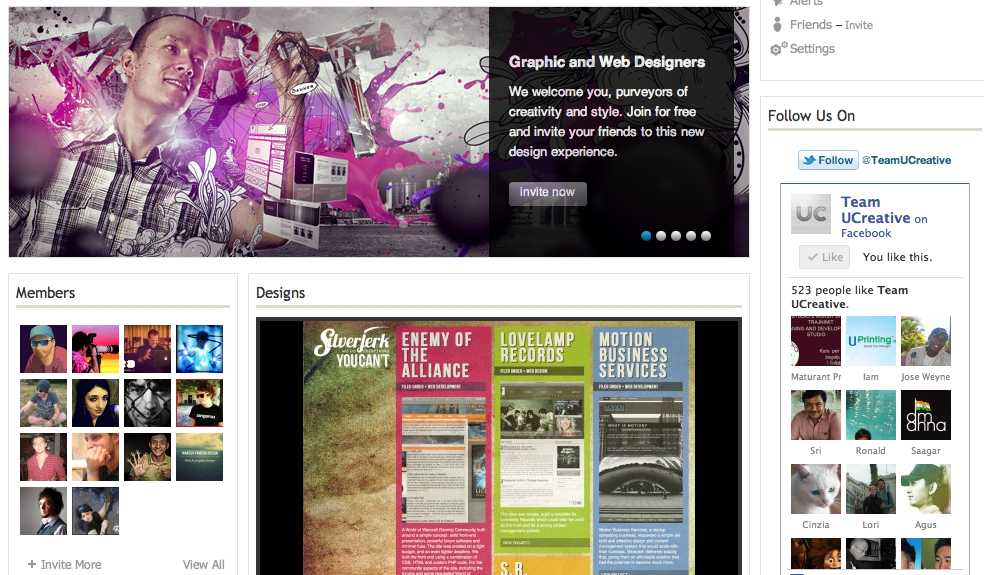 Also you see the latest updates, and blog posts of the network, so you can see how easily it is to get your work in front of others eyes for critique or praise. If you need help, or are feeling generous and want to help someone out, you can checkout the latest forum posts from there as well, This will surely be a highly trafficked area of the site. There is also a section for Jobs – so if you need some work, or want to hire someone, check that out as well!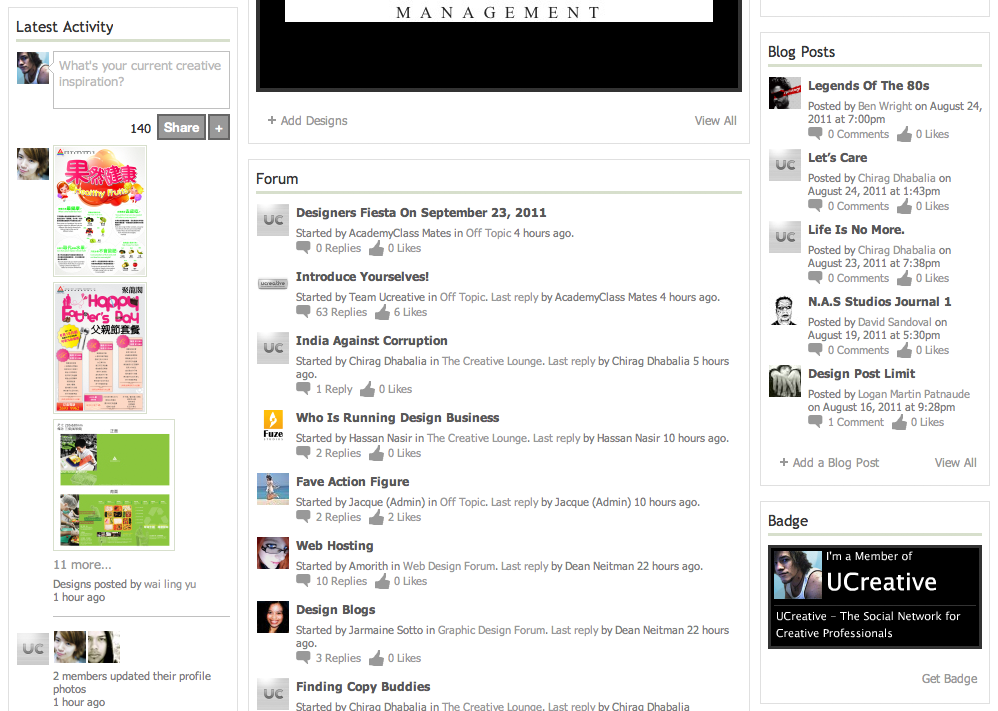 Personalize, Be Heard, Be Informed, Get Help & Show Off!
A Social Network Isn't a social network without your own profile page! So of course this is a big part of UCreative – you can promote yourself, upload your portfolio, share your knowledge and get exposure. Tell everyone who you are and what you do on your page, and in the Forum. If you get stuck on a project feel free to reach out to the community in the forum with a question or request they critique your latest work.
You can do a lot of awesome stuff on your profile page. You can Customize Your Page by adding different applications. Poke friends, comment on other profiles (ala facebook's wall), you can even update your friends by leaving a 140-character status message. Make sure to add the app for chatting with everybody else!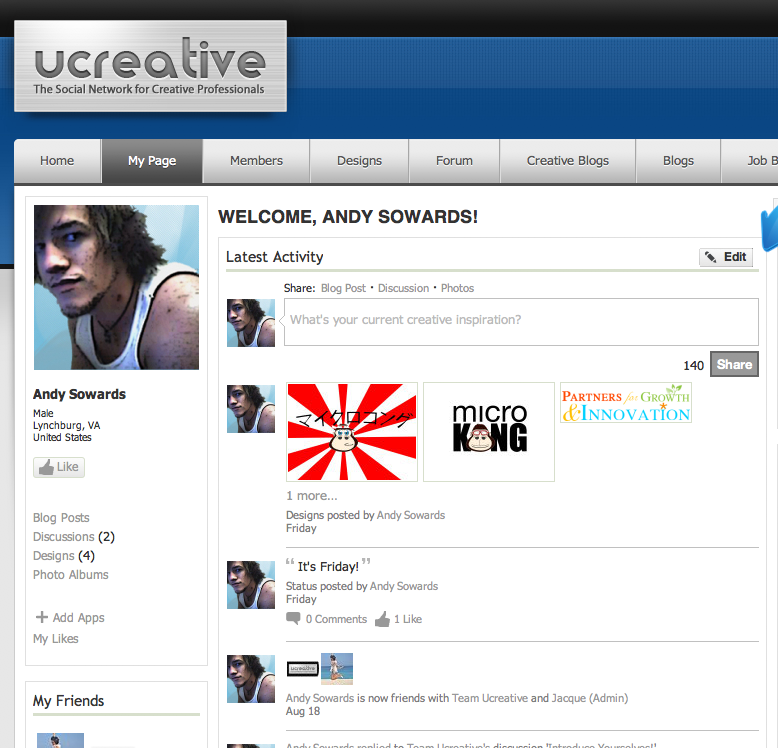 So basically its a great and well rounded Network to be a part of with a great community, help someone out, get helped, show off your work, sounds like a pretty win-win. Also you don't have to just be a designer to be a helpful part of the community, there are lots of other types there such as: Developers, Photographers, Bloggers, Illustrators and Painters, Interior and Furniture Designers, Performing Artists (Dancers, musicians, actors, etc), Fashion Enthusiasts, Layout Artists.
To be able to enjoy all these things, be sure to create your own account on the site! Visit and join UCreative now and meet more creative professionals, showcase your own craft and learn from fellow designers!
Oh and after you sign up, don't forget to add me as a friend so we can connect on UCreative! 😀
You like this? Don't forget to follow us on twitter @andysowards and like us on facebook @andysowardsfan!
Google Plus is Shiny and New! Do you have it?
I Do. I loves it.
Follow me on G+ at https://plus.google.com/107906093846039182490/posts