Hey Guys! We have an awesome review for you today, with the awesome folks over at Eleven2 Hosting. I had the honor of reviewing their hosting services and in an industry of over-saturation with web hosting popping up on the internet all around the world – and I can say that Eleven2 is providing a quality service, and definitely worth checking out if you are a designer or developer on the market. But first it would probably be good if you know a little about Eleven2 and what they do….
Who Is Eleven2?
In 2003, deep within a Starbucks coffee shop, surrounded by napkin notes and lattes, two designers recognised a dire need for a web hosting company that cared more about its customers than its dividends. That idea quickly grew into Eleven2, a one of a kind company focused on unbeatable customer support and reliable hosting services, the company we know today.

Eleven2 is a company that is here to stay, inspiring change in the ways we meet the needs of our customers, and also how we can meet the needs of people around the world. With headquarters in Houston, TX and offices and servers globally located in Phoenix, AZ, Dallas, TX, Asheville, NC and London England, Eleven2 has the resources to meet any and all hosting needs.

Eleven2 is a web hosting provider comprised of talented designers, developers, musicians, film makers, business owners, writers, photographers, and much more. All of us at Eleven2 are a lot like you, making it easier for us to understand and deliver exactly what it is that you need.

As Eleven2 continues to grow and expand, it is important for us to hold on to our roots as a company who invests everything into our customers. These characteristics have prompted our current success and isolated us from the rest of our competition. Eleven2 is set at a great pace to change the world of web hosting by treating customers like people, one person at a time.
Why Are They Special?
Good question Audience! This is about the time you guys ask that – other than everything is really well designed (very slick and clean looking – feels really customized) The biggest reason they are special and different from the rest is that they possess a ton of experience in the industry since 2003, which means they know what you want (and need) which is why they supercharge all of their hosting plans with speed boosting tools like LiteSpeed, CloudLinux, and CloudFlare.
Another huge reason they are awesome – is they offer a really nice and easy to use (and to look at) eleven2 brain account center that is customized and lets you manage your account from there. They even have an iPhone app that lets you manage some things on the go! Slick!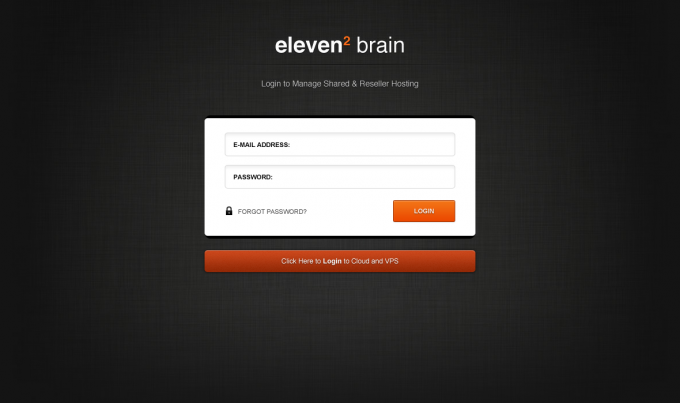 The Features
I have (as some of you know) used almost every web host out there at some point or another. I have used all the platforms, windows, linux, etc – running plesk or cpanel or whatever. I have seen very few things in the hosting world that have surprised me or that I haven't seen before (I was a server admin for a while).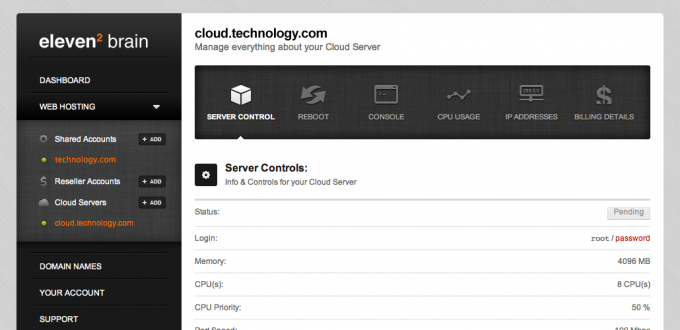 So from logging in, everything was really clean, easy to find and use etc. One thing I liked was their custom branding for cpanel (which I love cpanel, very easy to use) while this is not revolutionary in itself, it looked really nice and was a lot better than just using the regular old default cheap cpanel look.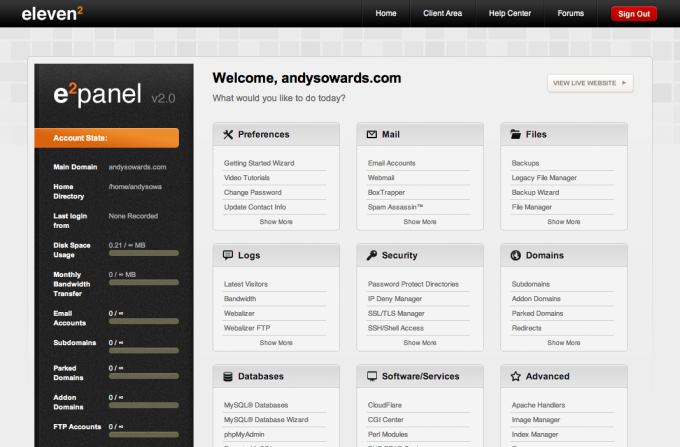 Beauty IS only skin deep after all – so lets look at some of the other features.
As I mentioned before all of the plans have the option of using CloudFlare for free – which is really nice because it really does 'supercharge' your website – caching things over a CDN takes the load off of the server and thus makes your website load faster. Snappier websites are happier websites. Not every host offers this out of the box.
CloudFlare uses any cast routing technology, meaning that all your visitors connection routes are optimised to ensure they are as short as possible. Your websites static content will be cached on servers all around the world! Making loading times for your visitors much faster. This also means that your site will always be online!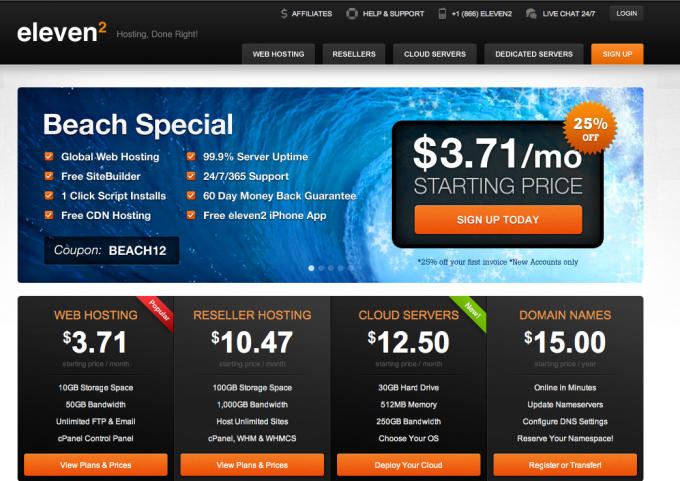 After browsing the competitive pricing in their plans, you can see that you could walk away with some quality hosting for pretty cheap. If you just need the basics, only $3.71 a month – pretty impossible not to be able to afford that – perfect for a beginner blogger or someone getting into the web for the first time. Most seasoned designers or developers however would probably spring for the reseller hosting – for the extra power and also for the ability to host client sites, and resell the hosting service – so you can manage your clients all in one place as well as make a few bucks off the recurring revenue – Easy to dive into when its starting at a little under $11 a month!
If you spring for the reseller hosting and want to take a stab at starting your own mini hosting company – then lets look at some of the features available with the reseller hosting package:
FREE DOMAIN & SSL RESELLER ACCOUNT
they give all of the resellers a free enom account, for the ability to resell Domain Names and SSL Certificates to all their clients. Giving you more than just hosting to resell and make money from.
FREE WHMCS BILLING SOFTWARE
Each Reseller Hosting plan comes with a free billing software of your choosing. You can choose from the super popular WHMCS, or ClientEXEC. Both of them manages your entire hosting business for you!
FREE DEDICATED IP ADDRESS
All of their Reseller Hosting plans come with a free Dedicated IP Address. This is assigned to your hosting and isn't shared with anyone else. You can use it to install SSL Certificates etc.
24X7 PREMIUM TECHNICAL SUPPORT
Their doors never close! They can guarantee true 24/7 tech support, weather it be 5am on Christmas Day, or July 4th, they are always awake to assist you! You can Start a live chat (one of the features I love) or give their tech team a call (which my clients like to do a lot – they like phones lol).
Bottom Line
So as you can see the features are there, the service is solid – and looks nice! I didn't have any issues navigating the menus when I gave it a try, everything was snappy and fast – everything uploaded just fine as I would expect using a linux based server running cpanel.
If you are on the market for a hosting package that looks and runs nicely and serves the immediate hosting needs (or reseller needs) that are required of running a website (or many websites – maybe even make a little extra cash!) then I would definitely check out Eleven2 and give them a try – you've got nothing to lose with their 60 day money back guarantee!
You like this? Don't forget to follow us on twitter @andysowards and like us on facebook @andysowardsfan! We are also on that Google Plus & Pinterest thing.