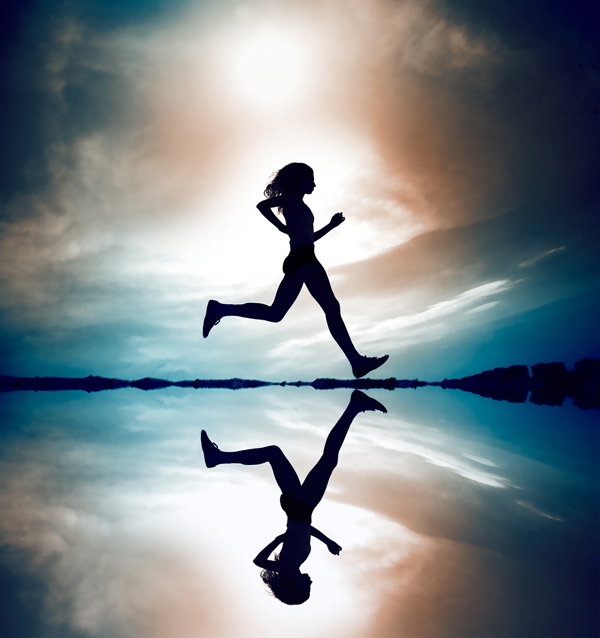 (Fitness Photo via Shutterstock)
Epic Playlist is Epic.
It's getting warmer outside (at least where I live) and that always makes me think about fitness. As some of you know I used to be a huge fitness geek – still am I just didn't have much time for it the past few years, but im getting back into it. So while I get back into shape I figured I'd help you guys get motivated to get healthy and do the same. It is hard to get motivated to do so, but I have found that Music is pretty much the best catalyst for fitness (for me at least) it gets me up and moving and pumped to get fit. I would recommend you all (if you aren't currently) try getting in shape and starting a routine – you will feel wayyyyyy better, trust me. Also you will be 1000 times more creative. Being healthy is a win win in my book. And its fun! Once you get used to the pain that is haha. Maybe your not into fitness or any of that though, thats fine, these songs also double as epic inspiration and motivation when your working on your design or development projects – they bring out the best in you and your work!
These songs are fantastic (in my opinion 🙂 ) and appear frequently on my playlists that I use specifically when I need "inspiration and motivation" to do something (read – start something when being extremely procrastinatory lol), or be creative! I thought you guys might like if I shared them with you – so you can enjoy them as well, and also see a peek into the type of music I listen to on a daily basis :)! We did a post similar to this a while back with Best Music To Listen To For Inspiration While Designing/Developing From The Design Community that you guys liked so I figured we would do a series with some new tracks – this is the first part of the series – if you like it be sure to subscribe and stay tuned for more epic music ideas for your own playlists!! These are all clips I found from youtube so you can hear them on the page – I've been using spotify as my mp3 player instead of itunes and I've enjoyed that so maybe you should give it a try as well :D. Enjoy!
Carbon Kid – Alpinestars feat. Brian Molko
This song is epic – probably my favorite song to run to. Watch the video and you will see why. Features the lead singer from Placebo (Brian Molko – one of my fav bands ever fyi) being controlled by these weird scientist guys via remote control, making him run through a seemingly never ending hallway lol. Good video and song – always gets me pumped up – I used to listen to this song on infinite loop when I would go running daily (trying to start that again).
Shiny Toy Guns – Major Tom
Love this song – I recently started listening to it all the time. Epic cover of the great David Bowies Original (Space Oddity) – this song is super fast paced with a lot of creative visuals and imagery in the music. Beautiful!!
System Of A Down – Chop Suey!
Probably one of my favorite bands ever to workout while listening to (put all their songs on a playlist and you can workout for EVAARRrrrr). I probably listened to this song while working out almost every time I ever worked out – but listen to it and you can easily see if you don't already know how pumped up this song can get you – Epic. I am pretty sure that this song single handedly upped my generations productivity levels by 25% over the years lol. Love SOAD.
Rammstein – Benzin
Another Epic Rock Band (you could get pumped from all their songs as well) is Rammstein from Germany. Benzin is German for Petrol – in this song they proclaim their love for it and how they don't need anything but it (petrol). Song makes you really dig deep during a workout or project – knowing that you don't need anything other than victory!
t.A.T.u – How Soon Is Now?
Epic cover of the original Smiths Song – which I also loved. TATU was able to make this song a little faster paced, so its very easy to workout to or get in the zone to – Love everything about it, well done. Again, this is another band which in my opinion all of their songs are pretty fast, motivational and beautiful.
Mumford and Sons – Little Lion Man
This song is just non stop action all the way through – great song to workout or do anything to really. Love those instruments! haha
The Prodigy – Firestarter
You can't have a list like this – without having a song like this. Classic. Again all of Prodigy's stuff is amazing – especially Smack My B*tch Up (I remember the first time I saw that music video I was like o.O). This song definitely pumps you up – usually work out to it – but it also works very nicely if you have a fast car, and wish to go fast in it – play this song during for an added effect lol.
Paul Oakenfold – Ready Steady Go
Another song from my "drive fast" playlist haha – applies to fitness and inspiration for creative projects as well ;). READY STEADY GO! Really easy to just stick this puppy on loop and go to town.
Drowning Pool – Bodies (Let The Bodies Hit The Floor)
I am pretty sure that this songs only purpose for ever being created was for working out – at least that is my theory haha. LET THE WEIGHTS HIT THE FLOOR!
Slipknot – Duality
Slipknot is probably one of the craziest bands ever with their insane masks and heavy music – which makes their music another good choice for this list. I remember being really into them and similar bands in my high school days – when that was "cool" but today I don't listen to them much as a band, but I do still listen to the more popular songs like this one – and they stay on my playlists!!
Sepultura – Ratamahatta
Another insane band – this song makes absolutely no sense, and the music video is creepy as hell (claymation always creeps me out, ever since I was little – it is kind of creative though I will give it that lol) but that really doesn't matter, because this beat will make you bang your head to the hard, fast and consistent beat while you pound out whatever it is your working on or trying to achieve.
Editors – Bullets
A pleasant change from the previous hardcore songs – I know some of you are probably not into that (others super into it haha) But this is a nice mello song that still has a fast paced and catchy hook – Any song you can listen to on loop is a good song.
Johnny Cash – Cocaine Blues
Gotta have Johnny Cash – everyone loves some Cash. This song is just a classic – with the train-like steady beat and the awesome storytelling – definitely keeps you motivated and on track
Better Than Ezra – Desperately Wanting
Love BTE – this song always puts me in a good mood – takes me back to the 90's – the good ole days. If you were born in the 80's or 90's or anytime around there you probably have a special connection to this song like I do. Love it.
Depeche Mode – Nothing's Impossible
Depeche Mode is quite possibly one of the greatest bands ever – but the title of this song is enough reason why it is in this playlist. Don't Give up. Nothing is Impossible.
Crystal Method featuring Filter – Trip Like I Do
One of my favorite songs back in the day, featuring 2 of my fav bands – This is another song from the constantly playing "fast driving" mixes I used to listen to (when I had a Mini Cooper)
Adema – Co-Dependent
This is a track from the Galerians: Rion Soudtrack – a friend from high school gave me a copy of that cd a longgggggg time ago – and it was one of the most epic CD's I had ever heard, really worth checking out if you dig this song.
The Offspring – Self Esteem
Great song – great for the self esteem haha. Can't beat some classic Offspring. Good Message in the lyrics – Don't let people use you (girl or guy)
Incubus – Pardon Me
First song I ever heard from Incubus – fell in love with it and them – powerful track!
Static-X – Push It
AND one final song to help you PUSH IT – PUSH THROUGH THE PAIN! GET IT DONE!!! lol – more creepy claymation! I dunno what the deal is with that – but when I first heard Static X I wasn't too into them but then they grew on me pretty quickly since they reminded me of SOAD and other bands
Well there you have it – an epic playlist to get sh*t done with. I hope you enjoyed it! Don't worry if I didn't list everything I should have – this is just one of many more lists to come that I am personally hand picking from my own motivational playlists that bring me inspiration – if you have some song suggestions leave them below! What is your favorite song to workout to? or get stuff done to? Let us know!!
You like this? Don't forget to follow us on twitter @andysowards and like us on facebook @andysowardsfan! We are also on that Google Plus thing.