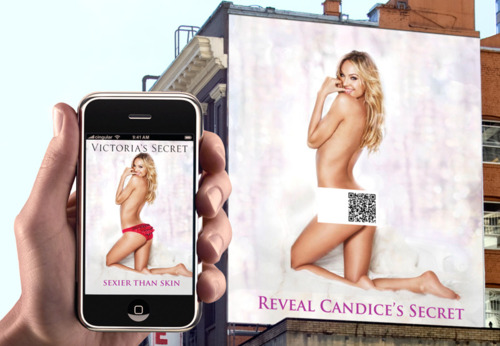 Quick response codes, known as QR codes, are essentially 2-D barcodes. They usually use black pixels, arranged in a square and against a white background that can be read by an image scanner. The scanner then tells the device it is on to access a certain website or page. They are very popular in tech-obsessed countries like Germany and South Korea, and they are becoming increasingly popular everywhere else. That means they are being incorporated into more and more designs. So brace yourselves!
Like other design elements, they are only effective if used properly, so be sure to implement these best practice techniques!
Best Practice – Make Them Easy To Scan
Codes must be easy to scan and put in places where people can use them (and see them). It is surprising how many ads in airplane magazines, underground stations that don't have WiFi access or on public transport that is usually speeding past most people. It sounds simple but these are the things that need to be thought about – plan ahead, because many don't!
Best practice – Give People a Reason To Scan It
QR codes need to pique peoples' interest. If they are tech-savvy, you can create interest by simply having a code with a call to action and usually that will be enough. For an ad targeting a broader audience, you may need to tell them to scan to see more or possibly enter to win something of value to them.
Best Practice – Ensure It Goes To a Mobile-Enabled Site
Many QR codes direct the person scanning it right to their regular, desktop-optimized site. Of course, this makes no sense. QR codes are, by their very definition, accessed via mobile devices. The website the code points to must be enabled for those devices or you will just frustrate your target audience.
These best practice techniques leave a lot of room for creativity, and many designers are taking advantage of that to incorporate QR codes into their designs in unique and interesting ways.
Help Japan Now.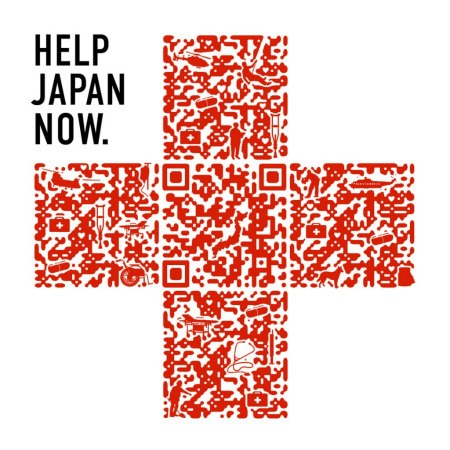 This ad, designed to raise money for the Red Cross's efforts after the Fukushima disaster in Japan, puts the QR code in the heart of the Red Cross. It shows how much work the Red Cross does by inserting images of the things they do into the arms of the cross.
Victoria's Secret Ad Campaign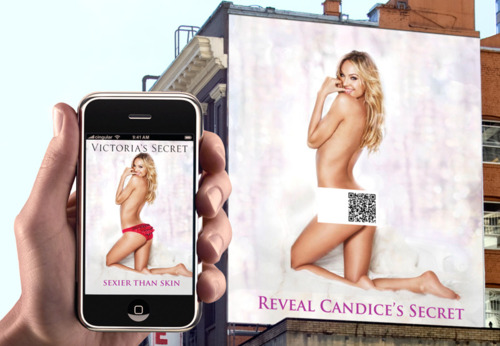 Victoria's Secret, the world's biggest lingerie brand, is well known for its sexy ads. This campaign took that sexiness up a notch, using the QR codes to seemingly cover the models' body parts. In fact, the code is covering the underwear.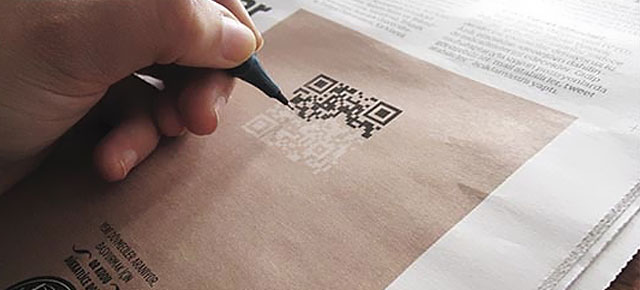 When a new tattoo parlour wanted to find talented artists, they placed this ad. Potential tattooists had to fill in the QR code to access the application form. Clever talent recruitment tactic!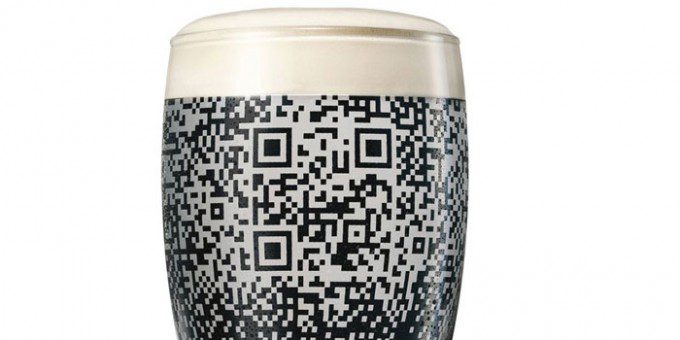 Guinness designed an ingenious beer glass. Whilst empty or full of lager, it cannot be scanned. But when topped up with the world's most famous stout, the Guinness glass reveals a QR code that can be scanned for increased consumer interaction.
This billboard in New York City works with a similar principle as the Victoria's Secret ad: scanning the QR code takes viewers to a much racier version of a Calvin Klein ad than they could place in such a high-profile area.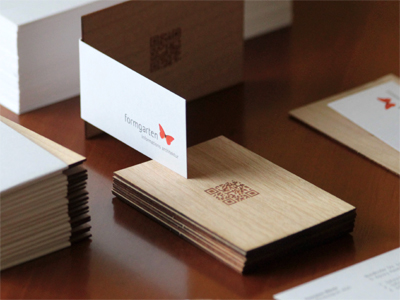 These business cards come in two parts: the paper wrap that includes all the normal business card information and the thin piece of wood that has a QR code carved into it. It shows the impact design can have when natural materials are used to present futuristic technology.
Tesco's Virtual Shops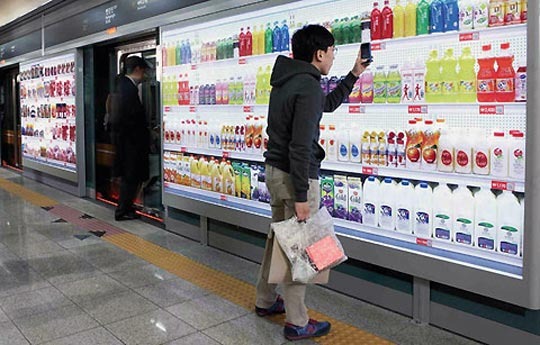 In South Korea, residents are technology-rich and time-poor. Tesco made a push to become the biggest grocery store in the country by installing these virtual shops in metro stations. On their way to or from work, passengers can scan the items' QR codes, drop them in a virtual basket, buy them and have the products delivered by the time they arrive home in the evening – all without setting foot in a crowded shop.
Coca-Cola Ad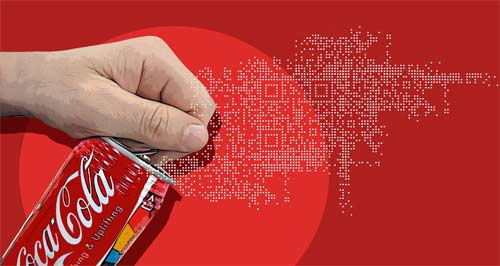 This ad demonstrates just how subtle QR codes can be. The digital dots at first glance seem to form a high-tech version of the spray you often get when opening a can of Coke, but if you look more carefully, it reveals a QR code.
Instagram Print Ad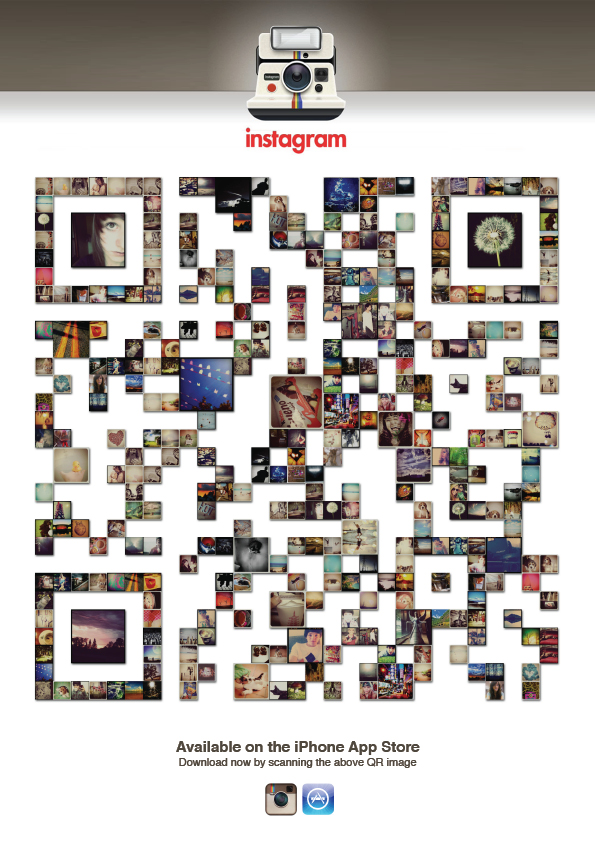 This ad was designed by a creative agency called Stupid. However, this ad is anything but, as it is made up of a great many Instagram images. Beautiful use of their photos in a technologically advanced ad!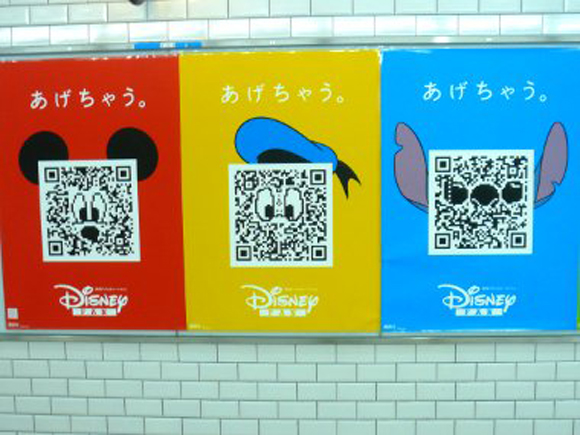 Blogger Cliffano Subagio was surprised to see the scale of QR code use in Japan, highlighting these Disney ads as outstanding examples. Indeed, they use the QR codes to form part of the faces of some of Disney's biggest characters.
These examples illustrate the points mentioned above excellently. By mixing creativity with best practice, they came up with some of the best uses of QR codes in design.
What is your favorite implementation of QR Code design that you have seen in the wild? Share with the class and let us know in the comments below! Thanks for reading!