We Have a Winner!

The lucky Winner is

Chad Boswell

Congratulations Chad!

Special thanks to everyone that participated! Your support is appreciated! Don't worry if you didn't win though, there is always another awesome design giveaway around the corner! Stay tuned!
Are you raring to go this January but struggling to regain your creative spark? Don't worry, it happens to the best of us.
Often the answer isn't you. It's what's around you, and the tools that you're using. It's important to begin this year with a fresh energy, and to start looking all around you for new creative inspiration.
Fonts are an area where a lot of designers fall down. We can pay attention to every last pixel in our design, but fonts can be
incredibly restrictive. Unless we're willing to shell out hundreds of dollars for a premium font we have to rely on our dusty old default font libraries, which let's face it, kind of suck.
The good news is that whilst the big boys in the fonts industry are happy to keep charging you crazy high prices and exploiting designers, some designers have taken it upon themselves to offer the same quality, but at an accessible price.
One of those designers is Kate Ferrara, who MyDesignDeals ran a deal with a few months back. Back then Kate's fonts were really well received, and the deal was a big hit. Since then however, Kate's popularity has exploded in the design community. People took notice that her fonts were of a much higher quality than anything else in her price bracket.
This time MyDesignDeals are back with 8 fresh new fonts from Kate's growing collection. In my opinion these fonts are even better than the original collection they offered, and yet they managed to offer them at an even lower price.
You can take a look at the deal page for these fonts here to get a full preview:
8 Print and Web Ready, Professional Fonts – Just $20
This deal is bought to you by MyDesignDeals, who offer the best design deals around.
Here's a preview of the fonts included:
If you love design freebies then MyDesignDeals also have an area called the Designer Toolbox.
This contains hundreds of awesome design freebies that you can access today.
Access the Designer Toolbox and Hundreds of Freebies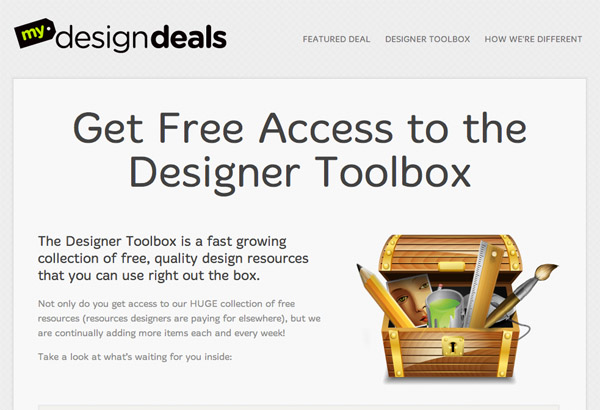 How Do I Win The Fonts Pack?
Glad you asked, here are the details!
Giveaway Terms:
1 lucky winner will win a Premium Fonts Pack from Desiginous (contains 8 Premium Fonts – Smooth, Sale, River, Midwest, Craft, City, Captain, Bleacher)
All you have to do to enter to win is Leave a Comment about what you think of the new MyDesignDeals site! It is that simple!
Good Luck Everyone! We will randomly choose a winner within the next week and announce it right here, so Stay Tuned!
You like this giveaway? Don't forget to follow us on twitter @andysowards and like us on facebook @andysowardsfan! We are also on that Google Plus & Pinterest thing. We post giveaways regularly so check back often (FOR FREE STUFF!)