Hey Guys! We have an awesome review for you today, with the awesome folks over at Printing For Less. I had the honor of reviewing their company & services and in an industry of over-saturation with overnight printers popping up on the internet (and disappearing just as fast) I can say that PFL is a breathe of fresh air. But first it would probably be good if you know a little about PFL and what they do….
Who Is Printing For Less?

PrintingForLess, PFL, was founded in 1996 to provide high quality commercial color printing in the short to medium run color printing market. Our team has over 500 years of combined experience in the graphics industry, enabling us to produce very high quality work.

PrintingForLess.com is proud to sell more full color printing online than any other commercial printing company in the USA!
Our mission is to consistently provide a superior printing experience to every customer. Our goal is to provide the best possible service, support, and quality digital printing of every job. We excel at fast turnaround without sacrificing quality.

We are located a stone's throw from the Yellowstone River in scenic Livingston, Montana, 50 miles north of Yellowstone National Park in the heart of the recreational paradise of southwestern Montana.

Our high quality work and great service have earned us an A+ rating from the Better Business Bureau and thousands of satisfied repeat customers. You can read some of their testimonials throughout the site and on the Customer Reviews page.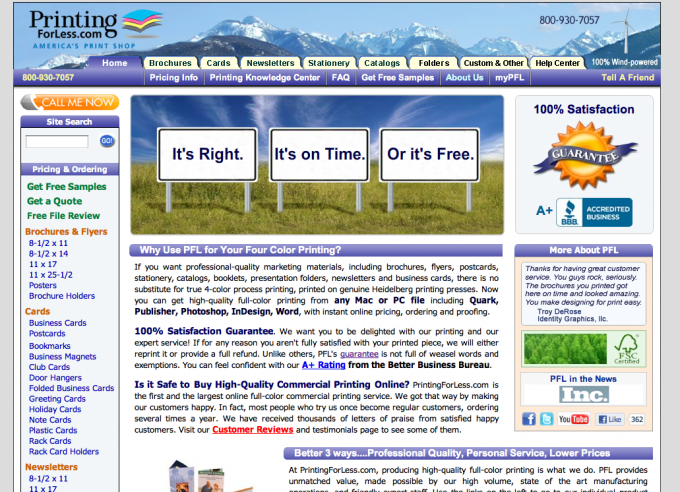 Why Are They Special?
Good question Audience! The biggest reason they are special and different from the rest is that they possess a ton of experience in the industry (over 500 years combined experience!! thats a lot of printing!), and wide variety of expertise even in the
Digital Printing realm. They have also been in the printing game since 1996 – which is 10+ years longer than most online printers! Now that is Accountability.
Another huge reason they are awesome – is they offer Digital AND (AND!!!!) Offset printing. Why is that so special? Because not every printer offers digital and offset printing (especially the online printers) – PFL has both.
Digital Printing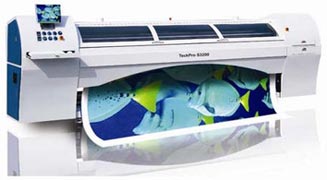 Digital printing doesn't use plates the way offset does, but instead uses options such as toner (like in laser printers) or larger printers that do use liquid ink. Digital printing shines when lower quantities are needed; think of a run of 20 greeting cards or 100 flyers. Another benefit of digital printing is it's variable data capability. When each piece needs a unique code, name or address, digital is the only way to go. Offset printing cannot accommodate this need.
While offset printing is a fantastic way to produce great-looking print projects, many businesses or individuals do not need large runs of 500 or more, and the best solution is digital printing.
Some Advantages of Digital Printing:
Setup costs are lower for short runs
Print only the amount you need, when you need it
Lower minimum quantities (as low as 1, 20 or 50 pieces)
Variable data capability (names, addresses, codes or numbering can be done easily)
Improved technology has made digital quality acceptable for more uses
Offset Printing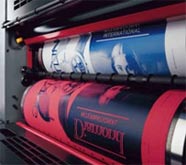 Offset printing technology uses plates, usually made from aluminum, which are used to transfer an image onto a rubber "blanket", and then rolling that image onto a sheet of paper. It's called offset because the ink is not transferred directly onto the paper. Offset printing is the best choice when larger quantities are needed, and provides accurate color reproduction, and crisp, clean professional looking printing.
Some Advantages of Offset Printing:

Large quantities can be printed cost effectively
The more you print, the cheaper the price per piece
A large variety of paper types with custom finishes can be used
Special custom inks such as metallic and Pantone colors are available
Highest possible printing quality, with greater detail and color fidelity
Offset printing and digital printing are both very viable and useful printing methods. Each brings certain qualities and advantages to the table, and there are pros and cons for each as well. When you need larger runs of a project, into the hundreds or thousands, or are using a specific, brand-centric Pantone color, offset printing is the only way to go. You can also use a much wider variety of custom papers and specialty inks, such as metallic or fluorescent inks in the offset process.
If a small run of less than 100 or the need for individual addresses or information is required, digital is your solution. The best part is that as a business, your needs can be met with either of these choices, and the high-level of quality means you get a printed product that will make you look great!
Green Printing Practices
Another cool thing that PFL does is they are a green printer! PFL is 100% wind powered! That means every computer, press, folder, and light they use is powered by a nearby windmill farm. Though wind-powered electricity costs a little more, they believe that as more businesses choose to purchase energy from renewable sources, green power will gain momentum and go mainstream, eventually providing our country with the best of all worlds: energy that is clean, cost-effective, and made in America. That is pretty epic.
Satisfaction Guaranteed

100% Satisfaction Guaranteed! If for any reason you aren't fully satisfied with your printed piece, they will either reprint it or provide a refund (with the terms and conditions of course – awesome)
Unmatched Service
PFL Has amazing service – when it comes to speed, quality and selection. You can print nearly anything there – business cards, brochures, flyers, postcards, catalogs – you name it. They are also known for being ahead of schedule and getting your finished product to you faster (I found some testimonials on youtube that you can checkout if you don't believe me – they are below!). You can also try it yourself and grab a free sample.
It is easy to get a quote and buy online – while their online order process might not be as fancy as some "customizable online design editors" you may see around the web – you guys are professional photoshop and design geeks – you don't even use those things, all you care about is getting your badass photoshop business card or flyer design – output on paper in a flawless way – well that is what PFL does best – they are professionals and can take your professional designs and make sure they still look professional after they are printed :). I have always been trying to find a printer that did that, and didn't try to sell me some "online design editor" that sucked compared to photoshop in exchange for some sub-quality prints. PFL is the real deal, their prints are the highest of quality.
Happy Customer Testimonials
Here are a few videos I found that reverberate how awesome PFL is at printing. (there are actually tonssss of these on youtube so check out the rest if you still aren't sure what printer you should go with on your next project)
Affordable Pricing
Last but not least – they are affordable. As you heard from those videos above, their customer service is awesome – so its hard to beat high quality printing, good customer service (hard to find anywhere) and affordable pricing. In my opinion not having to worry about if my printed items are going to come to me looking like crap or not is pretty priceless – so I would pay more for that if I had to, but you don't need to with PFL.
Bottom line – Good company with Good People who have experience making your designs look awesome in print
Can't really beat that – Hope this review was helpful to someone! If you have any experience with the company or have a recommendation on printing your designs please leave some comments down below!