If you have a couple of years of experience in graphic and web design, then you probably noticed the same thing as I did. Tight deadlines have become a standard routine for us. Deadline equals tight deadline. Clients have become more demanding than ever, but the good thing is that they're paying a lot more for it. Same thing happened to the printing industry. A couple of years ago, it took three to seven days for 100 business cards to arrive to your place. Today, some companies have decided to push things forward and they can guarantee that if you order today, then you'll have it by tomorrow. Furthermore, these rush printing services found a way of providing their services at affordable costs and with customization too.
As a designer, if you need a business card, a brochure or a poster to be printed and you need it fast, almost faster than the speed of light, then you should try one of these online companies. There are at least a dozen of them, but after trying four or five of them, I have to tell you that the easiest to use and with the friendliest staff (in case you have any questions) is 24hourprint.com. Plus, they answer questions 24/7. However, maybe the thing that I was so excited about is that they are offering you a delivery guarantee! So, if you're order doesn't arrive in time, then they will pay the costs of the shipment. Ah and I almost forgot. The paper they're using is an eco-friendly paper. In fact, they're using vegetable inks as well. And these are just a couple of reasons why I think their services are worth trying and certainly worth the money.
So, the only thing that you need to worry about is having a .psd to upload on their website. If you lack the inspiration, then you might want to check out these really cool and awesome business cards from the list below. They come in different colours, shapes and styles. Thus, you just have to combine some details from here and there and you should have something in less than an hour.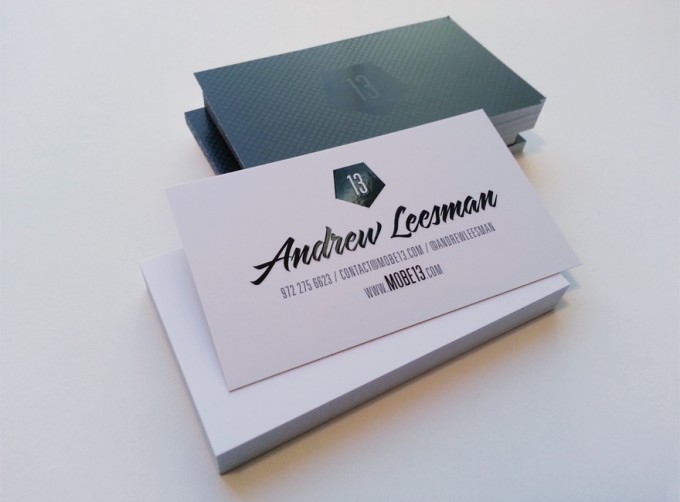 You like this? Don't forget to follow us on twitter @andysowards and like us on facebook @andysowardsfan! We are also on that Google Plus & Pinterest thing.