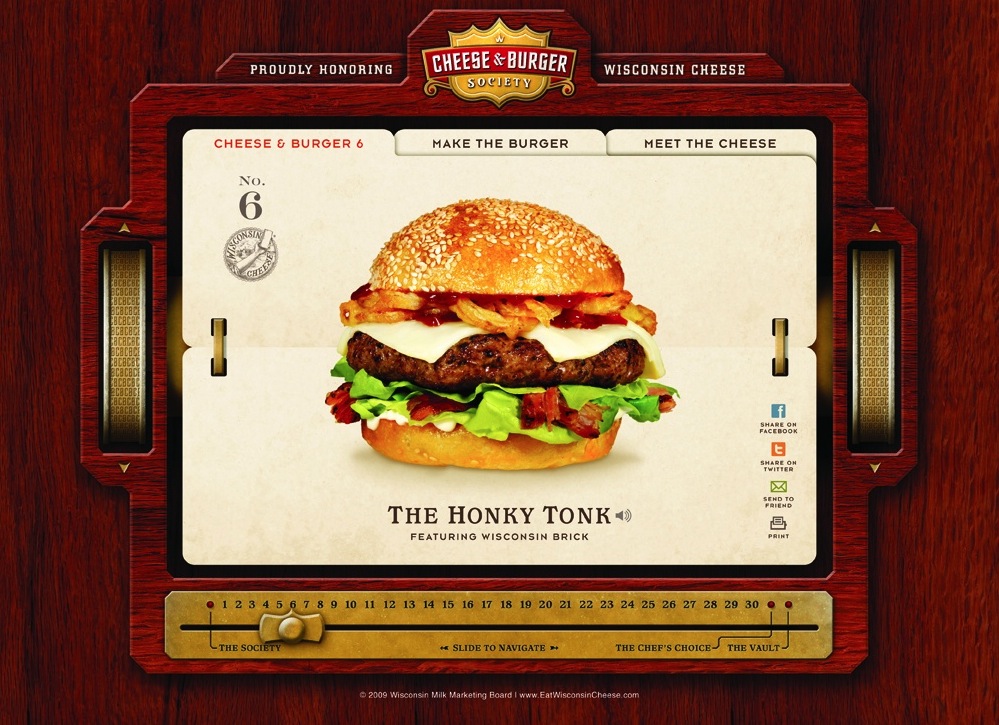 If there's one thing that's clear about today's customer it's that they enjoy actively engaging with and even helping to create the marketing they consume, not passively lapping it up. That's why so many brands are turning to games, competitions, tools, and resource centers for marketing that doesn't feel like marketing, relying on a consumer's desire to be an intimate part of the experience.
While portfolios and websites are musts when it comes to showcasing your work as a designer (not having them would be the equivalent of a big corporation not having a phone number), they tend to fall more into the static advertising category, limiting your ability to target distinct audiences and stand out from the competition. Microsites, on the other hand, are about as interactive and targeted as you can get, allowing you to showcase your abilities, improve your SEO, build a following, broaden your audience and experiment with different formats, like video.
Let's take a look at a few excellent corporate microsites for inspiration, and then delve deeper into how you can apply the microsite approach to your personal brand.
Blendtec's Will It Blend?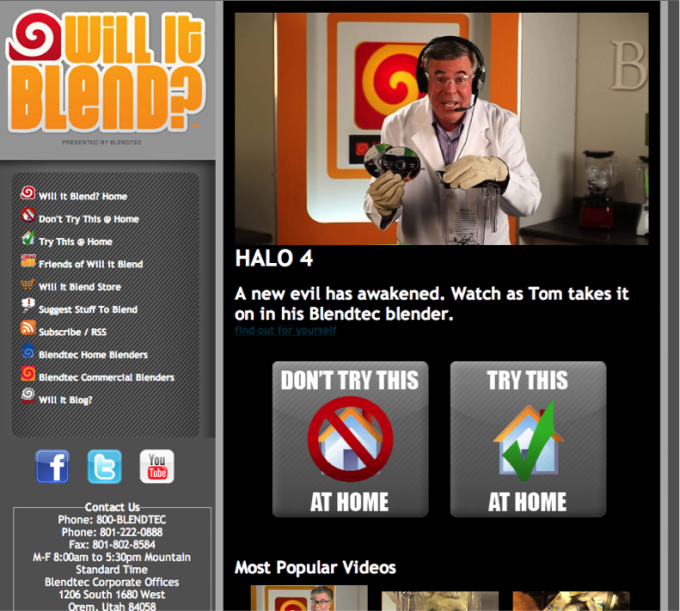 Blenders may not be the most exciting product in the world, but you wouldn't know that from a browse through Blendtec's microsite, Will It Blend? As you might have guessed, the site features videos of a "scientist" in a white lab coat blending normally unblendable materials, like CDs or cell phones. Of course, because it's video, this campaign works well on YouTube as well, and the company has done an excellent job of engaging potential customers on social media sites, so they can contribute their own ideas for blendables. As you can see in the above screenshot, they've also made it easy to share—something we can only assume will happen a lot more frequently than with the broader corporate website.
Lessons Learned: Make a Tool, Show It Off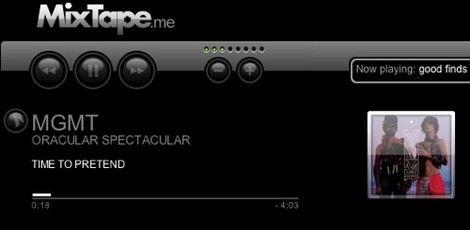 How to Build a Web Application from Scratch with No Experience (A little old, but still a good resource if you have no idea where to start making a web tool)
Having a microsite allows you to create a very specific and creative campaign that can broaden your potential audience. Even better, you can be more flexible and take more risks on a microsite than you could on a more global website. As a designer, you could apply this mentality by creating a microsite devoted to a specific design issue or audience concern. For example, if you're trying to broaden your audience to startups, why not create a funky, fun random generator tool devoted to the most common startup motivational speech clichés? Or, show off your "product" like Blendtec by creating a tool that randomly mixes and matches color schemes or backgrounds to create something new.
The more fun your tool, the more you'll show off your design sensibilities and sense of humor, the more likely your microsite will be shared and potential customers will see you as a leader in your field.
Simply Business' Guide to YouTube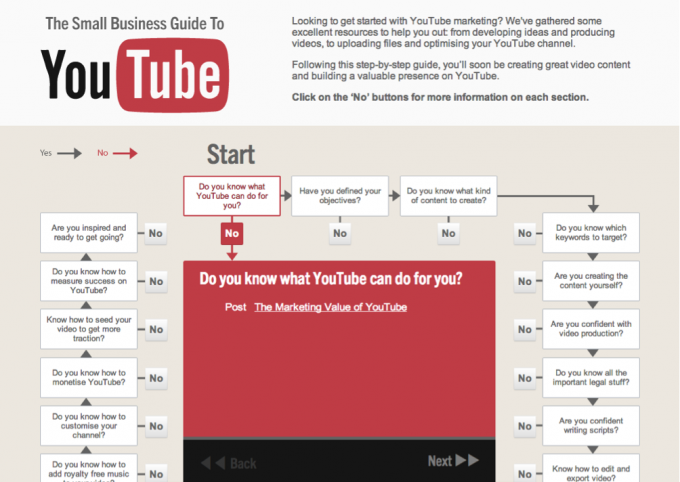 One of the best ways to establish your reputation as an industry expert is to, well, provide expert advice. But that doesn't necessarily have to mean zooming deep down into your subject matter; you won't find most customers, after all, loading up a design blog to read over their morning coffee (that's why they hire you). That's something the small business insurance company, Simply Business, embraces wholeheartedly with their Knowledge Center, which features expert advice for small business people—the very customers they're looking to attract.
The above YouTube guide is a great example of just what the resource mentality can do. Though it may look like an infographic, the guide is a resource center in itself, providing customers with both in-depth knowledge, links to other helpful guides, and the concrete steps they need to take in order to really take advantage of video marketing. Guides like these help not only establish the company's expert reputation, but they also really solidify the customer's relationship with the company, something that can later turn into revenue.
Lesson Learned: Provide Helpful Resources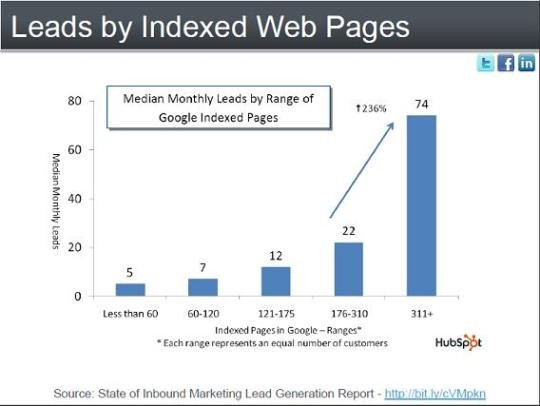 How to Add Useful Content to Your Site. . . and Get Results
Microsites are the perfect platform for providing helpful resources that go beyond the occasional blogpost. Whether you decide to keep your focus on design or to broaden it to other needs expressed by your target audience, on a microsite you'll be able to showcase infographics, how-to videos, and extensive guides that really bring customers on board. How could they not convert when you've already been such a help?
SimpliSafe's Digital Security Quiz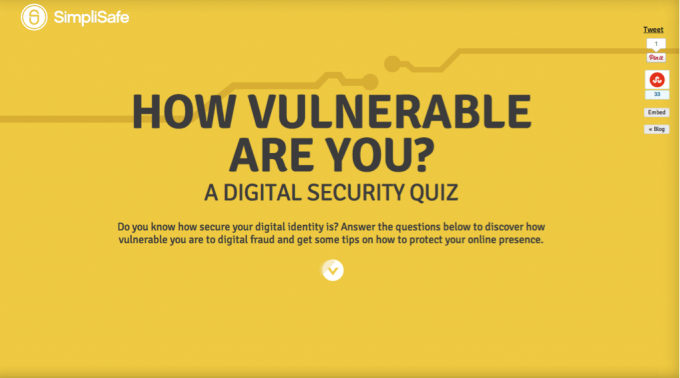 You can design the flashiest games you want, but there are few things as engaging as quizzes—particularly when they allow users to learn about themselves. This quiz from SimpliSafe takes full advantage of that fact, using a single page design to draw users through questions regarding their online vulnerability. By the end of the quiz, users are equipped with a number of suggestions for staying safe, and should be left with a favorable impression of the company that provided this helpful guide.
Lesson Learned: Stay Relevant, Get Interactive and Create a Need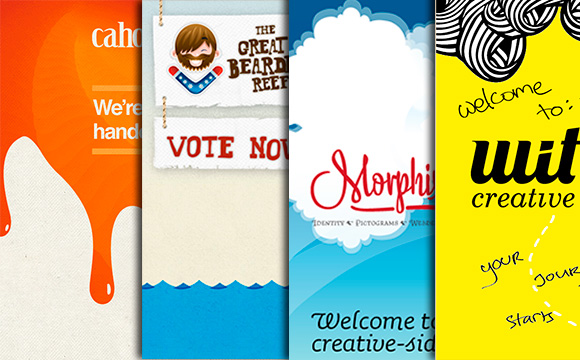 50 Creative and Inspirational Single Page Websites
With this quiz, SimpliSafe does an excellent job of keeping customers focused on their expertise (security) in a fun, personal and interactive environment. You can do the same by creating microsite quizzes that allow visitors to test the effectiveness of their sites, their knowledge of design, or their knowledge even of something random or more broadly related to your audience's concerns. The subject matter isn't as important as showing off what you can do in your approach to the site's design.
Takeaways
While websites and portfolios will probably always form the core of your online presence, microsites can be a great way to take a few creative risks and really show off what you can do. By providing fun tools, information, resources and games, you'll more deeply engage your potential customers, build a following and broaden your audience, establishing your reputation as you go.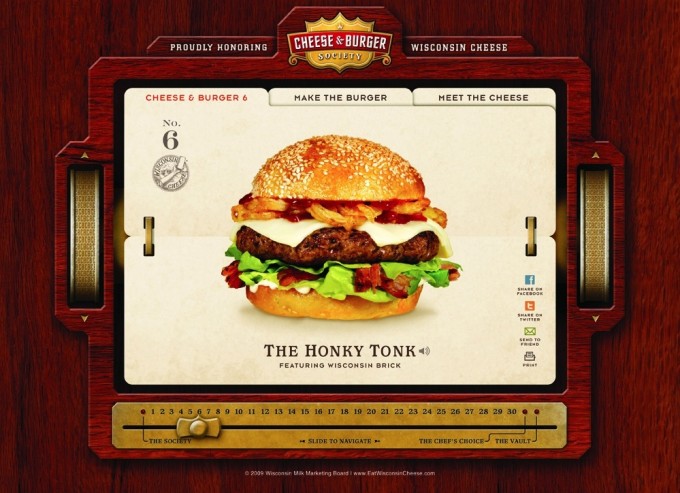 Do you really need a microsite?
Is a Microsite right for you? Only you can answer that question – like anything you need to first study your needs as well as your resources and the goals you wish to accomplish with a Microsite. It could be worth it, it could not, but it is definitely worth a try if you find there are more pros than cons in your particular situation!
What tools will you build? Let us know in the comments below!