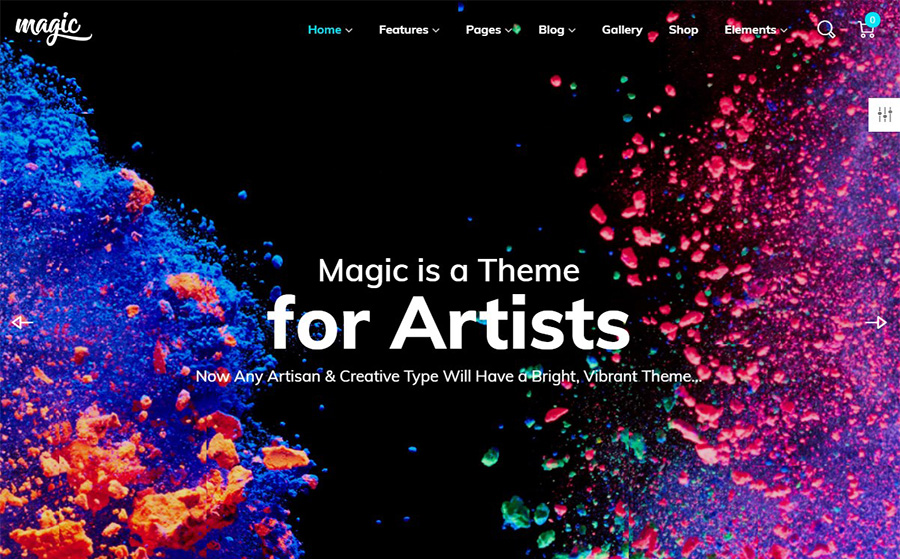 12 Jaw-Dropping Templates and Flagships of 2017
It's important to realize that the human heritage is unbelievably huge. It's hard to count and even to predict, how many songs or paintings are there in the world. People used to express their thoughts and feelings through the music, drawings, sculptures, poems, and dramatics.
Beginning from the ancient civilizations till nowadays each epoch has it's own perception of beauty and from time to time art is transforming into something fresh and modern. 20 years ago we couldn't even imagine that we could call some examples of web design a masterpiece. But the reality shows us that there are designs that are worth seeing. You might think that websites cost thousands of dollars and it is true, partly. It may sound crazy, but a custom website design can cost from $5000 to $10000 and even more, depending on a complexity level.
At the same time, in 2017 you can get a stunning website in a pack with different useful modules, extensions, plugins and save your time and money, using website templates.
They allow you to build a one-of-a-kind website within a few days, create your own piece of art and spend around $100-150 for this purpose. Sounds appealing, right? And there's no matter which website platform do you prefer, there's an effective and trendy solution for you. In this article we've gathered the most mind-blowing, impressive, splendid pre-made designs for any type of website from TemplateMonster team. Browse them all to find the best option for you. So, let's start a journey!
Monstroid2 – Multipurpose WordPress Theme
Monstroid2 is a multipurpose WordPress theme and it says for itself: you can build any type of a website, using this ready-made solution. Literally, it could be used as a hotel, corporate, blog, news and magazine portals, photographer portfolio or a modern cafe and restaurant WordPress theme. Fully responsive, Monstroid2 is powered by a Cherry Framework 5 and has 16 pre-built child themes. Additionally, each skin has it's own unique design and is made with a latest web design trends in mind, which allows you to showcase your content in a preferable way.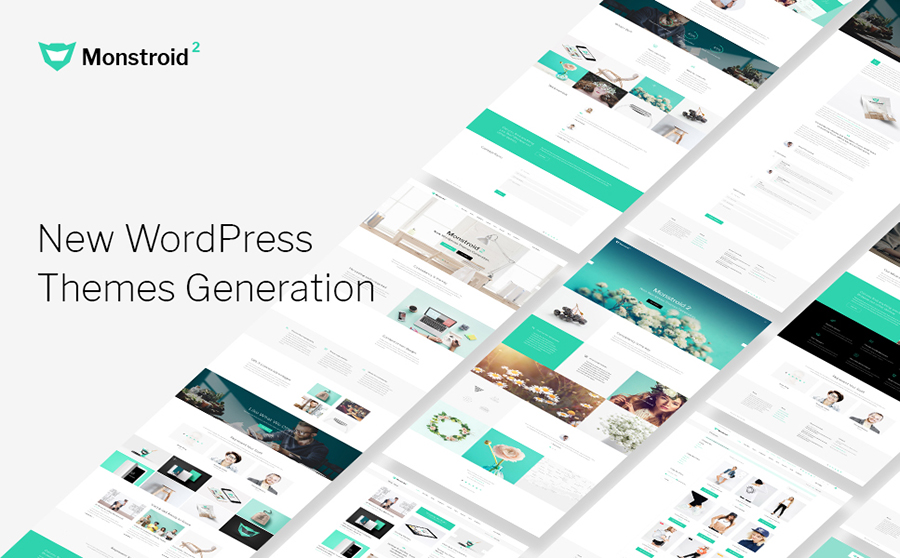 Creado – Art Gallery WordPress Theme
This Art & Culture WordPress theme is a great example of how a website design could turn into a real masterpiece. To make a long story short, if a flat design and pop art had a child, it would be a Creado. SEO-friendly, it will help your website to rank higher on different search queries. Equally important, that the theme is powered by Cherry Framework 5 with built-in plugins, such as Cherry Sidebar Manager. Based on an innovative CSS Grid Layout, Creado WordPress theme will definitely entertain your website customers and will impress them with a convenient navigation.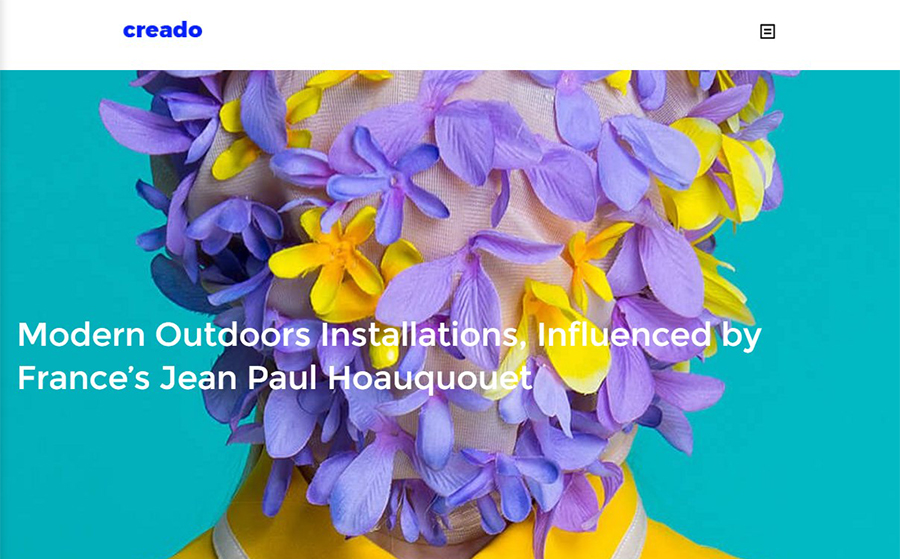 Magic – Multipurpose Creative WordPress Theme
Magic Multipurpose WordPress Theme can be used to build a personal, corporate, gallery, portfolio, magazine website or blog. It comes with 11 pre-designed skins and Power Builder, which allows you to create a trendy website with a truly unique design. Also, what is really cool about this ready-made solution, it has a built-in TM Wizard Plugin. It helps you to install all the add-ons, plugins and demo content in a few clicks. Magic WordPress Theme is an excellent option to make a creative and stylish project.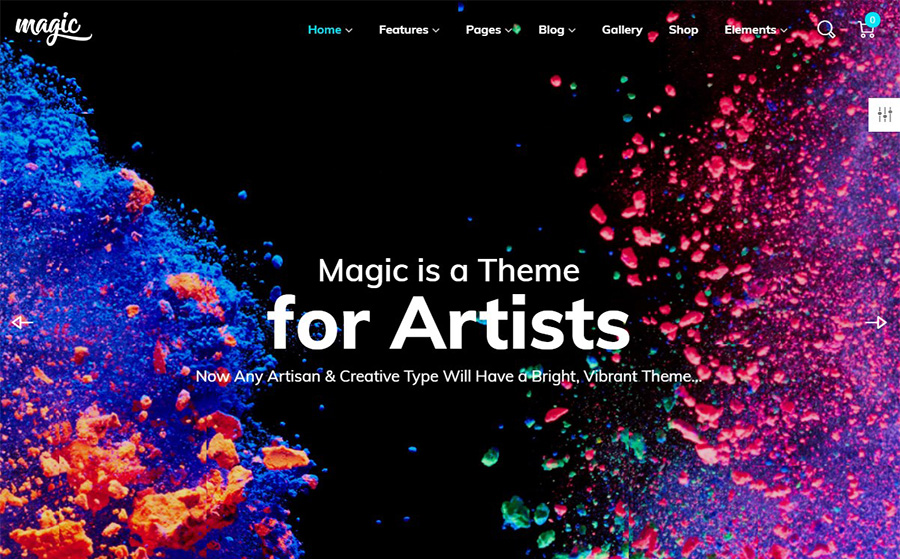 Jumerix Multipurpose Joomla Theme
Regarding the Joomla templates, here comes a Jumerix Multipurpose Theme. It's customizable layout could be a great base for the different type of websites, even for some types of e-Commerce projects. By the way, there is a pleasant feature that will definitely impress you. This theme is stuffed by a pack of 6 custom modules and extensions. At the same time, Jumerix Joomla Theme has a rather convenient navigation – stick-to-top menu gives a quick access to all the necessary links to your website, no matter what part of a page your customer is currently browsing.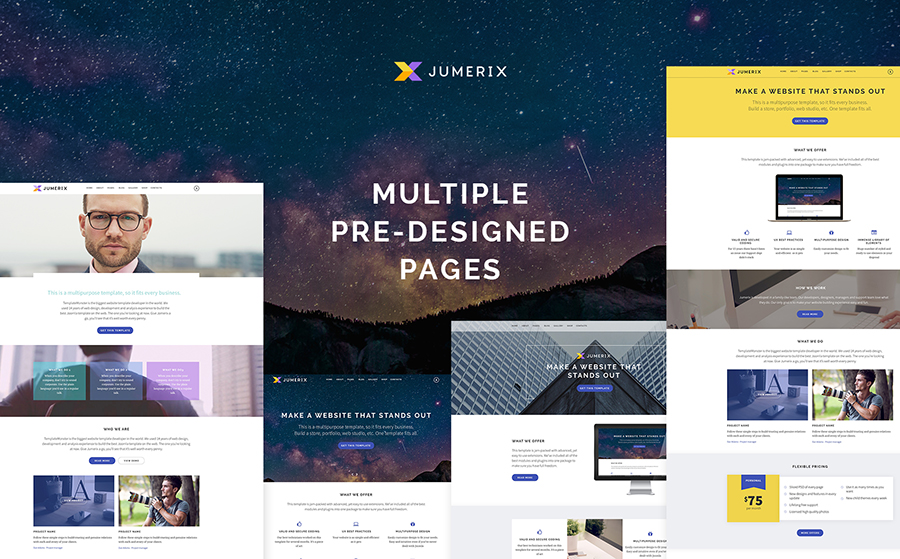 Jedi – Multifunctional Joomla Template
6 pre-built child themes, 246 PSD files included, multiple headers and footers, UI elements, theme color switcher – here are the features that Jedi Joomla Theme has for you. Moreover, it is based on a Bootstrap 3.3.5 version, which can give an incredible flexibility to your future website. And if it is not enough for you, an e-Commerce integration is about to come. So if all these cool features sound appealing to you, join the Jedi side and may the Joomla be with you!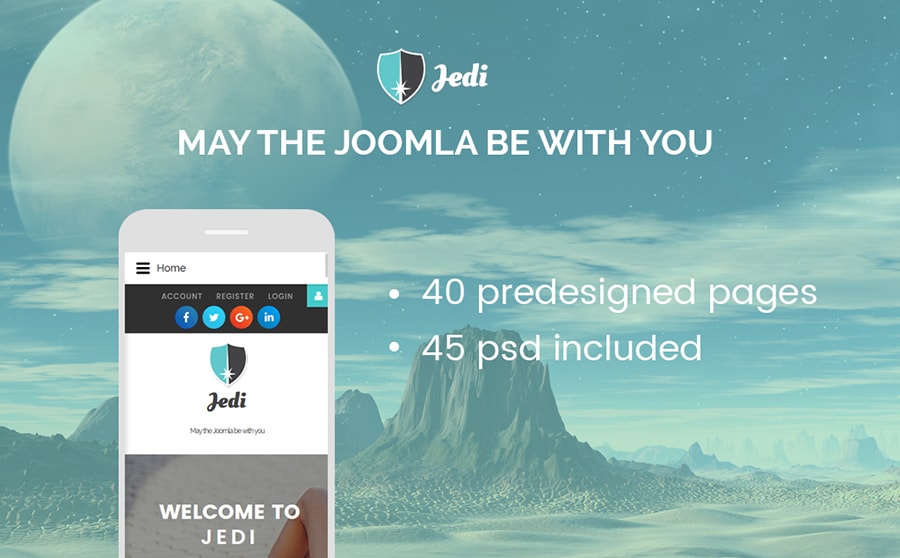 Eveprest – PrestaShop Multipurpose Responsive Theme
If speaking about the special themes for online shops, we can't avoid mentioning the Eveprest PrestaShop theme. This e-Commerce website template will cause a jaw-dropping effect on you. The perfect example of style and functionality, it comes with 10 child themes and 5 custom modules: TM Collections, TM Advanced Filter, TM LookBook, TM Mosaic Products, TM Mega Layout. Moreover, each child theme includes 4 different layouts and multiple color schemes. Eveprest PrestaShop theme is a unique tool to provide your customers a better user experience – the 360 View feature allows to browse the products from any preferable angle, while 1-Click order function skips the multi-step checkout and shortens the time of making a purchase.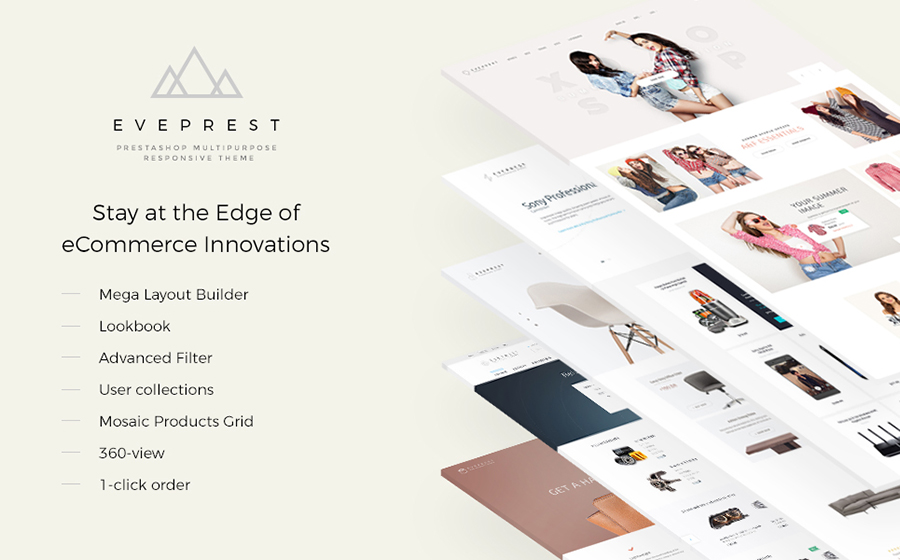 imPresta – Multipurpose PrestaShop Theme
The name of imPresta – Multipurpose PrestaShop theme totally explains it's aim. This trendy website template was made with one goal – to make an indelible impression. In order to provide you a full flexibility in customizing a theme, it has 8 color schemes. Also, it comes with 6 unique layouts and is provided by 14 built-in modules: TM Product Manager, TM MegaMenu, TM Search, TM Deal of the Day, TM Mega Layout, TM LookBook, and many others. By the way, among this amount of the custom modules, there's also a TM One-click Order module, which is a perfect solution for any online store as it can increase your conversions.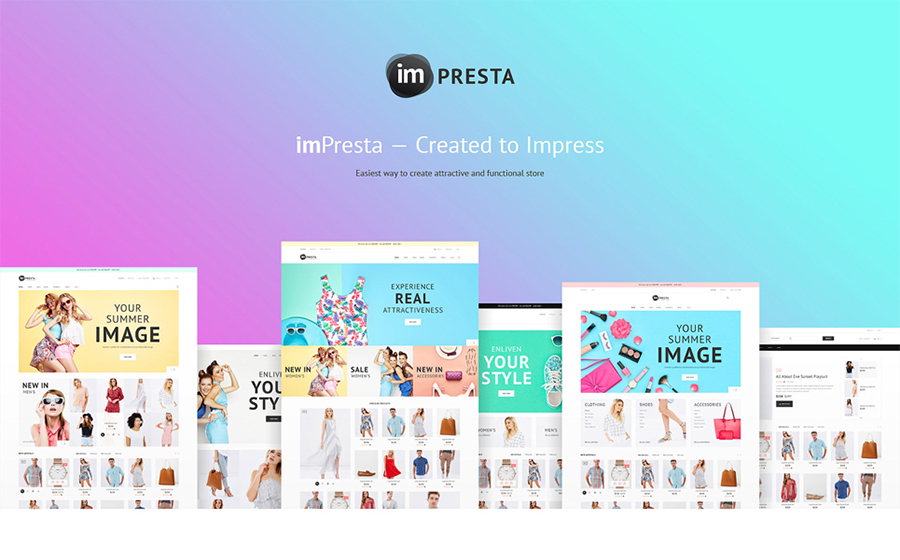 Fooder – Advanced Pizza Restaurant OpenCart Theme
If you're an owner of a food delivery business, for example, if you own a fast food or pizza restaurant, we bet you will be interested in a Fooder OpenCart theme. The unique through-through delivery system provides you with an opportunity to choose a date and location and then calculates the cost. Regarding the design, we can assure you that Retina-ready images of the delicious foods on a slider will cause a mouthwatering effect on all visitors of your website. So you can imagine that it would be extremely hard for customers to leave a website without making an order. P.S. Take at look at that super-cute back-to-top button!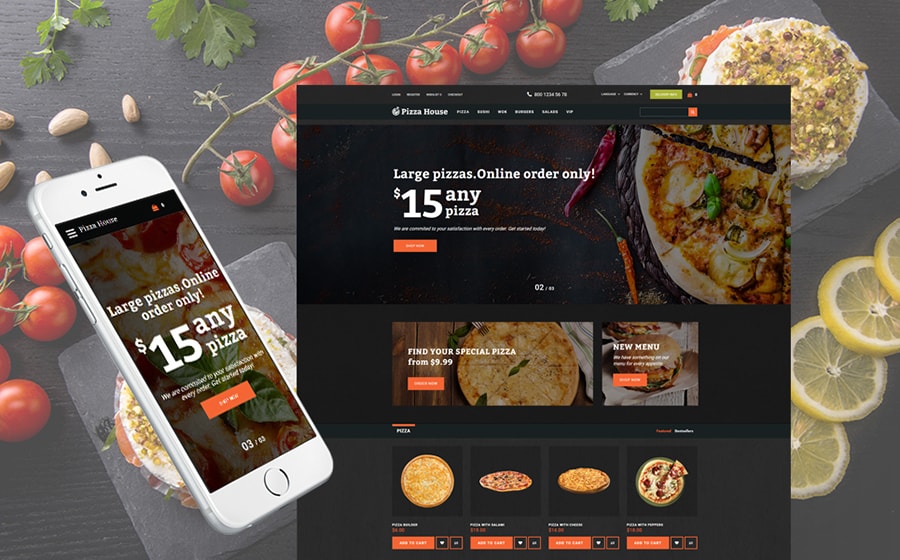 Magetique – Premium Responsive Magento 2 Theme
Magetique is a Magento 2 Theme that will shock you, seriously. Have you ever seen a Magento 2 theme that provides it's owner by 22 premium extensions for free? Well, Magetique does and furthermore, what is more impressive – it saves you up to $1718 on modules. Also, the theme comes with 5 unique layouts that will fit any niche and contains 5 header and 4 footer pre-made designs so you could easily customize your website. But enough describing, just go and browse it. It is really is worth seeing.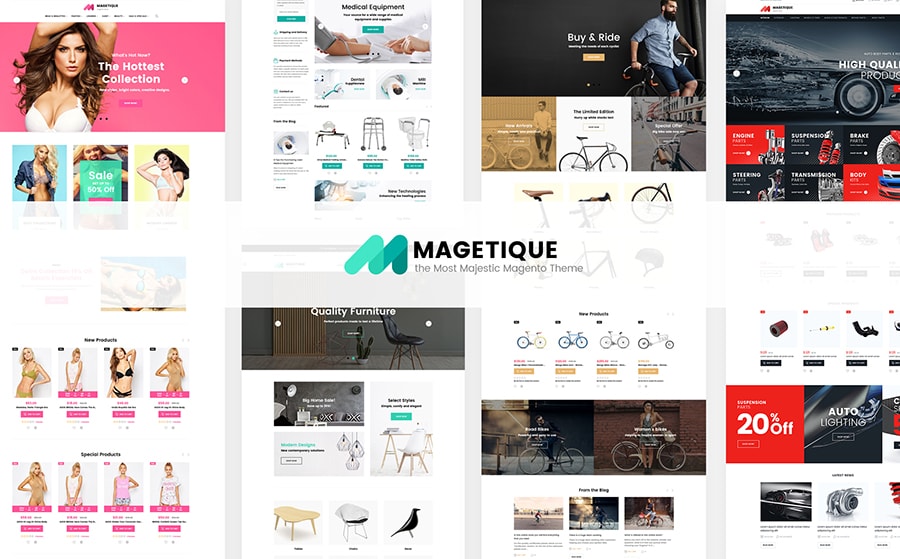 Woostroid – Multipurpose WooCommerce Theme
Woostroid WooCommerce theme is a multipurpose solution with 16 built-in plugins, shortcodes, drag-n-drop layout builder and is optimized for any mobile device. Another key point is that a theme also has 8 demos. Two e-Commerce plugins make this theme compatible with both WooCommerce and Ecwid. Together with all written above, the theme is SEO-optimized and 100% responsive, which is a good feature for an online shop. Why? It increases the brand awareness by ranking your site higher in a Google search. In other words, it will be much easier to find your business.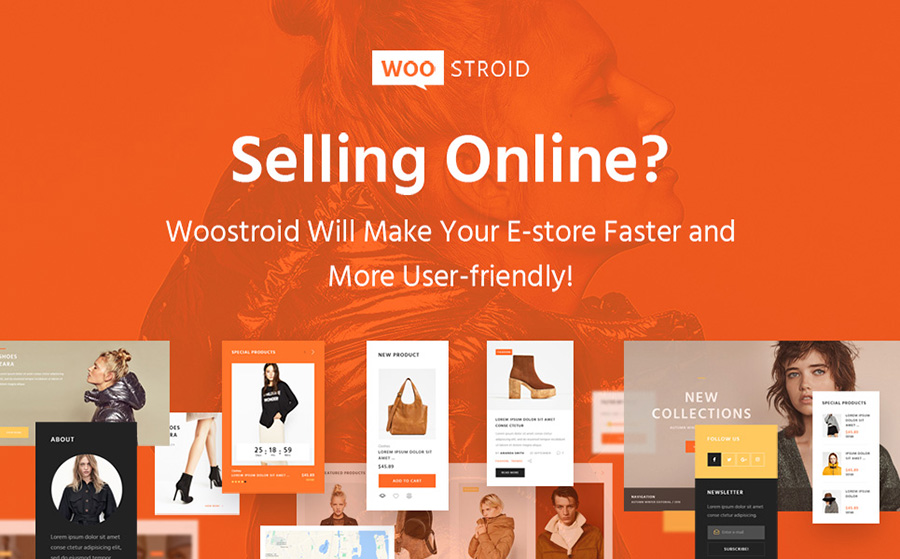 Intense – Multipurpose Website Template
We have something really special for those who prefer building sites on an HTML. Intense is revolutionary multipurpose website template and it comes with a pack of 9 ready-to-go child themes, has a huge variety of pre-loaded pages: 20 for portfolio, 23 for the blog, 11 for an online shop and even 55 pages for components. Moreover, it has 15+ different slider effects, so you can be sure that creating a one-of-a-kind website has never been so easy. Additionally, here is a one more pleasant thing about Intense – there's an advanced UI kit for web developers.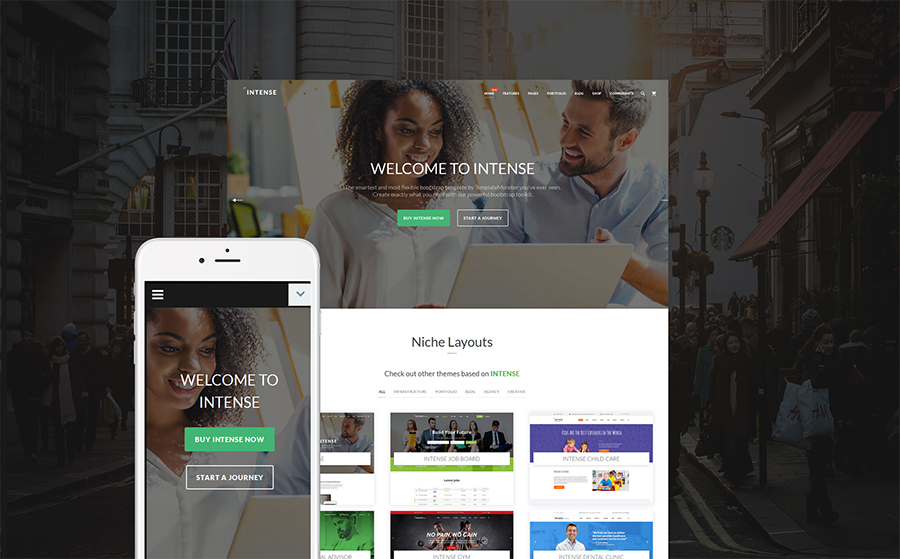 Starbis – Business Website Template
This e-Commerce ready multipurpose website template will blow your mind away. It will be a perfect fit for any business niche website. In the first place, you don't need to have any coding skills as Starbis is powered by an ultramodern Novi Builder, which means you can make any edits or add new pages straight from your website's frontend. Therefore, it is so flexible that it gives you a freedom to create and adjust the design according to your needs. And if you're still in a lack of something special, the classy layout, modern animation effects, convenient navigation, advanced UI kit and Bootstrap Toolkit will be a cherry on a pie.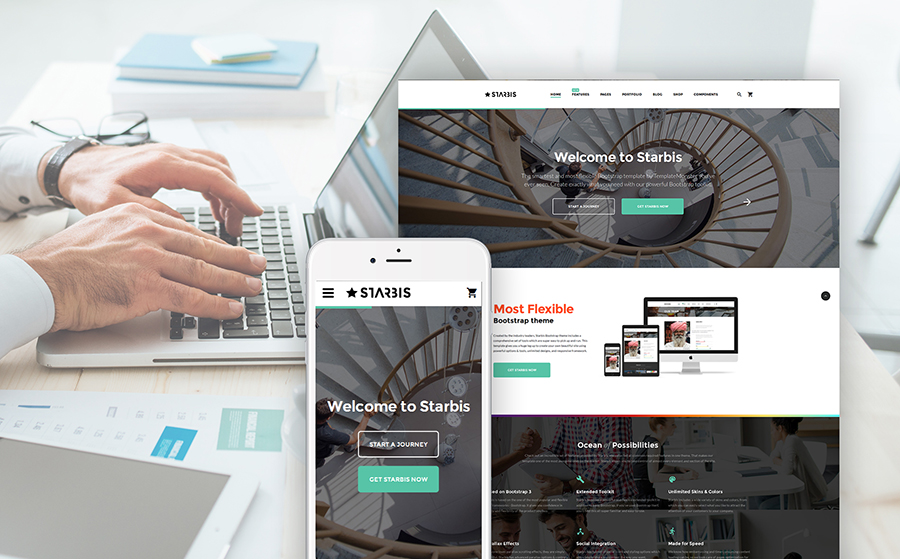 So here they are – 12 of the most Jaw-Dropping Templates and Flagships of 2017. Using any of them you are able to create your own web design masterpiece. As shown above, each of them has its own unique features in order to make your website building experience the most pleasant one and to save both your time and money. By the way, which one from this list do you like the most? Please feel free to mention your opinion in the comment section below and share this article with your friends on social media.
At last but not at least, if you need any help with adjusting your theme, get your template customized within 24h by our Service Center.